SAN PEDRO DE MACORÍS, Dominican Republic — At 17, Alvin Guzmán's day consists of hitting the gym, taking some English classes and then "going into the fire," as he describes with a smile his intensive training at the Arizona Diamondbacks camp in this town known for its baseball talent.
Last year, Guzmán signed a $2 million contract with the Diamondbacks to play in the minor leagues. The contract has changed his family's life, but it's the opportunity to make the majors that drives the teenager.
Though his chances are slim (less than 2 percent of minor league players make it to the major leagues), Guzmán is one of so many young men who dream of being the next Sammy Sosa, Pedro Martinez or David Ortiz — just a few of the major league stars the Caribbean country has produced.
Some 749 MLB players have come from the Dominican Republic. In recent years, all 30 major league teams have set up baseball academies in the country, recruiting young teens.
Baseball brings some $75 million to $80 million annually into the country, which is why so many Dominican boys see baseball as a way to escape extreme poverty and why it's good business for independent trainers like Alfredo Arias, who runs the Arias & Goodman Academy, a privately owned camp.
Out of 100 boys who have been training with Arias, eight were signed by MLB teams this year.
"For a Dominican, it is such a great feeling to just dream of the fact that you're going to be in the major leagues," Arias said. "You feel like you're going to be the way out for your family."
Even after hefty agent fees and other payments, Guzmán has been able to move his family from a one-bedroom shack in the neighborhood of Santa Fe to a sprawling, modern home.
"We come from the bottom," said his father, Arturo Guzmán. "I told him baseball had a big future — he always liked it since he was a kid."
The younger Guzmán chokes up recalling the one family member who didn't live to see this step of the journey — his mother died when he was 13. " All of this I do for her," he said. "Every time I hit, I thank God ... and dedicate it to her."
Risks and perils
But the baseball pipeline from the Dominican Republic to the major leagues has long been shrouded in tales of corruption, kickbacks, side deals with smugglers and falsification of documents. The U.S. Justice Department is investigating corruption in the recruitment of players from Latin America and the Caribbean, from Cuba in particular, Sports Illustrated has reported.
To tackle some of the problems, MLB partnered with trainers last year to cut performance enhancing drug use by players.
While MLB has also cracked down on corruption, such as the falsifying of the players' ages to make them eligible to sign contracts, a lingering problem is the use of steroids.
Misael Ponciano, 18, learned that lesson the hard way after a trainer told him about a drug that would help him throw harder and run faster.
"I asked my dad to give me 5,000 pesos (about $100). He gave it to me," Ponciano said, adding that the trainer never told him what was in the injection.
According to his father, Melanio Perez Ponciano, the trainer injected his son with dangerous doses of steroids given to horses. Ponciano ended up having half his right leg amputated.
"I don't want what happened to my child — not here in the Dominican Republic or from any other country in Latin America — to happen to another child," the elder Ponciano said.
Since 2012, the rate of positive steroid tests in MLB's Dominican Summer League has dropped by 50 percent, The Boston Globe reported, citing MLB documents.
Arias said that while some practices are changing, baseball recruitment in the Dominican Republic still is about the bottom line.
"I think that people are aware that steroids are bad," Arias said. "However, they do take chances. ... You see players at the major league level being tested positive."
He added: "At the same time, you're trying to stay in the business, and the way to stay in your business is by making money. If you juice him up and you clean him up on time, boom, you get $3 million, and now you're making money."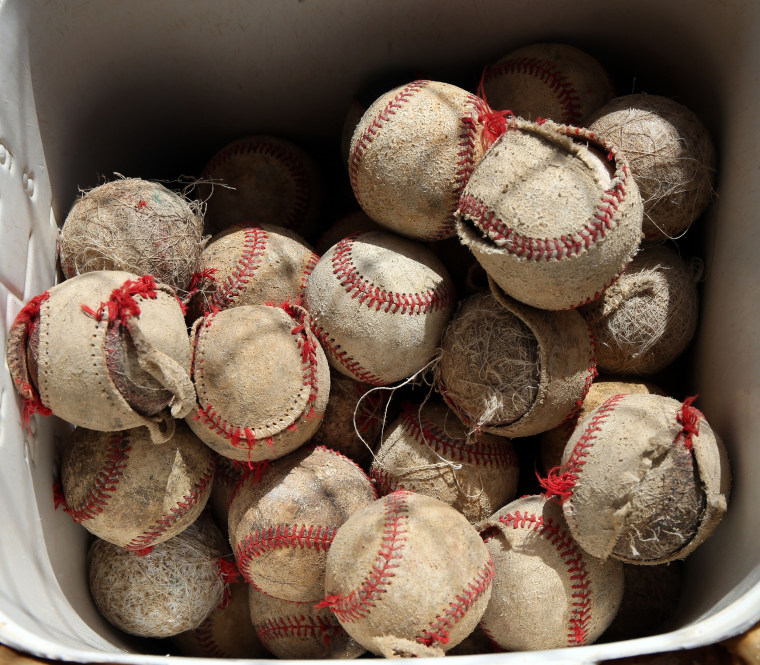 Despite the risks, sacrifices and low odds of making it to the majors, baseball is still a major draw for Dominican teens.
"These kids, basically, they see these players that come from their country and they come back to Dominican Republic after the season is over, and they see them driving around in their cars, and their luxury lives, and so they look up to these guys," Arias said.
For Alvin Guzmán, this means more days of practices, and more dreams of playing in the big leagues.
"If I get there, God willing, hopefully stay there and keep helping my family," he said. "Everything is a process. Everything is possible."
Follow NBC Latino on Facebook, Twitter and Instagram.