Republican presidential front-runner Donald Trump booted Univision anchor Jorge Ramos from a press conference in Dubuque, Iowa, on Tuesday, leading to the veteran journalist's temporary ouster from the event.
On Wednesday morning, Trump said on TODAY that Ramos was "totally, absolutely out of line."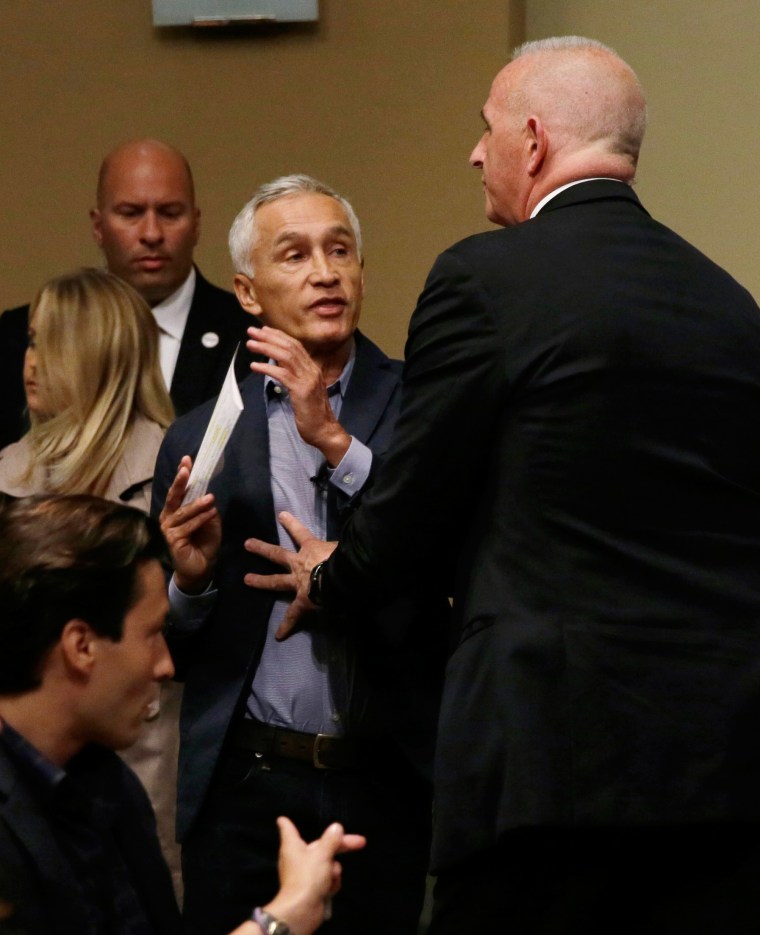 The confrontation began when Ramos tried to ask a question out of turn while another reporter spoke.
"Sit down, you weren't called," Trump snapped at Ramos. "Go back to Univision."
The real estate mogul continued to shut down the Mexican-American journalist, leading Ramos to be escorted out of the room by security. But Ramos was eventually allowed back in to ask two questions.
"He was totally out of line last night," Trump told TODAY's Matt Lauer. "I was asking and being asked a question from another reporter. I would have gotten to (Ramos) very quickly. He stood up and started ranting and raving like a madman."
Related: Trump to Univision: You Can't Use My Golf Course
Lauer then asked Trump why he lets people get under his skin, and suggested that a renewed feud with another journalist — Fox News host Megyn Kelly — has put him in an unfavorable light.
"I'm not a bully," he said about public perceptions. "In fact, I think it's just the opposite way."
He claims he proved that point while interacting with Ramos on Tuesday night.
When the journalist returned to the room, Trump took a question from him, adding, "It's good to have you back."
As the candidate answered Ramos' question on immigration policy and recent controversy around the term "anchor babies," Trump stood by the remarks from his presidential announcement, in which he said that Mexico was sending criminals and rapists across the border.
"I have a bigger heart than you do," Trump insisted, referring to his plan to increase security at the border.
After discussing immigration and taking questions from other reporters, Trump returned to Ramos, and their second exchange quickly turned to the $500 million lawsuit Trump filed against Univision, which canceled its contract with the businessman to air the Miss Universe beauty pageant. Trump then reiterated that he has the support of the Latino community.
"Do you know how many Latinos work for me? Do you know how many Hispanics are working for me? They love me," Trump declared. "Do you know many Latinos work for me? Thousands. Do you know how many have worked for me over the years? Tens of thousands."
Related: Univision Ends Miss Universe Business Deal Over Trump Mexico Comments
In his characteristic bombastic form, Trump has spent the past 24 hours boasting of his poll numbers, which continue to show him in a strong front-runner status in the Republican field. During the confrontation with Ramos, Trump pointed to recent polls out of Nevada, a state with a large Latino population. When Ramos admitted he hadn't seen the poll, Trump quickly changed his tune.
"He's an honest guy. Now I like him," the candidate said. "We're gonna be talking a lot over the years."