Daniela Vargas, who was arrested by Immigration and Customs Enforcement after criticizing the Trump administration's immigration enforcement, was released from immigration detention on Friday. Her attorneys celebrated her release, but warned there will continue challenging the government's actions in the case.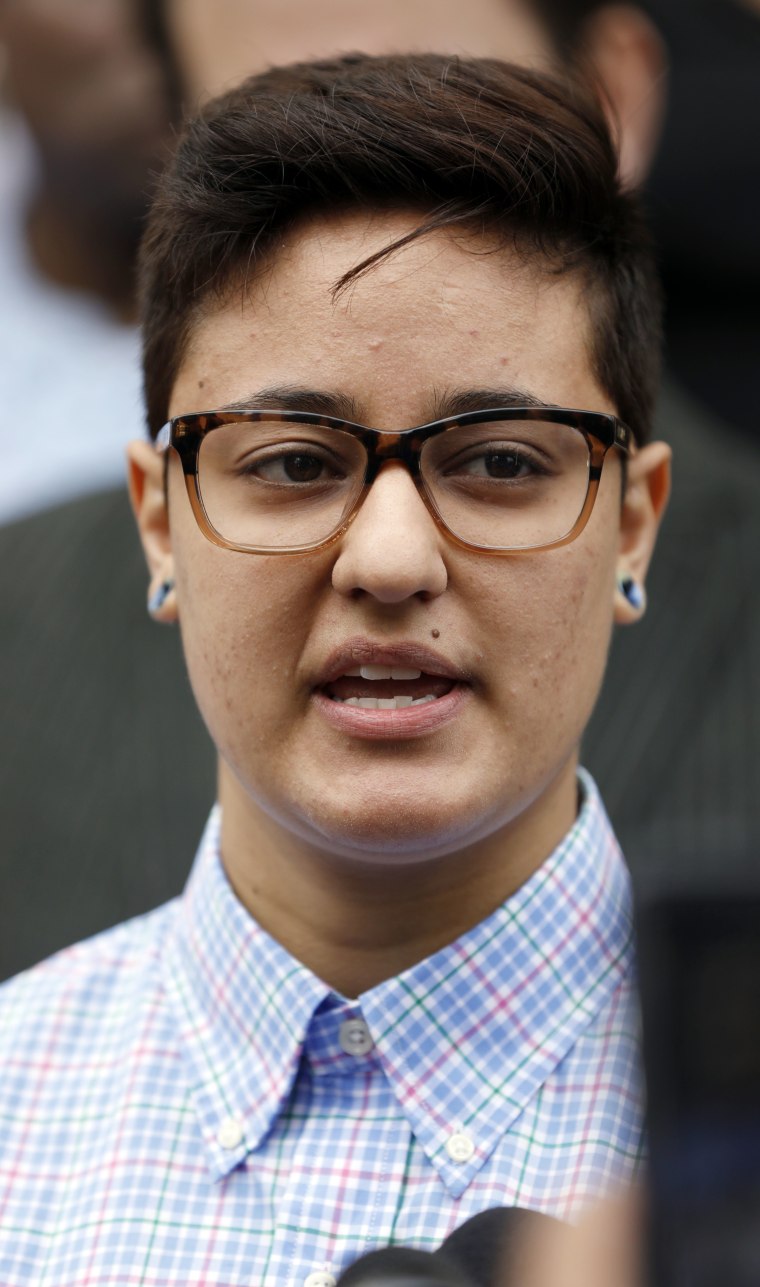 Vargas' attorneys and an Immigration and Customs Enforcement spokesman Tom Byrd confirmed her release. Vargas had been held at the La Salle Detention Facility in Louisiana since her arrest by ICE on March 1.
"One of our attorneys have spoken to her and she's outside the detention center and on her way back to Jackson, Miss.," said Karen Tumlin, legal director for the National Immigration Law Center, which has joined with the Southern Poverty Law Center and two law firms to secure her release and take on her case regarding her arrest by ICE.
"She's really happy to be on her way back to her family and community," Tumlin said. She was picked up at the detention center by the friend who had been driving the car she was in as a passenger when ICE arrested her.
RELATED: Lawyers: Immigration Agents Targeted Dreamer Who Criticized Them
ICE arrested 22-year-old Vargas in Jackson, Miss., on March 1, shortly after she left a news conference where she had discussed the arrest of her brother and father by ICE and the fear in the immigrant community over the stepped-up immigration enforcement ordered by President Donald Trump.
Vargas, originally from Argentina who came to the U.S. as a child, also was in the house when ICE came for her father and brother on Feb. 15, but agents declined to arrest Vargas then.
Vargas had been enrolled in the Deferred Action for Childhood Arrivals, or DACA, program, but she had failed to renew her enrollment before it expired.
The Southern Poverty Law Center had accused ICE agents of targeting Vargas days later because of her comments about the agency at that day's news conference and other public events where she had spoken. ICE has said that it later learned her DACA status had expired.
Vargas' attorneys said she applied to renew in December but her application was pending at the time of her arrest, according to her attorneys. Tumlin said on a conference call Vargas "spoke up" and "for that she was picked up and put in detention."
"It is important to underscore that this detention should never have transpired in the first place," said Abigail Peterson, an attorney with Elmore & Peterson law firm in Jackson. "Not every person will be fortunate enough to have the kind of backing that Daniela was afforded.
Her attorneys said she still is under an order of supervision that for now requires her to check-in next month with her local ICE office.
"We will continue to challenge the unconstitutional actions of ICE agents in this case and will not rest until she is no longer under threat of deportation," Naomi Tsu, a deputy legal director for the Southern Poverty Law Center.
RELATED: 'Dreamer' Applicant Arrested After Calling for Immigrant Protection
Her attorneys said they are continuing to pursue legal action "regarding the reason and manner of arrest and detention ... to secure Daniela's rights," the SPLC said. "We maintain our commitment to the rights of all persons in the U.S., regardless of immigration status."
Meanwhile, her attorneys will pursue further legal action, including a request to end attempts to remove her from the country.
A habeus corpus petition filed Monday in U.S. District Court for Western District of Louisiana has been transferred to the Fifth U.S. Court of Appeals.
The Trump administration has said it is putting a priority on the deportation of criminals, but the Department of Public Safety, acting on Trump's immigration enforcement executive order, has given wide discretion to immigration and border officers in deciding whom they take into custody.
Tumlin said there's no order that sets precedent for other DACA recipients targeted by ICE. But she said while Vargas has been released "we know that Daniel Ramirez (Medina) .... is facing his 24th birthday in detention in Washington state."
Ramirez, whose DACA is current, has been in detention about a month. ICE accused him of being involved in gang activity, but his attorney has said ICE made that allegation based on slim evidence to justify arresting Ramirez. A decision in his case could come next week.
"This really sharpens the question to the Trump administration who has very much tried to have it both ways, (saying) they have a lot of love and heart for DACA recipients and immigrant youth ... but have refused to make clear to line immigration officers that it is not in fact open season on DACA recipients," Tumlin said.
She said the events "sharpens the question ... Is the Trump administration ready to act and say that DACA is a program that has overwhelming value to our country and must be protected?" Tumlin said.