WASHINGTON, DC -- On the same day the administration opened the way for young immigrants to renew their deportation postponements, some of the youths were back at the White House keeping up their persistent protest of President Barack Obama.
In past two years tens of thousands of young immigrants who call themselves DREAMers have had a breather from fears that their illegal status in the country could get them ejected from it.
But they haven't quietly accepted the waivers Obama granted them. Instead, they re-enforced and grew their advocacy networks and became a thorn in the president's side as he has waited out Republicans for immigration legislation, while his administration has kept up deportations of other immigrants. Rather than placate them, the additional freedom has made DREAMers more willing to risk arrest and more outspoken.
The young immigrants largely wrote off Republicans and any chance they would move on immigration reform months ago. They've decided the buck stops with Obama and have hammered him to use his executive authority to significantly curb deportations of family members, friends and others who don't qualify for the breather they've had.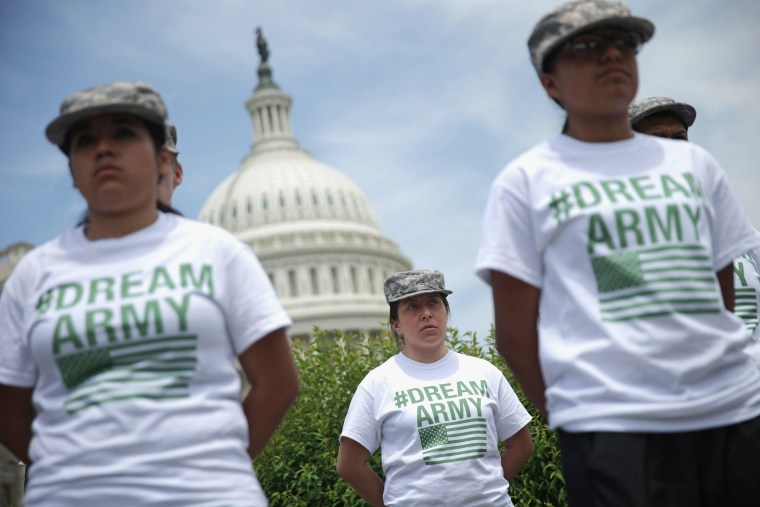 "It is not a matter of whether or not the administration delivers the relief we are demanding, it is just a matter of when. Our families can't wait any longer, we need action now," Cristina Jimenez, co-founder at United We Dream, said in a statement.
Their view has split many of their allies. Some groups and lawmakers have backed the president and his view to give Republicans until the August congressional recess to pass immigration legislation. Others have decried the many thousands of people who will be deported until then and joined the youths in calling for the president to take action now.
The president meanwhile has defended his caution in using his executive authority, warning that it is not a permanent solution and who it can affect is limited.
The first expirations of what is known as Deferred Action for Childhood Arrivals are approaching, but the administration said Thursday the young immigrants could start applying immediately to extend their temporary breaks from potential deportation.
More than 560,000 young immigrants had received the quasi-legal status since they first began being granted in September 2012, according to the Department of Homeland Security.
The administration has simplified the renewal application and made some other adjustments to the DACA program. Kamal Essaheb, an attorney at the National Immigration Law Center, said two important things for young immigrants to keep in mind is that if they have never applied for DACA, they can and those who have it should learn and stay abreast of the specific window of time they have to renew.
Essaheb said NILC will soon have on its website a date generator so young immigrants can input their expiration date and get back a date range for when they should renew.