WASHINGTON -- In the five years that hundreds of thousands of young immigrants without legal status have been permitted to work and stay in the U.S., Jaime Rangel has ramped up his college course load while working to pay tuition. Renata Borges Teodoro finished off the latter half of a decade of college to get a bachelor's degree, while Javier Noris started a micro venture capital company that invests in early stage life sciences technology.
But while they achieved those milestones, the federal government made no headway on proposals to let them and many more immigrants without legal status move toward legal residence and citizenship.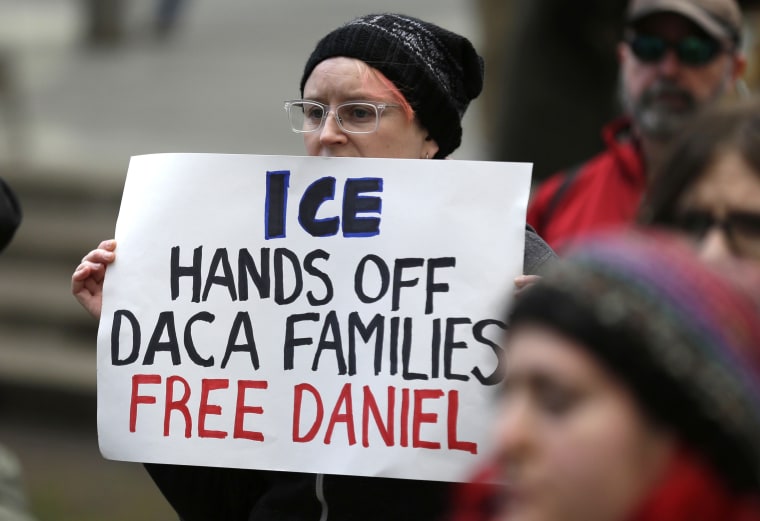 Since 2012, many of the approximately 1.6 million young people granted DACA, short for Deferred Action for Childhood Arrivals, have used it as fuel to fire up their dreams, accelerate their studies and jump into American society in a bigger way. DACA, a two-year, renewable program, allows eligible young immigrants who came to the U.S. before they were 16 to work and study without threat of deportation.
Although President Donald Trump had said during the campaign he would end the Obama administration's program, DACA continues with thousands of new recipients and renewals monthly.
But many DACA recipients are marking the program's fifth year with trepidation as they watch immigration officers scoop up family, friends and other immigrants, including a handful of people with DACA.
"I don't think I ever felt 100 percent secure with DACA," said Renata Borges Teodoro. "DACA has definitely changed my life a lot of different ways for the better, but DACA is only a temporary fix and it's scary because we've known it's something that can be taken away."
Borges Teodoro is feeling the insecurity of DACA profoundly now that hers has expired. Although she applied for renewal on time, an immigration officer kicked back her renewal application, wrongly claiming Borges Teodoro failed to pay the correct fee, a delay that pushed her renewal passed a government deadline.
RELATED: Trump: We Will Show 'Great Heart' on DACA
Nonetheless, Borges Teodoro, 29, said she is lucky to have DACA at all, considering there are many immigrants in the U.S. without legal status who don't qualify. She credits her DACA status for helping her to finally earn her bachelor's degree, which took 10 years of study, while supporting herself by cleaning houses, working in a doughnut shop, a clothing store and doing other jobs.
The rest of her family returned to Brazil after immigration authorities arrested her brother. Her story and separation from family are featured in a documentary film, "Indivisible," shown to House members this week in a screening hosted by the Congressional Hispanic Caucus.
"I think (DACA) has changed my life in a lot of ways the last five years," Borges Teodoro said. "Just being able to get different jobs, but also being able to leave the country … to see my family again made a significant difference in my life, my mental health."
Jaime Rangel, 26, a student at Dalton State College in Georgia also was among the first wave of applicants for DACA.
"I wanted to finally feel safe," Rangel said. "I wanted to finally feel comfortable in the country, the only country I've known most of my life. I wanted to finally get a work visa to pay my bills, pay tuition, out of state tuition, and go to school … It's hard to imagine how I got through life without it."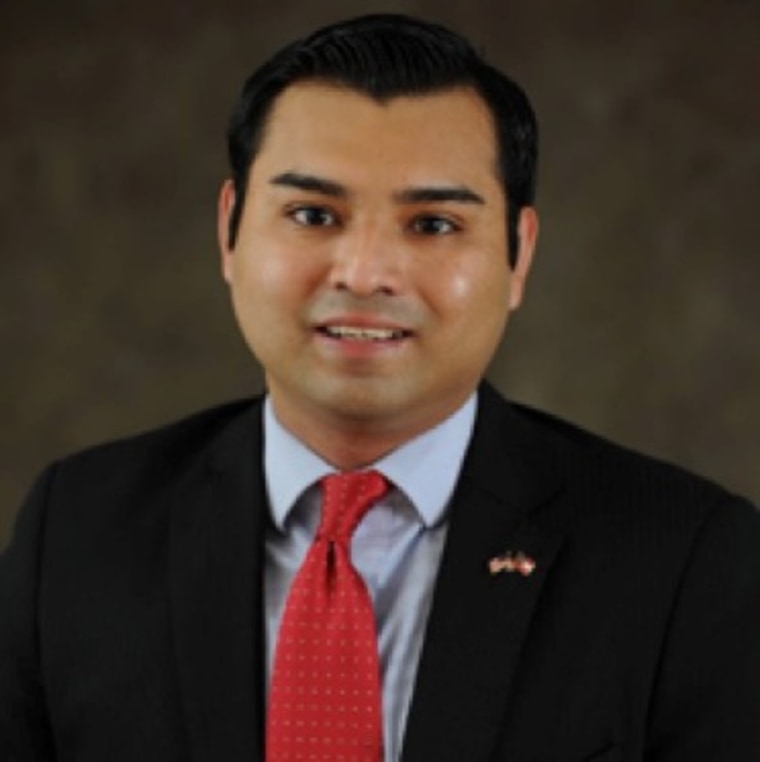 Born in Mexico, Rangel has been in the U.S. since he was 3. He was in college before getting DACA, but was taking a class or two at a time while he worked odd jobs to pay the higher costs of out-of-state tuition. Georgia does not grant more affordable in-state tuition to immigrants here illegally or with DACA. With DACA, he's taking more classes and has been working an internship at a lobbying firm.
If Trump did repeal DACA, it would mean taking some of the brightest out of the country, Rangel said.
"I know people with DACA who are job creators … That's not putting America first," he said.
New applications for DACA dropped during Trump's first three months in office. In the months of January through March of this year, just 10,362 people applied for DACA for the first time, a drop of 4,932 from the total for October through December, according to Department of Homeland Security statistics. Renewals, however, are up from last quarter.
Greisa Martínez, advocacy and policy director for United We Dream, a group that advocated for DACA, said the numbers reflect the "Trump effect."
"Those who are applying for DACA and renewing are having conversations similar to those they had when the program first went into effect," asking what will be done with their information and will they endanger family members also here illegally by applying for the program, Martínez said.
While he has not ended DACA as he said he would, "Trump is pushing forward a campaign against our families," Martínez said. "I think every day you find our members and ourselves looking at Trump's Twitter, looking for any sign of what's going to happen to the program."
Mark Krikorian, executive director of the Center For Immigration Studies, which advocates for tougher immigration enforcement and less immigration to the U.S., wants Trump to stop Homeland Security from accepting new DACA applications.
"The administration's continued acceptance of new DACA applications is a "sign of betrayal," Krikorian told NBC Latino.
"I expected the president was going to sell out on some aspects of immigration, that's what presidents do. I didn't expect DACA to be something he would continue to expand," he said. "He had said on Day One he would end Obama's illegal executive orders and this is clearly one of them."
Homeland Security Secretary John Kelly has pressed Congress to pass legislation to grant permanent legal status to DACA recipients and has said that immigration officers are not targeting them. But there also have been arrests and detentions of DACA recipients and at least one deportation.
RELATED: Was It Legal for ICE to Arrest Young Immigrant with DACA Status?
Noris has been operating his micro-venture capital fund for about the past year. The fund invests in biotechnology companies whose innovations have the potential to affect 1 million people or more, he said. Those innovations could be cures for cancer or Azheimer's or a new form of artificial intelligence or robotics that could help in diagnosing patients.
Noris was born in Mexico City but raised in Los Angeles and Qurétaro, Mexico. He went on to study biotech and economics in college. It's a long way from where things were for him before he got DACA.
"Without DACA, I wasn't able to work. At that time, I was working at a (convenience store). I was getting paid under minimum wage, because they knew they could take advantage of me," Noris said.
Noris said he doesn't know what his life would be like had he not gotten DACA. He suspects he would have gone abroad, but he said many of the ideas he has now are a result of the work he got in Silicon Valley after the program.
The current political climate and the uncertainty over the program makes investing in technology of the future difficult, he said. But that hasn't stopped him. He said he's "throwing caution to the wind" and trying to "just go for it" while he can.
If forced to leave the U.S. at some point, Noris said he may be able to do his investing from abroad, although it may be more difficult.
"I mostly invest in U.S. companies," Noris said. "If forced to go abroad I would look at perhaps international (investment) and some investors in my company would not get the chance to invest."
"I think the biggest difficulty of being in the position I'm in is dealing with the uncertatinty of what's going to happen tomorrow," he said.