Kristie Rodriguez and her daughter Xochitl spent a lot of time planning the teen's quinceañera celebration to mark her 15th birthday.
"Every little Hispanic girl dreams about her quinceañera and her wedding. Those are your two big days in your life," Rodriguez, 45, from San Antonio, told NBC News.
Then the coronavirus hit — and stay-at-home orders left Rodriguez having to reimagine the venerated Latino tradition in a very different way.
It took some creativity and work, but Rodriguez and her husband, Jimmy, surprised Xochitl on April 21 with a low-key but unforgettable version of her big day: a drive-by quinceañera. Xochitl was able to share it with her closest family and friends — at a safe distance.
Across the country, families have found ways to celebrate.
A rite of passage, celebrated a new way
The quinceañera, observed in Latin America and in many U.S. Latino households, celebrates the transition of a young girl into womanhood on her 15th birthday. Generation after generation passes on the tradition.
"Usually, there is a Mass where the priest blesses you as you get ready for your transition, from being a young girl to becoming a woman, which of course we couldn't do," Rodriguez said, emotionally, over the phone.
In the months leading up to her only daughter's celebration, Rodriguez had meticulously shopped with Xochitl for the right dress, complete with a tiara, and planned for a church Mass and an elaborate reception with family and friends.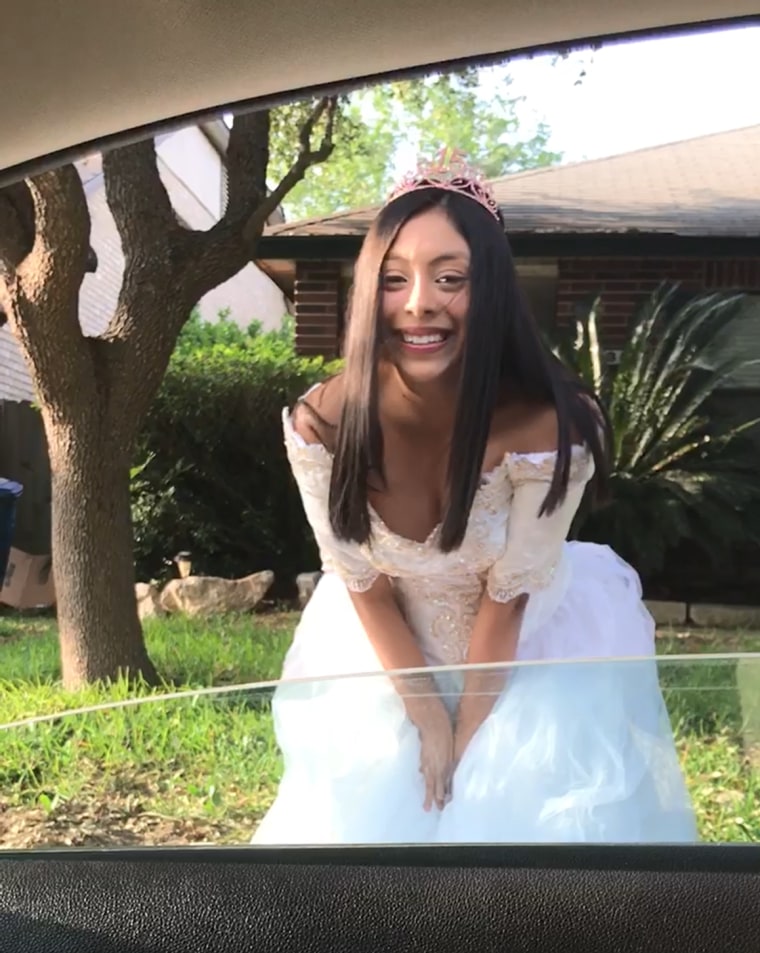 Remembering her own celebration in 1990, Rodriguez, who is of Mexican American heritage, was sad she couldn't do the same for her daughter in the age of COVID-19.
The family adapted, though. For instance, the celebration involves having 14 couples representing each year of the young girl's life, "and then you're No. 15," Rodriguez explained.
Instead, Rodriguez and her husband searched throughout their home for clothing from their daughter's doll collection and her Build-a-Bears, dressed up the figures and gathered them outside.
Xochitl was told to dress up in her special dress for a photo shoot outside on her special day.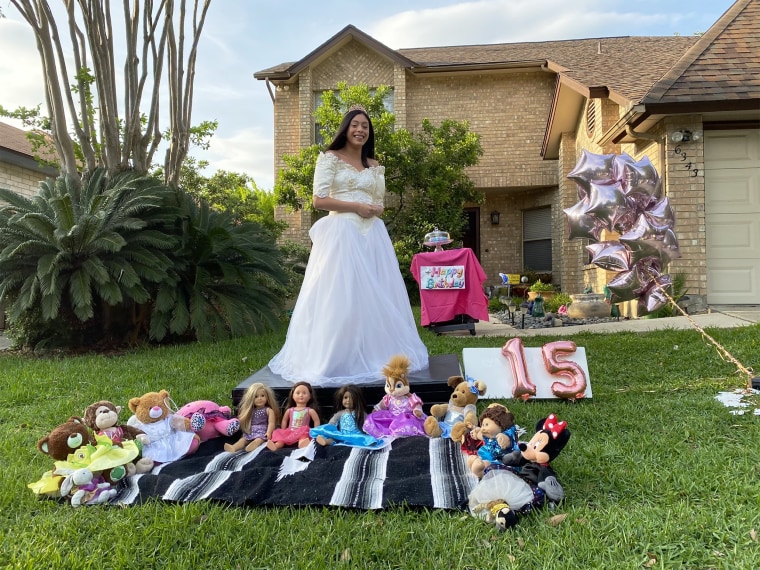 "We had blown up the balloons the night before and had kept them in the garage and then kind of made the mad dash to decorate the yard when it was time for her to go outside," Rodriguez explained.
When Xochitl came out, she didn't just find a photographer. Instead, family and friends welcomed her, snapping photos, singing the popular Spanish song "Las Mañanitas" and wishing her a happy birthday near the sidewalk in front of their home.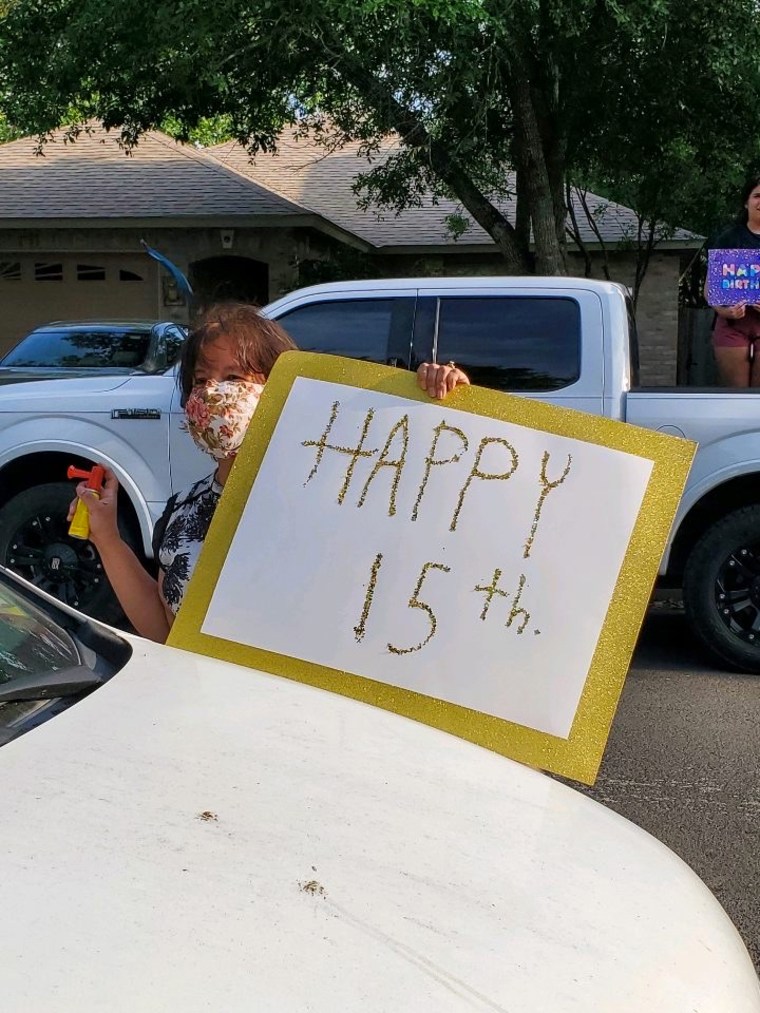 Xochitl said she never thought she would be able to see the closest people in her life on her special day.
"I kind of lost hope of having anyone over or having a normal birthday where I can see my family, and I feel like my mom and my dad really made it special, trying to get the people that were closest to me," she said.
Rodriguez saw her daughter's gratitude and was so happy they could pull it off.
"We actually miraculously kept it a secret from my child, which was really hard in this situation when you're together 24/7," Rodriguez said.
Xochitl's drive-by quinceañera has not been the only one. Another in California shows the updated version of the traditional celebration.
One Puerto Rican dad from Kokomo, Indiana, also held a quinceañera for his daughter, Alyvia, outside his family's home as family and friends watched at a safe distance, some from inside their vehicles.
They danced to "My Little Girl" by Tim McGraw on her birthday, May 5. "She couldn't stop smiling and talking about it. She still talks about how excited she was, and I was so glad I was able to pull something off for her," Jason Vazquez, 36, told NBC News.
Still, there are aspects of the tradition that families miss.
"It was very different, because our culture is very much about physical affection — you know, the hugging, the kissing, the touching — and it was really hard to see them and not be able to touch them," Rodriguez said, speaking of the relatives and friends who came to cheer Xochitl on.
"It's just hard," Rodriguez said. "Although my daughter will never forget that birthday — whether it's what we wanted or what we planned or not — we tried to put as many of the traditions as we could."
Follow NBC Latino on Facebook, Twitter and Instagram.