QUITO — After more than a decade, Ecuador will have a new president. Elections will take place Sunday, February 19 and their often controversial but popular leader, President Rafael Correa, is on his way out.
Since taking office in 2007, President Correa, a U.S.-trained economist has railed against capitalism, the United States and the media, while at the same time enjoying economic prosperity.
Correa fixed the country's infrastructure in a way many Ecuadoreans had never seen before. Then came a plunge in the price of oil, Ecuador's main source of income, as well as a devastating earthquake in 2016 that left the nation in the midst of an economic crisis. It's rattled what many expected to be a predictable presidential campaign.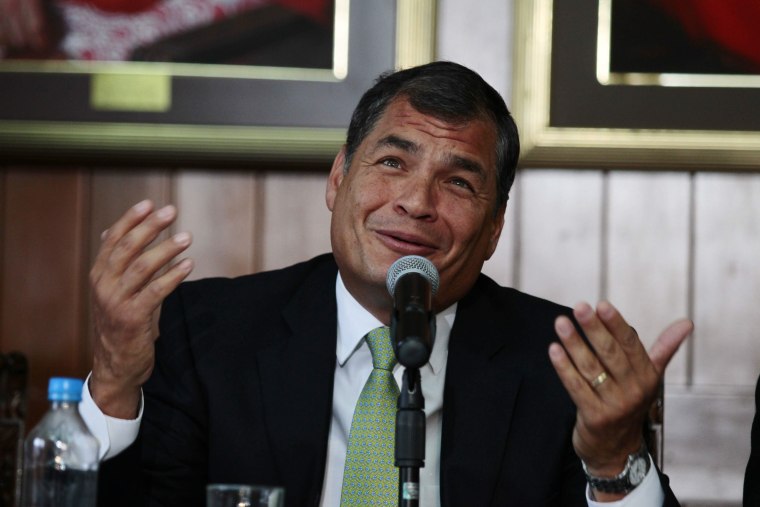 "In the real world when you have a good-paying job that you know might not last, you save money for a rainy day," said Antonio Torres, an economics professor at Azuay University in Cuenca, Ecuador. "He didn't. Ecuador was living day by day."
President Correa's administration pushed through a series of unpopular tax increases to make up for the loss of income.
"He also hasn't decreased the size of the government. Those who are hurt the most are in the middle class," said Torres.
Another factor that should worry Correa — South America in recent years has turned away from left-wing governments. Take Argentina, Peru, Brazil and the possible collapse of Venezuela.
"He was our Messiah. A populist figure who came to save the day," said Ana María Bustos, an environmental lawyer who teaches politics at Azuay University, of the charismatic Correa. She voted for him in 2006.
"We gave him and his party complete and total power. His backing was massive," she said, but argued that "the Messiah also came in Argentina and the Messiah also came in Venezuela."
The Ecuadorean constitution prevents Correa from running for a 4th term in office — for now. But prior to his leaving office, he has already signed into law a number of amendments to the constitution, including one that eliminates term limits for presidents.
The new constitution does not go into effect until a new administration takes over, which has fueled speculation of a 2021 run from Correa.
The Ecuadorean president is known for retaliating against criticism: Since taking office the government has seized two private television networks, runs five state-owned TV stations and sued journalists critical of his administration.
RELATED: Comedian John Oliver Rattles Ecuador's President Rafael Correa
Emilio Palacio is a journalist who now lives in exile in Miami. He fled to Florida after Correa sued him over an opinion article he wrote; Correa won the suit. Palacio was sentenced to three years in prison and ordered to pay $40 million dollars.
"It's not a democracy," Palacio told NBC News, "There is no separation of power."
He argues freedom of expression in Ecuador is long gone.
"The press is not free to say what they have to say," he said. "They could end up in jail."
In what was his final visit to the United States as President last month. Correa sang and danced with the Ecuadorean community into the wee hours of the morning at a New York City cultural event in which he gave an hour-long speech and attacked the opposition.
"Only a blind man can deny the change we have brought to our land," Correa said to a crowd of more than three thousand who cheered him on.
According to the government, more than 12 million Ecuadoreans, including 70 thousand in the U.S. and Canada, are eligible to vote. Although they will choose between eight candidates, all eyes are on just two.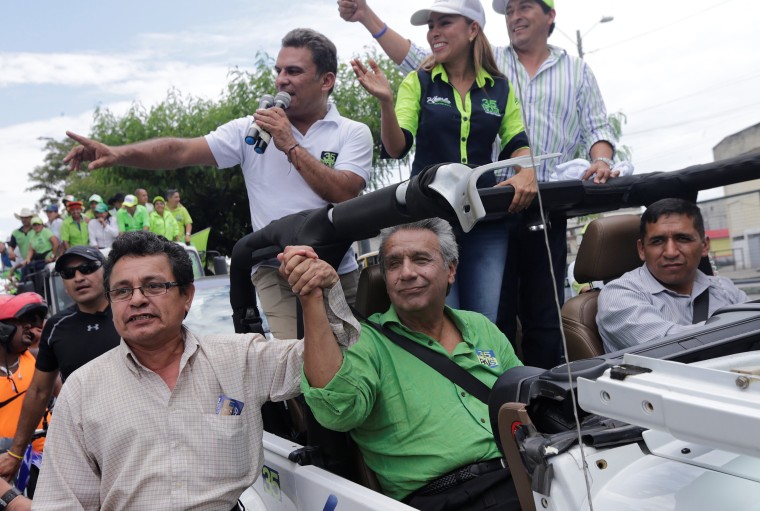 The government's choice, Lenín Moreno, is Correa's former vice-president. He currently leads the race according to recent polling. The Alianza País party is expected to carry Correa's legacy through turbulent times.
Moreno has promised to continue the government's economic policies but is reviewing taxes as needed. His vice-presidential candidate is the current vice-president, Jorge Glas. He has been accused of knowing there was corruption within the state-owned oil company Petroecuador and doing nothing about it. This scandal has overshadowed his presidential campaign.
The opposition candidate, CREO party's Guillermo Lasso, is the runner-up, a businessman and the former governor of the Guayas province, which is home to the country's largest city, Guayaquil. He is considered a center-right candidate and many see him as the opposition's best chance at a win.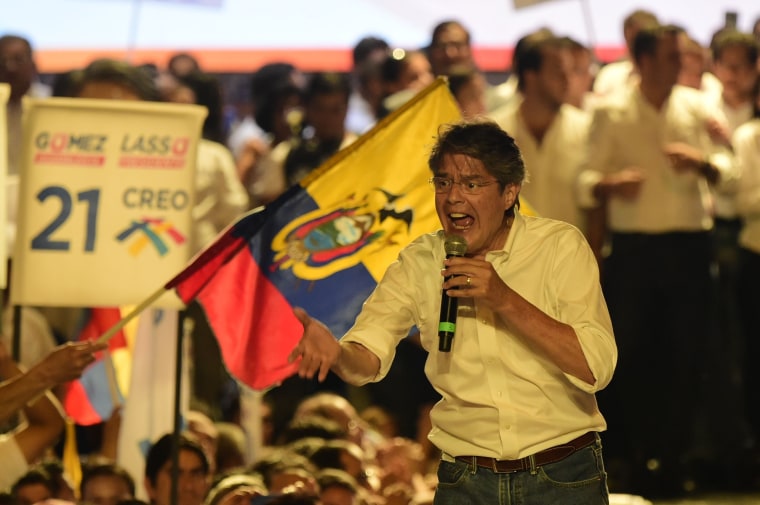 Lasso has vowed to slash taxes, some implemented by Correa, to attract businesses and to fight the government in Venezuela. He has also promised to form a closer relationship with the U.S., including evicting Julian Assange from the Ecuadorean embassy in London within 30 days.
RELATED: U.S. Urged Ecuador to Act Against WikiLeaks Leader Assange
In Sunday's election, a candidate needs to win by over 40 percent of the vote and by at least a 10-point margin over the runner-up there. If not, there will be a run-off between the top two candidates in April.
Lasso and his backers are counting on there being a run-off election.
"It's not impossible," says Torres for Lasso to win in the first round but, "highly unlikely."
Mr. Correa and therefore Mr. Moreno are still highly popular figures.
At his New York visit last month, Correa said- "Nothing, nobody will stop this revolution."