Carlos Flores is in the process of receiving his barber's license. He's been practicing for three years now and has been specializing in all types of men's haircuts. But there's a style that young Latinos have been requesting frequently in recent times.
"There's not a day that doesn't go by that I don't do an 'Edgar haircut'," Flores, 19, an award-winning aspiring barber from Kyle, Texas, told NBC News. Flores now averages at least seven "Edgar haircuts" daily, most of them requested by younger clients ranging between 5th graders to high school seniors.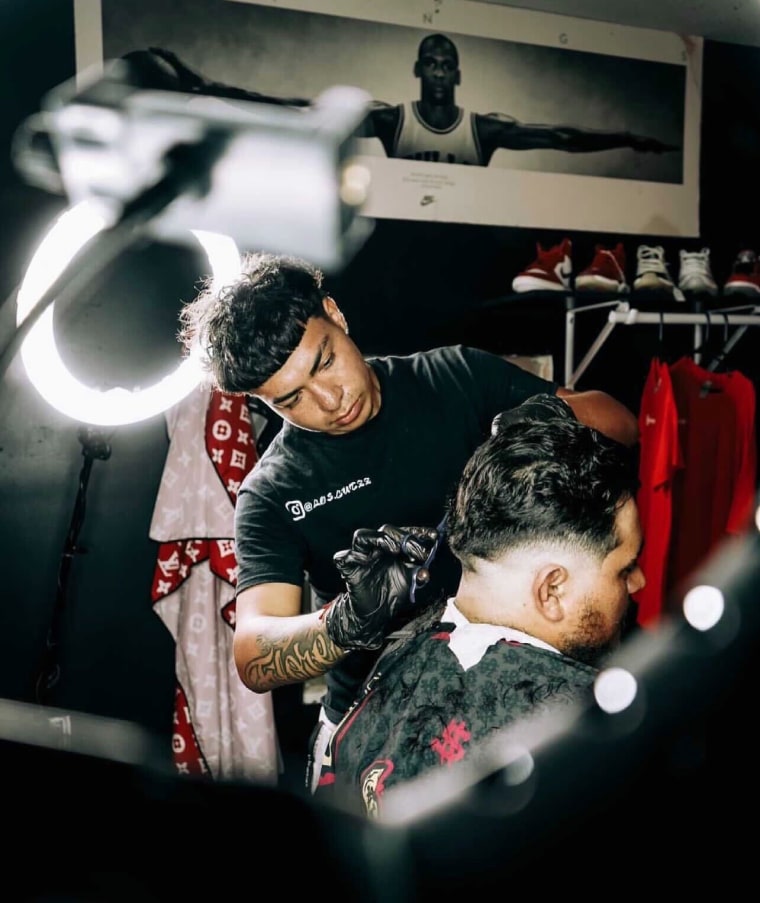 In part due to TikTok and other social media platforms such as YouTube and Instagram, the hairstyle dubbed the "Edgar cut" has gained widespread popularity. Just follow the memes — even Spongebob and Chucky are sporting it.
As first reported by The Dallas Morning News, the hairstyle has struck a chord with Gen Z Latinos and late millennials.
One of Flores' clients, Juan Morazan, 19, saw the hairstyle's growing popularity and opted to change his man bun — his hair was shoulder-length — to the Edgar cut. 
"I like it short. I don't like it too big where it looks like I have a helmet or like a balloon on my head," said Morazan, who now freshens up his Edgar cut every six days.
Often described as a bowl-like cut with a line-up and tapered sides, the Edgar is often associated with the modern ranchera/o aesthetic known as "takuache"and the "trokiando" (from the word truck) trucking scene. Young men embrace their Mexican roots by wearing cowboy hats and boots, driving pick-up trucks and dancing to traditional Mexican music like corridos and rancheras.
The Edgar hairstyle has been prevalent in states near the U.S.-Mexico border, including California, Arizona, New Mexico and Texas. Yet its popularity extends to other young Latinos, not just Mexican Americans or those who live in the Southwest.
How did the haircut gets it name? The popular story behind it is that a young fan asked a barber, Anthony Reyes, to cut and shape a design of Major League Baseball player Edgar Martínez, a former Seattle Mariners hitter and third baseman, on the back of his head.
Reyes later shared a video resembling the now famous Edgar haircut and it went viral.
Popular — and also a punchline
While the Edgar is a favorite, videos, images and memes have turned the haircut and its associated culture into somewhat of a punchline — including stereotyping those who don it.
Viral videos online often depict and mock the young men with "Edgar" cuts, seemingly grouping them because of their shared characteristics such as their appearance, clothing style, the way they walk, their dialect and interests.
Alexandro Gradilla, an associate professor of Chicana and Chicano studies at California State University, Fullerton, said it's important to take a step back and see how the haircut is perceived.
"Even though they may not have the label, they're closer to the Indigenous peasant identity that is predominant in Latin America. And they're also representative of the kind of blue-collar peasant culture of immigrants here in the U.S.," Gradilla said. "When you look at these young men, we have to also understand this: their culture is what is a mixture of what happens to Indigenous culture and Indigenous peoples through time and space, especially in Latin America."
The hairstyle has been found to have some resemblance to the hairstyle of Indigenous Native Americans, including the Jumano tribe, which were dominant between 1500s and 1700s in Texas.
Gradilla said criticism of the Edgar involves a form of classism or rasquachismo, which derives from the word rasquache — often used to describe an attitude that is lower class, or bad in taste or too cheap.
"You don't see what you would call white-passing Latinos with an Edgar haircut. It is always very dark-skinned Latinos who have the Edgar haircut," Gradilla said.
The criticism of the Edgar includes making fun of the cut, referring to the young men sporting it as lower class or more sheltered or lacking the respect of the Mexican American "Cholo" or gangster style.
Yet for all the memes and criticism of the Edgar, its popularity has only been growing.
"First it was just the Edgar, now it's something called the Fluffy Edgar," said Flores. He said a lot of fellow barbers struggle to do the haircut and some won't do it, but he suggests they learn because "it's here to stay. There's so many people getting that haircut now, that I don't think it's really going away anytime soon."
"Some people even go above and beyond and get a design in the back like a freestyle design to express themselves even more," Flores said. "When you walk around with the Edgar haircut, you're gonna get more attention than if you just have like a simple bald fade. It might be not a good attention, but you will for sure get attention for it."