The wife of Mexican drug lord Joaquin "El Chapo" Guzmán, Emma Coronel Aispuro, said in her first-ever interview that she fears for the life of her husband and has not seen him since he was recaptured on January 8.
The exclusive Telemundo interview between Coronel Aispuro and Mexican journalist Anabel Hernández aired on Sunday, in a news special titled "The Queen of El Chapo."
Coronel Aispuro is a former beauty queen who was born in California and holds dual citizenship. El Chapo reportedly met her in 2006, when he was around 50 years old and she was 17. They married in 2007 on her 18th birthday.
Coronel Aispuro questioned the conditions her husband is living in at the Antiplano prison, claiming the Mexican government is responsible for El Chapo's health.
"I fear for his life [El Chapo's]. We don't know if he is eating well. We don't know what his situation is because we haven't seen him," she said.
Telemundo Video: La Esposa del Chapo Habla Por Primera Vez En Exclusiva
"They want to make him pay for his escape. They say that they are not punishing him. Of course they are. They are there with him, watching him in his cell," she said in the interview, which was produced in association with the Investigative Reporting Program at UC Berkeley (IRP).
"Not everything people say is true... I think that all human beings have the right to have at least the basic things — they are not giving that to him," she said.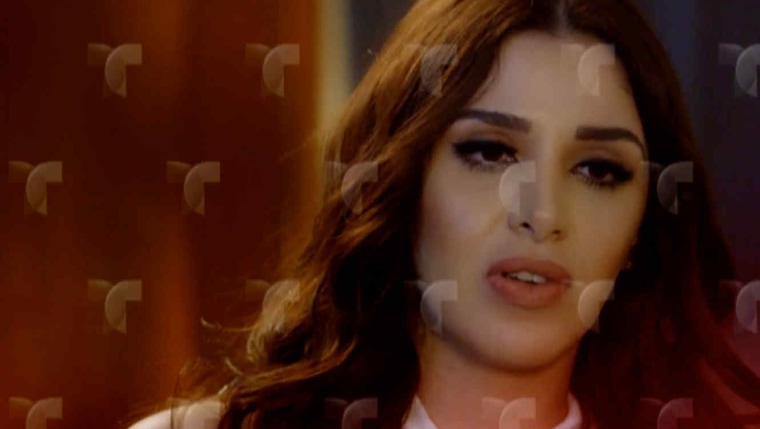 Coronel Aispuro also spoke about Kate del Castillo and her relationship with El Chapo, as well as about her family life and El Chapo's relationship with his twin daughters.
Related Article: El Chapo's Wife Gives Birth in California Hospital
On Friday, journalist Anabel Hernández appeared on Telemundo's "Al Rojo Vivo con María Celeste" to talk about the Telemundo News exclusive. She revealed that the interview took place February 12th in the state of Sinaloa, Mexico.
"This is an interview that I have been going after for a very long time; I've been investigating the life of 'El Chapo' for 15 years," she told host María Celeste Arrarás. "Emma [Coronel Aispuro] thanked me for the interview but I also thanked her because this is an interview to understand the circumstances around this whole ordeal."
Hernández says that Coronel Aispuro willingly answered all the questions she had. "I asked her what she says to people that consider that 'El Chapo' Guzmán is a dangerous criminal, and she says that to her, Joaquín Guzmán is just her husband, not 'El Chapo'," she said.