This news anchor's schedule is not for the faint-hearted. He is usually in bed by 7 p.m., so he can be at work by midnight. He starts taping TV segments at 2:40 a.m. By the time most people are waking up, he has co-hosted four separate live programs, one for each time zone across the U.S. This is weekday life for Phillip Mena, the new co-host of Early Today, NBC's first news show of the day and one of the earliest live broadcasts in the country.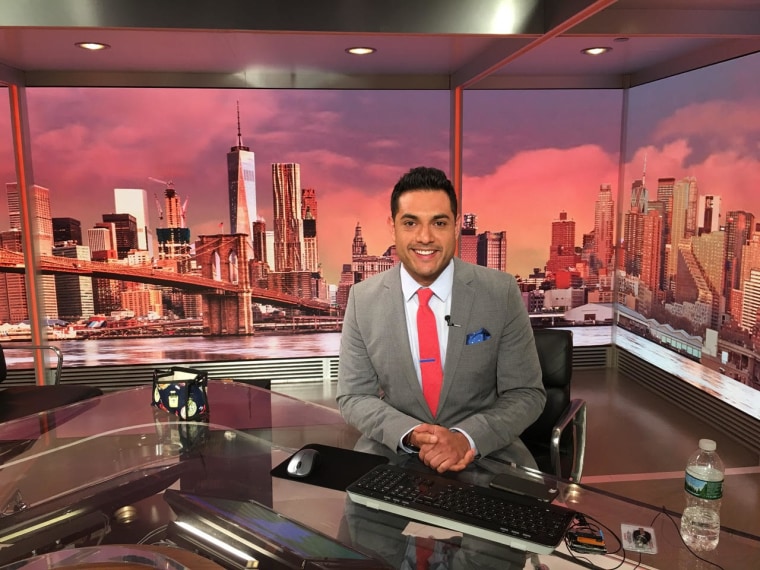 Under a passel of lights and in front of a backdrop of the lower Manhattan skyline, Mena swallows a yawn. At 6:30 in the morning, he is seated next to his Early Today co-host Frances Rivera at a desk across from the NBC Nightly News set.
"What are you doing for Thanksgiving?" Rivera asks. Mena is distracted by a producer who strides into the studio with a sheaf of updated script pages. The stage manager raises her hand, announcing, "Counting down in 5, 4, 3…" Mena and Rivera launch into the day's headlines, covering everything from the ongoing Russia collusion investigation to the world's highest-paid magicians.
"It is an odd way to experience the day, no doubt," said Mena, 36. "But I feel very accomplished when I am heading home and everyone else is just getting started."
Mena is among an elite group of Latinos who have held national anchor positions. He is following in the footsteps of Latino journalists like Soledad O'Brien, Natalie Morales, and Rick Sanchez, all former MSNBC anchors; Tom Llamas of ABC News; and Jose Diaz-Balart, who currently hosts the Saturday edition of NBC Nightly News.
Mena also serves as a correspondent for NBC News – he covered Hurricane Irma for the Today Show – and as a weekend anchor for MSNBC. However, his path to a national news job was not entirely linear.
Mena was born and raised in El Paso, Texas, a predominantly Mexican-American city that he says shaped his worldview. "Growing up in El Paso, you don't feel like a minority, because you're not," said Mena, a third-generation Mexican-American. "I never experienced discrimination or any feeling like I was different. It wasn't until I left home that I understood what other people, and my grandparents' generation, had gone through."
"I was born two miles north of the border," Mena said, referencing El Paso's proximity to Mexico. "I sometimes wonder how different my opportunities would have been, if I had been born two miles to the south."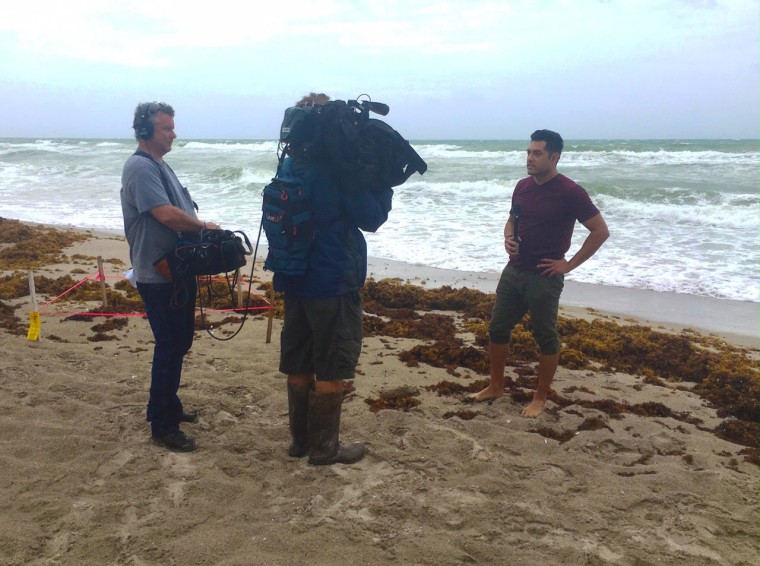 Growing up, Mena was obsessed with sports, not journalism. He spent one semester at the University of Texas at El Paso (UTEP) but then left college, feeling unmotivated. "Chalk it up to being 19, 20 years old, with no focus," he recalled. It was a visit with a friend at Arizona State University that inspired him to continue his education. Mena enrolled there, intending to focus on sports journalism. He graduated in 2008 with a degree from the Walter Cronkite School of Journalism and Mass Communication.
Mena graduated at age 27, older than many of his classmates. He worked in a health food store while sending out demo tapes and watched friends get jobs as reporters. "It was tough, because that was right around the time of the financial crisis," he said. "I already had a late start, and I tried not to get discouraged. I sent out so many demo tapes, and heard nothing. I was starting to wonder if I was burning the DVDs incorrectly."
Mena was struggling to break into an industry where Latinos are traditionally under-represented. According to a 2017 report from the Radio Television Digital News Association, Hispanics — who are 18 percent of the U.S. population — comprise 10.5 percent of the local television news workforce. When factoring out Spanish-language stations, this figure drops to 8.4 percent.
It was two years before Mena landed his first job in broadcasting, at a station in his hometown in 2010. "He was a down-to-earth guy. He was willing to learn the ropes as a reporter, and he had a good connection with the audience," said Charles (Chuck) DeBroder, chief meteorologist at KTSM El Paso. "He did sports reports, and he was good at it, and then he became our main anchor."
In El Paso, Mena reported on drug cartels along the border and on corruption in local government.
By 2012, Mena was in Houston at KPRC, a station that has been a stepping stone to national prominence for journalists like Paula Zahn and John Quinones.
"Phillip came from El Paso, which is a big jump up," said Houston media blogger Mike McGuff. "He (Mena) immediately had a good presence as an anchor, which is rare, not everyone can do that right away."
McGuff pointed to a profile of Mena in the Houston Chronicle. "The Chronicle doesn't usually do profiles of local TV people, so that says something."
In Houston, Mena covered the West Texas explosion, NASA, and the Adrian Peterson child abuse scandal. He moved to New York in 2015 to serve as a correspondent with ABC, before joining NBC News this summer.
RELATED: GOP launches English, Spanish Social Media Latino Outreach Campaign
The oldest of three children, Mena credits his parents with his work ethic. His mother was a school secretary and his father worked at a supermarket. Yet by the time he was in high school, both of his parents went back to school to obtain their college degrees, to show their children the value of education. Now Mena's mother is an occupational therapist, and his father is a teacher. In fact, during Mena's first semester at UTEP, his father was a student there as well. "The older I get, the more in awe of them I am," Mena said.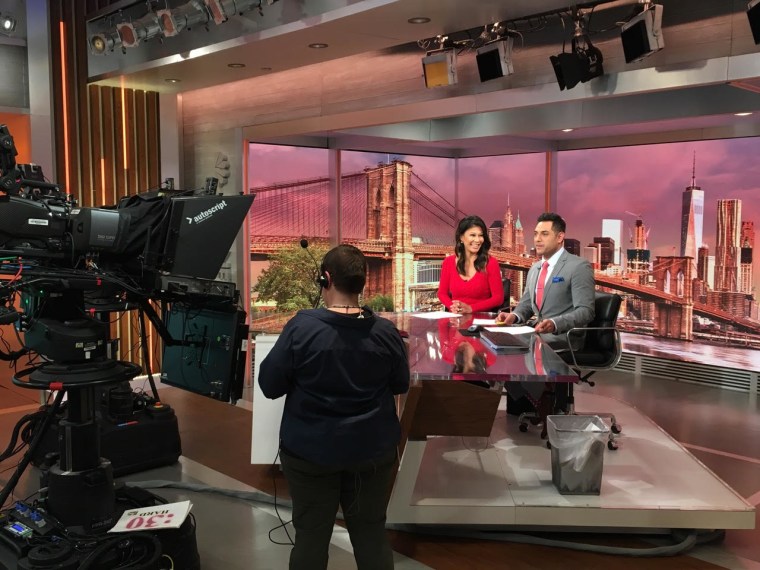 These days, Mena is enjoying sporting events in New York when his schedule allows, following his Fantasy Football teams, and taking in the attractions of New York City (he has seen Hamilton twice). Even though he is far from home, he still roots for the UTEP Miners.
"I get emails and Facebook messages from El Paso people all the time," Mena said. "I don't think of myself of being an inspiration to anybody, but it is nice to be reminded that people feel I am representing them. These are people who I really love who appreciate me."
"I am glad that I get, in a way, to represent El Paso," he added. "That is my heart, that is home. That is who I am."