EL PASO, Texas — When an outsider came to El Paso and shattered the sense of security Joel Martinez had always felt in his hometown, he grabbed his family and huddled in a closet.
Their home is down the street from the Walmart where 20 people were killed and 26 wounded by a gunman who walked in Saturday during back-to-school shopping time and opened fire.
Text messages and news reports flooded Martinez's cellphone. Soon, the shutters in their home began shaking as police and news helicopters whirled overhead. Martinez feared he and his wife Zylene, 32, and their boys Jovani, 4, and Mikey, 7, were in danger.
"We've lived here all our lives and for the first time, I felt — get in the closets," said Martinez, 32. "I started preparing. I was in the military so it was, start getting ready, anxiety, turn the TV down."
Full coverage of the El Paso and Dayton mass shootings
Martinez and his wife, both born and raised in El Paso, left a bunch of bright yellow daisies Sunday at a makeshift memorial near the Walmart, which remained cordoned off by police.
On Sunday, as law enforcement officials continued the grim task of identifying victims, residents of El Paso and Juarez, its sister city across the U.S.-Mexico border, tried to take stock of how they went from the center of President Donald Trump's hard-line immigration stance and anti-Latino rhetoric to being the target of a mass shooter.
Robert Chavez, 65, an El Paso native retired from Immigration and Customs Enforcement after a 27-year career, shopped Sunday at another Walmart not far from the shooting scene. He was apprehensive and alert for threats.
"What did he come over here for? I guess he had to come somewhere where there's more Latinos," Chavez said about the gunman. "He shouldn't have made a trip anywhere."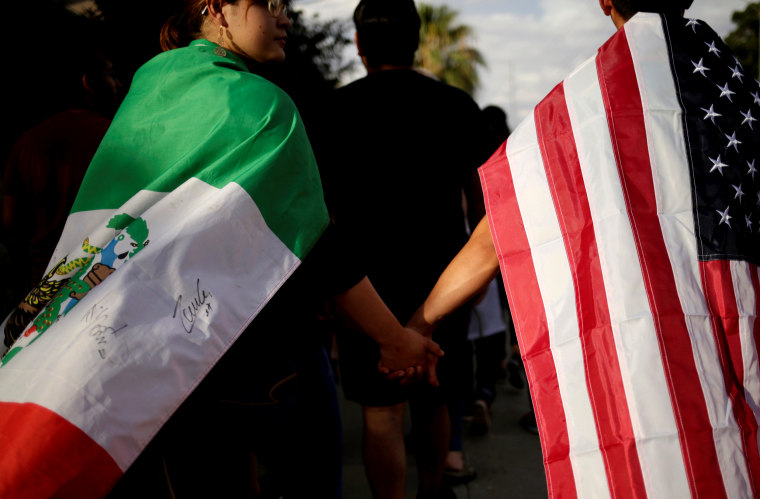 Shooter 'was trying to slap us in the face'
El Paso residents bridge many divides in their daily lives because they share a border with Mexico.
They regularly navigate differences in citizenship and government through commonalities in language, culture and history but were left groping to understand how division within their own country brought horror to their city.
"There was like a lot of shooting happening because it was on the news and on Facebook," Gia Nuñez, 7, blurted out while she and her father loaded groceries into a cart at another Walmart.
Her father, Adrian Nuñez, 40, always goes to the Walmart where the shooting occurred, and when she saw what happened on the news, she called to check on him, she said. Adrian, who works the graveyard shift, had worked overtime. Feeling tired, he decided to put off the grocery shopping trip he was going to make the morning of the shooting.
"I had a feeling something like this was going to happen eventually," Nuñez said. "Ever since all the mass shootings have occurred and nothing has been done, I just said something would happen here. I was just hoping it wouldn't be a school."
Nuñez said he believes Trump is conveying messages of hate and division, and that combined with anti-Latino rhetoric and a lack of stricter gun control laws, is creating a lethal mix.
El Paso, with its shopping center and its largely Mexican and Mexican-American patrons were a "clear cut target" for the shooter and maybe a product of Trump's "rivalry" with Beto O'Rourke, said Nuñez, referring to the city's former congressman who is now a Democratic candidate for president. The two held dueling rallies in El Paso in February, when Trump was pushing for money from Congress to build a border wall.
The shooter was "trying to slap us in the face and say, 'Hey, you think you are such a safe city? Here you go," Nuñez said.
For Latinos, a clear-cut act of hate
Before prosecutors said they would treat the deadly shooting as an act of domestic terrorism, the Congressional Hispanic Caucus already had deemed it one, based on an anti-Latino, anti-immigrant screed believed to have been posted by the suspect in the shooting, who is in custody.
The posting discusses a "Hispanic invasion" and rails against "racial mixing." The document also took aim at both political parties, and its author said the views were developed before Trump's presidency.
Caucus chairman Joaquín Castro, D-Texas, twin brother of Democratic presidential candidate Julián Castro, said the language in the document "is consistent" with Trump's description of Latino immigrants as "invaders" and said the deadly shooting was "a tragic reminder of the dangers of such rhetoric."
Since the launch of his 2016 campaign, Trump has focused rhetoric and policies on Latinos and immigrants, even though for the 2020 election, he has formed Latinos for Trump and his campaign has said he wants to expand his Latino support.
More recently, he told four women in Congress, including Alexandria Ocasio-Cortez, who is Puerto Rican, to go back to their countries. Three were born in the U.S. and the fourth, a Somali refugee, is an American citizen.
"This vile act of terrorism against Hispanic Americans was inspired by divisive racial and ethnic rhetoric and enabled by weapons of war," Castro said. "Hispanic Americans and immigrants have been directly and violently attacked. This crime was intentional violence to strike fear in our communities, for our lives and for our families."
Rep. Veronica Escobar, D-Texas, told National Public Radio that the mass shootings the nation has seen are not just "an epidemic of guns," but also, "an epidemic of hate" and residents of the city and county that are about 83 percent Latino did feel targeted.
"He came here to hurt us," Escobar said.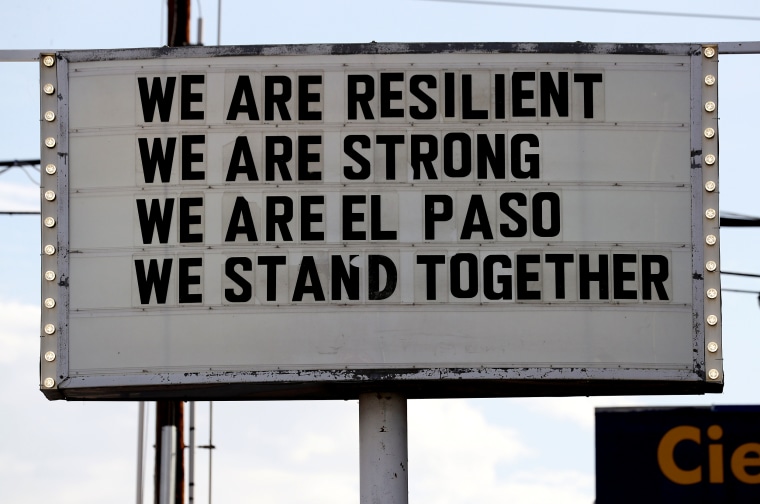 Julián Castro, the only Latino candidate in the presidential race, said Trump's rhetoric has contributed to the "toxic brew of the white nationalism" in America.
George P. Bush, Texas land commissioner and the son of Jeb Bush, the former governor of Florida and 2016 presidential candidate, has not been openly critical of Trump, but he said on Twitter that "fighting terrorism remains a national priority."
"And that should include standing firm against white terrorism here in the U.S.," said Bush, who noted he served in Afghanistan as a naval officer.
Outside the police line at Walmart on Sunday, Gabriel Gonzalez, 21, handed out bottles of cold water and soda from an ice chest in the bed of a Ford pickup truck. He had the Mexico and United States flags on each side of the truck's rear.
"For all those people who think like him, there's not much you can do," Gonzalez said, referring to the suspect in the shooting. "We're here. My family's here. There's a bunch of Hispanics that are going to stay here. Might as well get used to it."