Hundreds of thousands of people living and working legally in the United States — most of them from El Salvador, Haiti and Honduras — may be forced to return home under a Trump administration that is considering ending their protection here.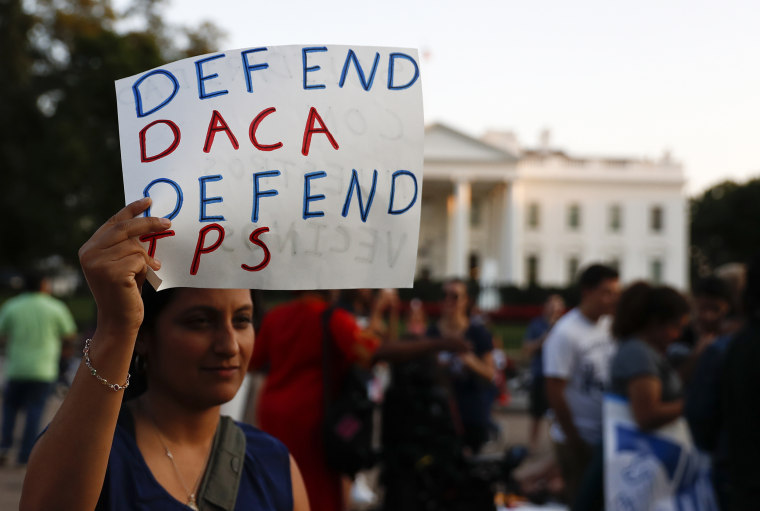 The Department of Homeland Security is considering whether to extend Temporary Protected Status (TPS) to designees whose home countries are recovering from natural disasters or civil wars.
"These are folks that have been in this country for years. Some have been here for almost two decades," said Armando Carmona, a spokesperson for the National TPS Alliance, which is leading a campaign to maintain the protection. "They work here, they've built families here, they have U.S. citizen children."
Expiration dates for the protection vary by country, with Nicaragua and Honduras facing Jan. 5 expiration dates. DHS decisions on whether they'll get extensions are expected by Nov. 6.
Hundreds with TPS from around the country planned to demonstrate at a DHS office in Washington on Monday evening. Throughout the day, some met with congressional members and staff. The National TPS Alliance wants Congress to craft legislation that would allow TPS holders to have permanent legal status. A hunger strike was planned for later in the week.
Advocates say that ending TPS could have economic consequences.
An Oct. 20 report from the liberal Center for American Progress (CAP) found that the United States could lose $164 billion in gross domestic product over the next decade if TPS were to be terminated for Salvadorans, Hondurans and Haitians.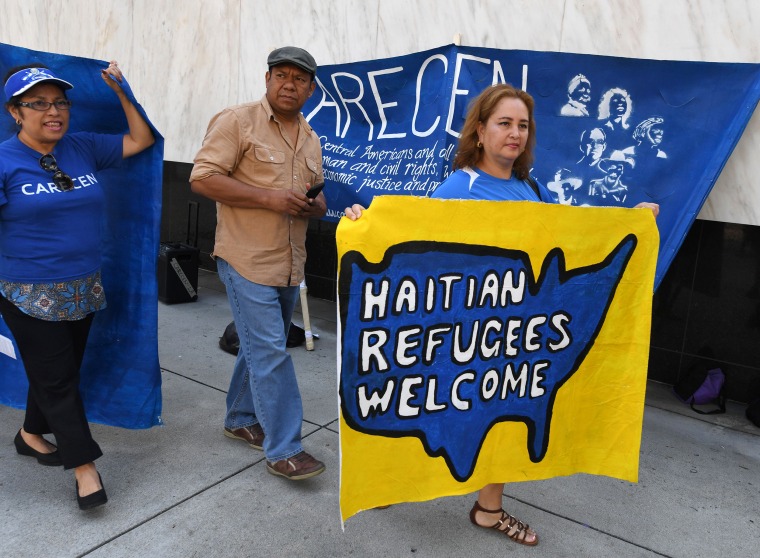 TPS is granted by the Department of Homeland Security to people already in the U.S. from countries suffering political or environmental conditions that prevent them from returning home. The status generally lasts from six to 18 months, depending on the initial announcement, but it can be extended as many times as officials in DHS and the State Department see fit.
Honduras received TPS status in 1999 when the country was hit by Hurricane Mitch, a deadly Category 5 hurricane. El Salvador and Haiti won it in 2001 and 2010 after deadly earthquakes. The temporary stays stretched to nearly 10 years for Haitians and almost 20 for Salvadorans and Hondurans because of multiple extensions of their TPS by DHS.
Sharon Scheidhauer, a spokesperson for U.S. Immigration and Custom Services, said in a statement to NBC News that DHS "will review conditions in each country individually to determine" what decision is warranted by the appropriate expiration date.
Related: DHS to Examine Criminal Histories Before Extending Protected Status
Cities with high TPS populations like Los Angeles, Miami and Washington, could see some of the greatest impact.
"Immigrants who hold TPS are deeply embedded, longtime members of their communities," Nicole Svajlenka, a senior immigration policy analyst at CAP, said in a statement. "They are homeowners and parents to U.S. citizens, they contribute to the economy, and they provide critical financial support to assist recovery and stability in their home countries."
A study released in April by Kansas University's Center for Migration Research found that TPS holders are employed at rates higher than the national average, with much of the labor force working in industries like construction, restaurant services, landscaping and child care.
Cecilia Menjívar, a sociology professor who led the study, told NBC News that TPS holders' high participation in growth sectors means that they are a vital component of local economies across the country.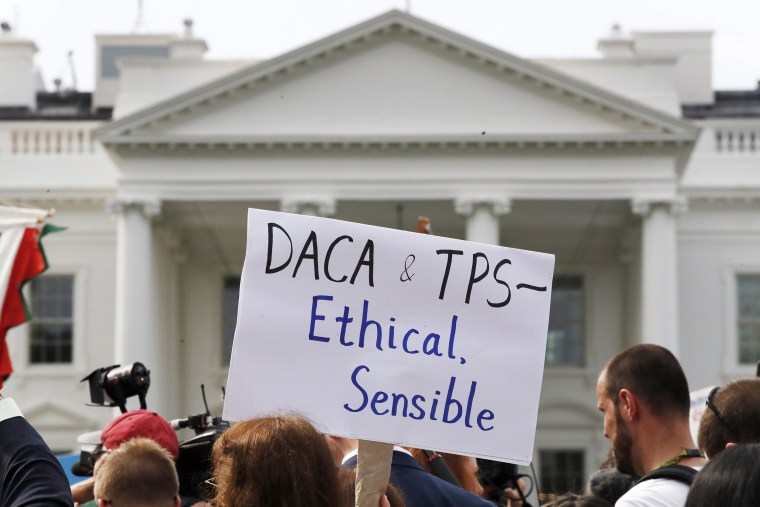 A group of 20 senators led by Sens. Ben Cardin and Chris Van Hollen, both Maryland Democrats, sent a letter to DHS and the State department, urging them to renew TPS for Honduras and El Salvador.
"We would lose tens of thousands of productive members of our labor force who contribute to our economic growth, pay their share of taxes and make valuable contributions," the senators' letter said.
While critics of TPS argue that immigrants are a drain on federal and local assistance services, most economists agree that the benefits of immigration outstrip the costs.
An April report from the Immigrant Legal Resource Center said that ending TPS for Haiti, Honduras and El Salvador would result in a $6.9 billion reduction in Social Security and Medicare contributions over the next decade.
But so far, Trump administration officials have indicated they are not warm to extending their status.
In March, John Kelly, then secretary of Homeland Security, renewed Haiti's TPS for only six months. Following his decision, Kelly, now the White House chief of staff, told The Miami Herald that immigrants protected by the program "need to start thinking about returning."
Related: U.S. Offers Six Month Extensions to Some Haitians, Advises Recipients to 'Resolve Their Affairs'
And in September, Acting DHS Secretary Elaine Duke terminated TPS protections for approximately 1,000 Sudanese immigrants, although she renewed this legal status for citizens of South Sudan until May 2019.
"We are looking at the fact that temporary protected status means temporary, and it has not been temporary for many years," DHS spokesman David Lapan said last week. "We, the U.S. government, have created a situation where people have lived in this country a long time."