A renowned Hollywood acting coach is under fire after a leaked audio tape of her urging a student to pass as Latina surfaced. While the teacher has apologized, Latino actors and advocates say that this controversy illustrates the roadblocks and attitudes that they face in the entertainment industry. All this has occurred as activists target the Academy of Motion Picture Arts and Sciences for their exclusion of Hispanics at the Oscars.
In the leaked clip, acting coach Lesly Kahn can be heard in a group class offering career advice to a young woman who self-identifies as Jewish. Kahn advises the young woman to rebrand herself as "Rosa Ramirez," to "wear something f---ing red, wear some f---ing sparkly earrings," and "come up with the most Latin name you can come up with." Kahn tells the young woman that this will help her get representation. "Stop admitting to being a huge Jew, OK?"
Last month, Lesly Kahn and Company posted on Facebook about how many of her former students were working on the Netflix Latino reboot of One Day At A Time.
After the audio tape was leaked to outlets like The Daily Beast, Kahn issued an apology on social media. "I believe in diversity and inclusion in the arts and in all areas of life," it read, in part. "As a Jewish woman, I understand the pain that can come from being discriminated against."
In response to a request for comment by NBC Latino, a representative for Kahn — whose website tells potential students that "we determine exactly what's missing from your acting" — emailed that Kahn "declines any further statements at this time."
Kahn's comments left many Latino performers aghast and angry.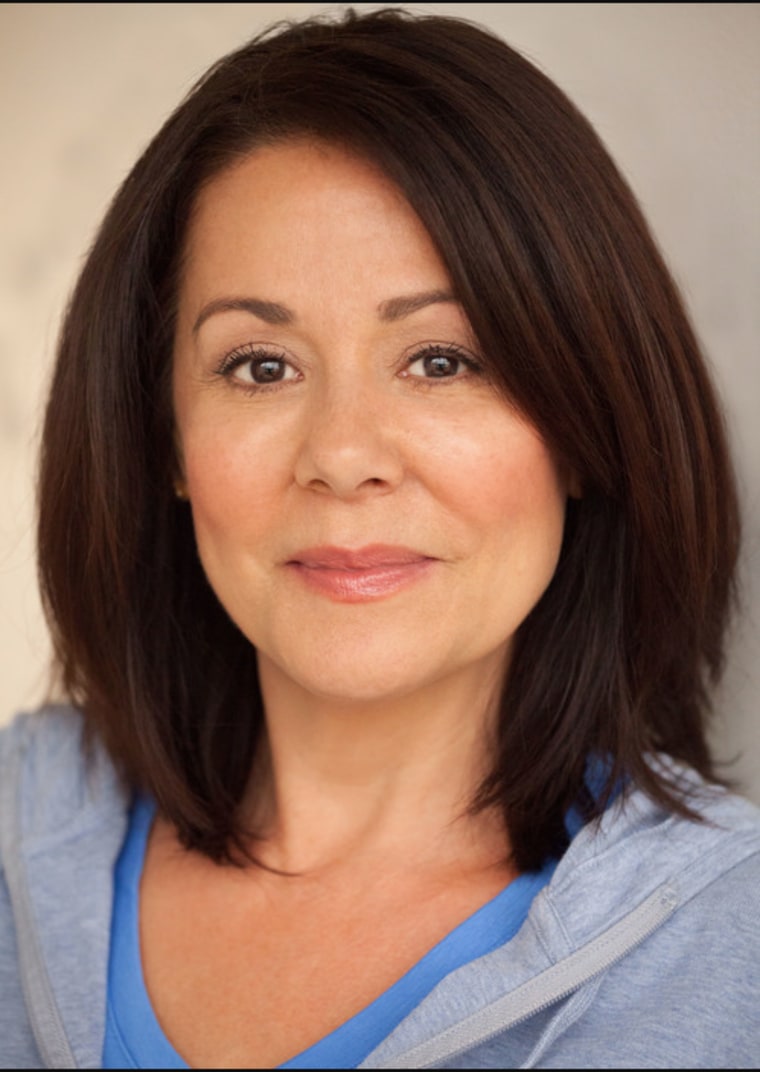 "That teacher should not be teaching a class about image, when she clearly has trouble with her own image. She should have encouraged her student to write projects in her own voice, so we can see authentic depictions of people of Jewish descent in the media," said Patricia Rae, who has starred in films like The Big Wedding and Maria Full of Grace. "She's telling her to be a stereotype."
"After 30 years in the business, I still get asked to play maids," Rae said. "Most of the roles I audition for are ethnic-specific, though sometimes you get to play a doctor or lawyer here or there." For many roles, she explained, Hollywood writers, in effect, force Latino performers to speak with an accent, because the lines are written in broken English.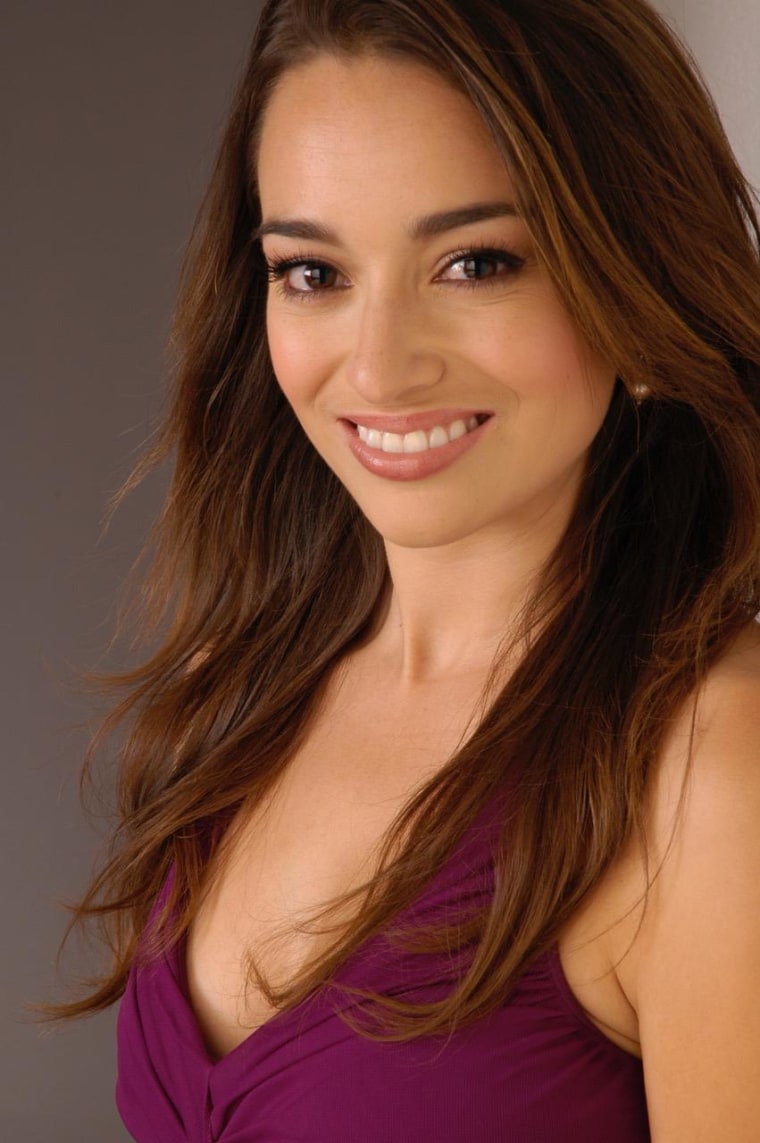 Singer and actress Maria Elena Altany pointed out that Latino performers in virtually all aspects of show business face limited opportunities. "When was the last time you saw a production of West Side Story with a Maria who looked anything like a typical Puerto Rican?"
"Listening to that recording (of Kahn) made me sick to my stomach," Altany said. "When you hear someone in a position of influence and power promoting an idea that is just not true — that being Latinx makes it easier to find representation and work — it actually keeps Latinx performers back."
"It is disturbing to hear that wearing a red dress and sparkly earrings are all that this teacher thinks being Latinx is," Altany said. "And she (Kahn) is perpetuating a narrative that is not supported by the numbers or evidence at all."
A new report out this week from University of California Los Angeles researchers found that Latino performers remain underrepresented across all areas of the film and television industries. The report reinforces trends previously found by studies done by the University of Southern California and San Diego State University on the lack of racial, gender, and ethnic diversity in Hollywood. A New York Times writer referred to Latinos as "the minority group that Hollywood excludes the most onscreen."
That assessment is basically correct, according to Ana-Christina Ramón, co-author of the UCLA diversity report and director of research and civic engagement for the division of social sciences at UCLA.
"People may look at successful shows with diverse casts like Superstore and Jane The Virgin and think that the diversity numbers are getting better," Ramón said, "but when taken in context with the proliferation of productions across broadcast, syndicated, streaming, and cable TV, for Latinos the numbers have been pretty stagnant."
Latino representation in television shows is generally in the 5-6 percent range of available roles, while in films, Latinos received 2.7 percent of all top movie roles in 2016. The statistics for Latinos behind the camera are likewise disproportionately low.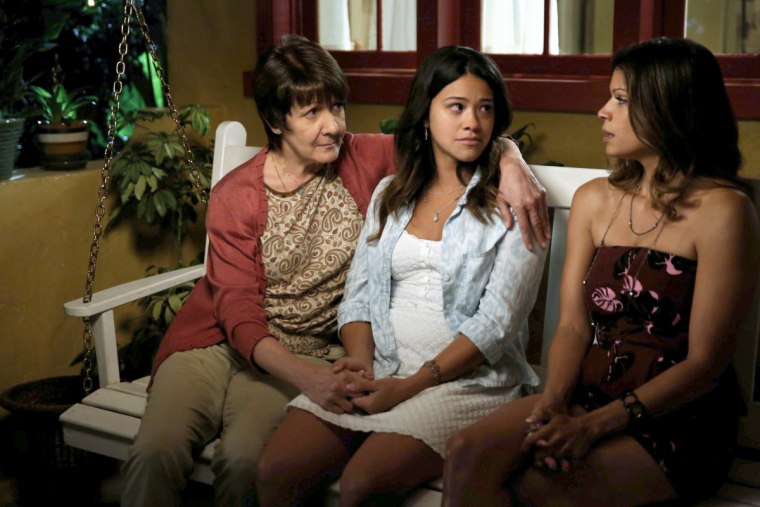 The exclusion of Latinos in entertainment carries political implications. At a time when Latinos are often presented as undocumented immigrants and criminals in the political debate over immigration, a lack of media representation means that these images are not counteracted by more accurate depictions of Latino Americans.
One important takeaway of the UCLA report is that films with diverse casts can do well in the in global market. "The success of The Fast and the Furious franchise, Black Panther, and Coco around the world show that you can do stories that are culturally-specific to a minority group, and they still do well internationally," Ramón said. This contradicts the mindset that films with Latinos and other people of color will have limited appeal outside of the U.S., a factor often cited by producers as a reason not to cast minorities in lead roles.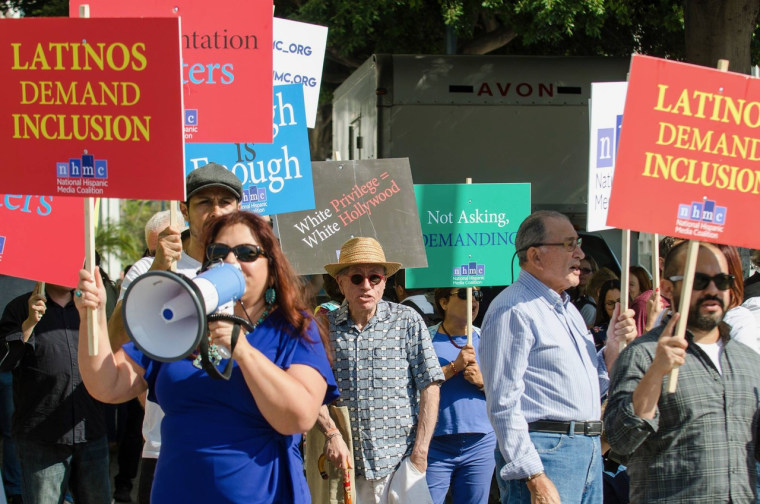 On Saturday, the National Hispanic Media Coalition protested the continued exclusion of Latinos from meaningful roles both in front of and behind the camera. Prior to the protest, the group's president and CEO Alex Nogales said, "We have the worst (representation) numbers in town. Why, when we have such buying and consumer power? The only explanation is that executives look at us as outsiders, as not good enough."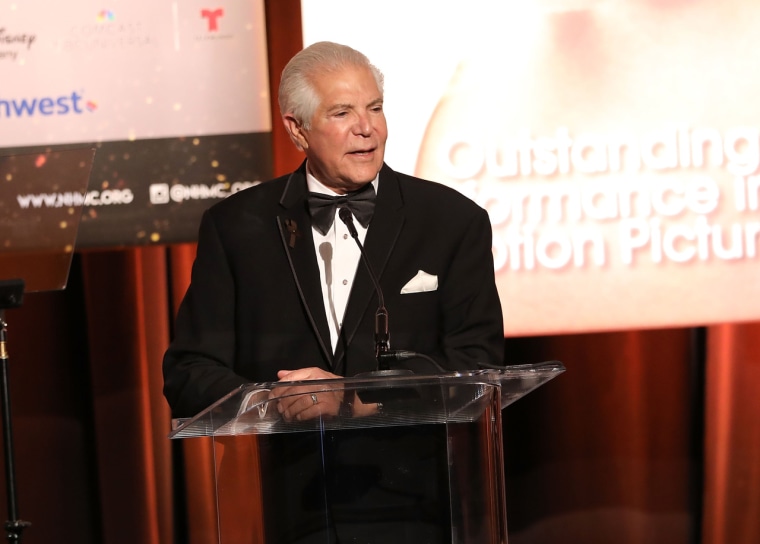 "We are taking the gloves off and are being very militant about the whole thing," Nogales said. He encouraged Latinos to use social media on the day of the Oscars to tell studios to hire more Latinos.
Felix Sánchez, chairman and co-founder of the National Hispanic Foundation for the Arts said that both the Kahn tape and upcoming Oscars illustrate the "obstacle course" that Latinos face in Hollywood.
"We have not been able to move beyond many of the stereotypes we've been complaining about for years," Sánchez said. "Since 1999, when the L.A. Times broke the story about how all of the leads in that fall's TV series were white, there has been a concerted effort to increase diversity. After two decades, the bottlenecks are still there, and they are related to lack of equitable access, nepotism, and lack of opportunity for Latinos."
Hollywood likes "faux-latinos," Sánchez said, pointing to the example of Ben Affleck starring as Argo, who in real life was of Mexican-American descent. When the industry does cast Latinos, he continued, it often turns to foreign-born stars such as Penélope Cruz and Salma Hayek over U.S. Latinos.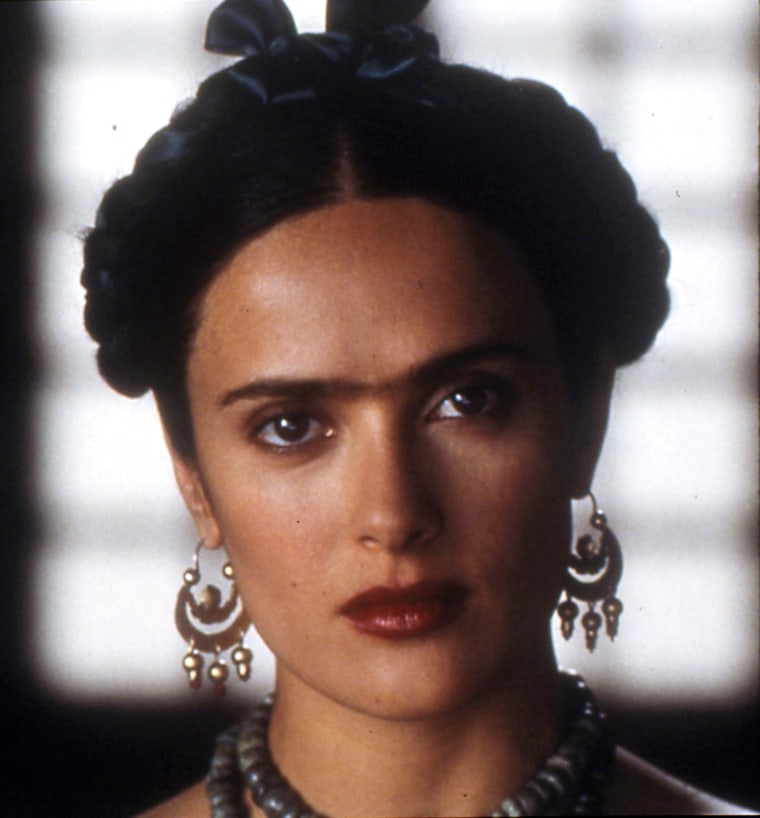 "In the current film Three Billboards Outside Ebbing, Missouri, there are two small roles that are actually billed as "Latino" and "Latino 2," Sánchez added. "Can you imagine if a major movie was made with "African-American 1" and "African American 2," or "Gay 1" and "Gay 2? But it still happens to us." Sánchez has also written about how Latinos over-index at the box office as moviegoers.
Aris Mejías, who has appeared in films like Terrence Malick's The Vessel and Steven Soderbergh's Che: Part One, told NBC News that Hispanic actors are aware of casting controversies and stereotyping — and persevere anyway.
"I was told at an audition that I was not Puerto Rican enough, and I was born and raised in Puerto Rico," Mejías said. "I get lots of auditions for secretaries, single moms, or someone working in a hospital, which essentially shows that producers see our culture as people in menial or low-paying jobs…. We have endured years of white-washing, going all the way back to Rita Hayworth, who was of Mexican descent."
Nonetheless, Mejías said that she is optimistic about the future. "Between his deportations and destructive policies, Trump has actually empowered minorities, and helped our allies become more supportive too," she said. "Now the more we question the power structures, the more visible we are, the more change we will create."
"Studios and producers are aware that they have made mistakes and are alienating an important part of their audience," she said. "They are listening now. It may take a while for things to change, but they are listening."
Rae echoed her' sentiments. "Things are going to change, because there is a new generation of talent that is tired of the status quo and we are going to push this movement to the tipping point. We Latinos are raised to be humble. But now we have to ask the gatekeepers why — why are you not including us?"
Raul A. Reyes is an NBC Latino contributor. Follow him on Twitter at @RaulAReyes, and on Instagram at @raulareyes1.