In the aftermath of immigration inaction and the campaign to force President Barack Obama's hand on reducing deportations, nothing, it seems, is sacred - not even Dolores Huerta, the heroine of the farmworker civil rights movement, who marched alongside Cesar Chavez and holds a lofty position in Mexican American civil rights history.
In recent tweets, writer and political blogger Adriana Maestas tweaked the Hispanic heroine whom Obama awarded the Presidential Medal of Freedom over Huerta's encouragement of Latinos to "look at the bigger picture" and vote Democrat.
While Latino and immigration activists remain united in wanting relief for those here illegally, electoral politics has brought trouble to the familia: some members are choosing sides for and against Obama after the president's decision to delay any executive action on immigration until after the midterm elections. The president said he wanted to ensure the American public understands his reasons for the executive action, but the delay followed concerns raised by Democrats in tight Senate races that the action could hurt them, giving Republicans control of the Senate. That has led immigration activists to say the president chose politics over people and Democratic allies such as Huerta to warn that Latino voters need to consider the big picture.
At stake in the widening division over Obama's delay is the Latino vote, which has been strongly Democrat in recent elections. The infighting puts in question whether significant number of Latinos will decide to forgo voting or put a damper on registering new voters, a key goal for many in the Latino community.
Much of the division is playing out online and among Latino bloggers and columnists.
Maestas' Huertas tweet was one of several she sent delivering verbal pokes to the Congressional Hispanic Caucus, potential 2016 candidate Hillary Clinton and Univision talk show host Fernando Espuelas, who has criticized the political strategy of young immigrants here illegally, or Dreamers. The Huerta tweet has gotten a few retweets.
Maestas said Huerta's support of the party over the immigrant community harkens to the days when United Farm Workers "was not necessarily pro immigrant" and shows Huerta's willingness to side with the party over the immigrant community.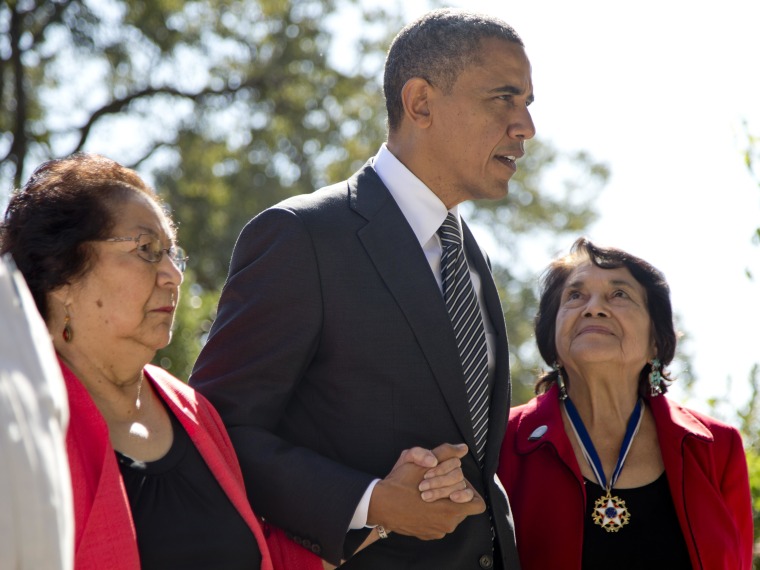 "Dolores Huerta has shown that she's a Democrat first and foremost. She isn't necessarily listening to the grassroots immigration community, which was expecting the president to deliver on his promise of acting on deportations at the end of the summer," Maestas said.
Roberto Lovato, a founder of the Latino activist group Presente.org - he has since left the group to do research - took on those questioning Latinos who decide to opt out.
"I think people have a right to vote and people should vote, but if people don't vote I'm not going to get on their case because I completely understand the utter discouragement and disillusion ...," Lovato said, explaining his tweet.
Democratic strategist Maria Cardona fumed over possible suggestions that Latinos shouldn't vote in a Sept. 16 opinion piece: "When I heard some Latino activists telling my Hispanic community not to vote, I was disgusted and have one thing to say to them. Shame on you!," she wrote.
Univision's Espuelas, a supporter of Democrats, is a regular target of the Obama critics who have taken him to task for panning the strategy of Dreamers of taking on Obama.
TNTweeters, a group of Obama backers that has been regularly tweeting to get immigration reform passed, has been trying to counter the potential voter discouragement with tweets urging Latinos to vote.
Nowhere is drumming up Latino turnout more critical than among young Latinos. Some 60,000 a month turn 18 - the eligible voting age - and among Latinos, those 18-29 have the worst turnout. But many of the young Latinos are those who may be online and turning to young Latinos for guidance.
Erika Andiola, president of the Arizona DRM Act Coalition, said she helped register people to vote in 2012 and encouraged others to go to the polls, even though she cannot. Other Dreamers also joined in knocking on doors that election year and encouraging turnout asking others to vote.
"We're not doing anything like that this year," said Andiola, who has Deferred Action for Childhood Arrivals status, meaning she can remain in the U.S. and work even though she arrived illegally. "I think it's very troubling for us to go out and ask people to vote."
On the other hand, United We Dream, another Dreamers group, has an ongoing campaign in South Texas encouraging turnout among those already registered to vote. Texas law requires people registering anyone to vote to be citizens so Dreamers can't do registration.
Maria Fernanda, also a Dreamer, is working on that get out the vote drive and has been knocking on doors to get people to register and become citizens. Though Texas isn't a state where a Senate seat hangs in the balance, there are races at the state level of interest, including the lieutenant governor's race. Sen. Leticia Van de Putte, a Latina Democrat from San Antonio, is competing for that seat and to be the first Latina ever elected to statewide office.
Fernanda said while there's disappointment over the delay of executive action among people she's talked to, many are more concerned about the cooperation of local police with immigration officials.
She said Latinos need to turn out to vote because right now elected officials think they can make decisions without consequences since they think the community is not going to turn out.