A former political prisoner in Venezuela says he will continue to denounce his country's current government from his home in the U.S. as he recounted some of the harrowing experiences he constantly replays in his head.
As one of at least 100 known political prisoner cases in Venezuela, Francisco Marquez, 30 — a dual U.S.-Venezuelan citizen — says he was one of the lucky ones.
Marquez said it was a sonogram image of his unborn nephew that kept him going inside a dark prison cell in central Venezuela. The moment of fleeting beauty was one he will never forget. It broke him down, so he took to the pen and started to write.
"Dear nephew: You don't know this but one day you will find out that your uncle saw your photograph for the first time while inside a prison cell in San Juan de los Morros," Marquez wrote on Aug. 17, 2016.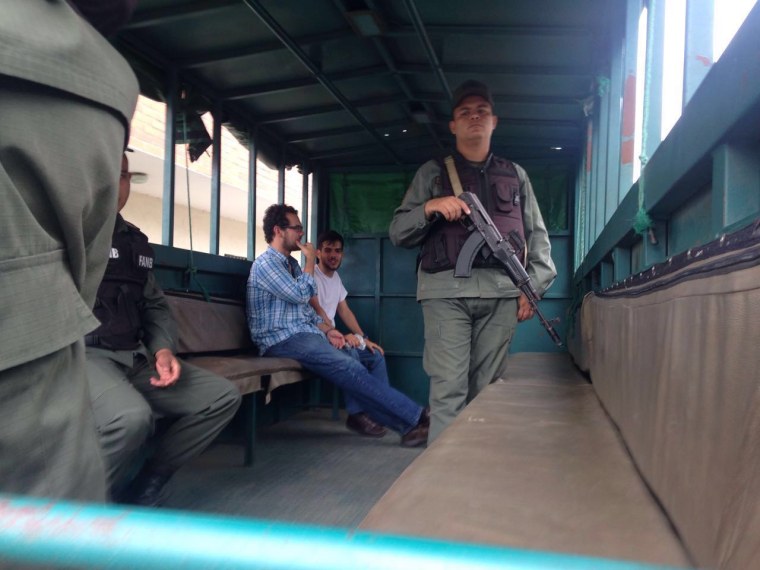 Marquez and his colleague, Gabriel San Miguel, a fellow activist for the Popular Will opposition party, were arrested on June 19, 2016 while traveling the country in an effort to collect signatures for a recall referendum against Venezuelan President Nicolás Maduro.
The two men were imprisoned, and after intense pressure from the opposition party and the international community they were finally released and forced into exile. San Miguel went on to Spain and Marquez returned home to his parents in southern California. He is now based in the East coast.
RELATED: Venezuela's Oldest Daily Newspaper, El Impulso, Shuttered Due to Paper Shortage
"All of it is hard to forget: Certain noises, darkness at times; these things can bring you back to that place," said Marquez over the phone.
He and San Miguel were transferred to four different prisons and spent time in seven different cells; one, in particular, he describes as a 'dungeon' – hot, humid and haunting.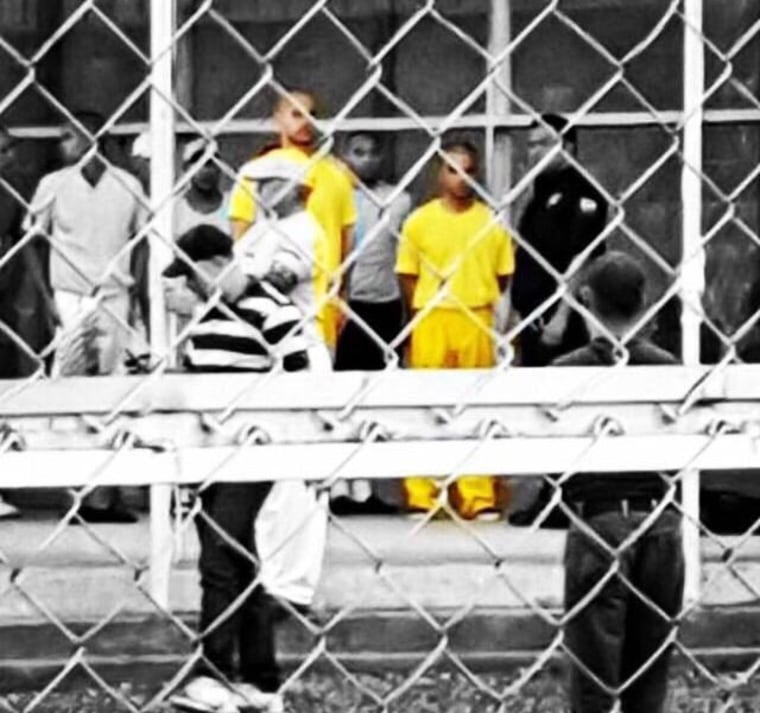 He wasn't physically abused but he was threatened. Forced to strip naked, he was photographed and filmed. His head was shaved and he was forced to join in on pro-government chants. He saw cellmates tortured at the hands of guards, their screams echoing well into the night. He can still hear them now.
"People need to know that Venezuela is a country that systematically tortures its political and common prisoners," he said.
An image he often recalls is that of a flat-surfaced bat carried by guards at the July 26th prison – one of the most notorious jails in South America, and where he spent most of his time. The bat was used at a moment's notice to strike the prisoners at the warden's orders, leaving a lasting impression.
"There are people that I left behind, and for me, I take that so seriously," said Marquez, referring to other opposition colleagues he encountered while imprisoned.
He says he hopes sharing his experience will help bring international awareness and pressure the government to release all others jailed for holding opposing views.
This week makes nearly three months since his release on Oct. 18 – a colossal effort that Marquez says took a defense team, international actors, the Venezuelan opposition and nonstop denouncement from family and friends on social media. In an October interview with the Associated Press, the U.S. State Department said of the men's release that it was "an important gesture" and that they continue to monitor other cases.
RELATED: Venezuela: Health Crisis Means Kid's Scraped Knee Can Be Life or Death
A Venezuelan prosecutor appealed the case 48 hours after Marquez was freed and the case is currently in limbo — a move his defense team assures — just like his arrest — is politically motivated.
"His rights were essentially violated, there is no case here," said Theresly Malavé, a Caracas-based attorney whose team represented Marquez.
Marquez and San Miguel were stopped by the National Guard at a security checkpoint as they made their way through the central state of Cojedes on June 19; they were traveling to the rural state of Portuguesa to help collect the signatures needed to recall the Venezuelan president.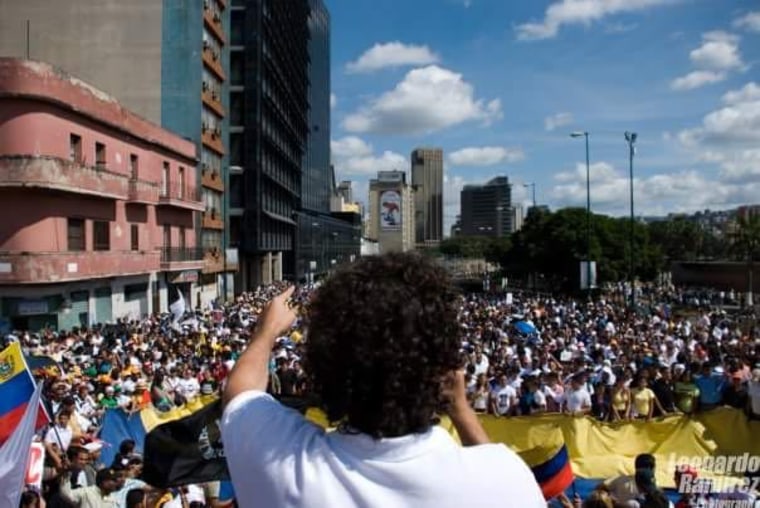 The guards found $3,000 in local currency along with 150 pamphlets in their trunk. On the pamphlets was the face of party leader Leopoldo Lopez, the opposition's most notable political prisoner, and what Marquez and his family say set off alarms.
Two hours after being taken in for questioning, the men were told they were under arrest.
RELATED: 'We're Hungry': Thousands Protest in Venezuela's 'Toma de Caracas'
"They were never actually caught doing anything, except just traveling," said Malavé, who added that within 45 days of the investigation, the judge annulled money laundering and inciting violence charges due to lack of proof and on account of multiple human rights' violations.
Another member of the defense team, who spoke on condition of anonymity, said all pertinent proof showing where the money had come from had been exhausted early on in the investigation but that the government still insisted there was wrongdoing. The judge had already said they were guilty prior to the men's first appearance court hearing, he said.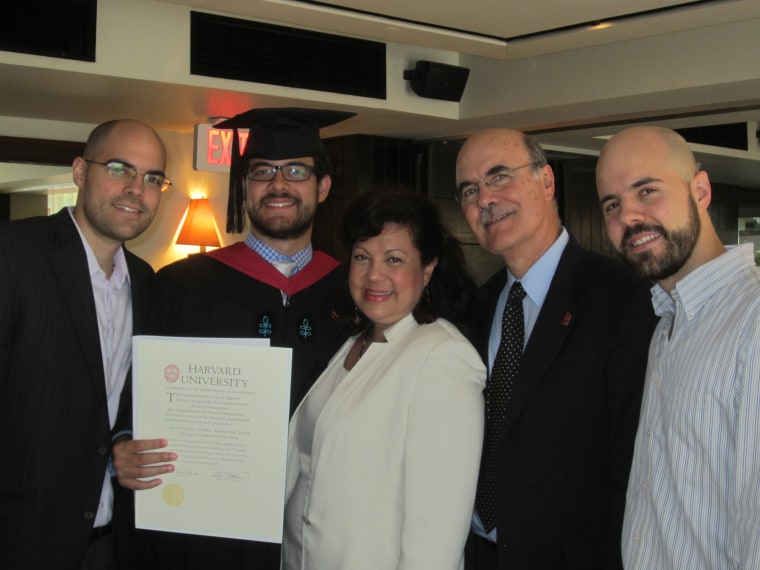 "These types of things happen here and it's hard to explain it to others because we, ourselves, don't understand it. The only justification is that these are political cases and there's a grotesque abuse of power," said Malavé.
Venezuela is currently under political, economic and social collapse with inflation rates at an all-time high. Food shortages and a lack of access to basic goods and medicine have made daily life extremely difficult there.
Marquez was born in Caracas and has lived in Venezuela for most of his life except for an eight-year stint starting when he was 7 when he and his family lived in the U.S.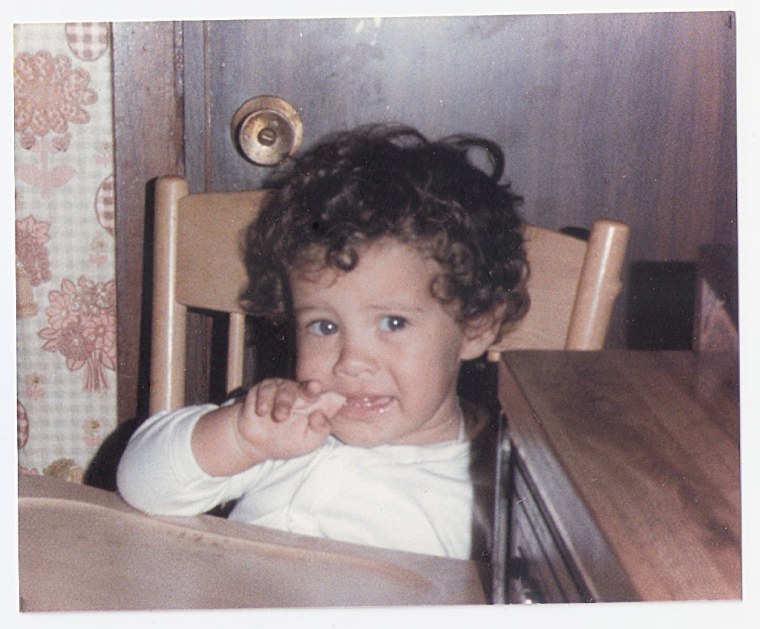 Marquez is a fifth-generation activist, his grandfather was also a political prisoner forced into exile by Venezuelan dictator Gen. Marcos Perez Jimenez in the 1950s.
As a young law student, he became one of the leaders of the student movement opposing former President Hugo Chavez's government. In 2010, he returned to Boston to pursue a master's degree in public policy at Harvard's John F. Kennedy's School of Government.
There was never a doubt that he would return to work in Venezuela, he said.
He spent three years working at the Hatillo municipality under opposition mayor David Smolansky, the country's youngest mayor and a good friend of Marquez's. He was Smolansky's chief of staff at the time of his arrest.
RELATED: Venezuela: Military trafficking food as country goes hungry
Back in his cell, it was that black and white image of his unborn nephew that appeased him. To keep sane he read the Bible and literary favorites like Paulo Coelho's "The Alchemist." He also made time for meditation and daily exercise.
On the harder days, he often found refuge from the swarm of mosquitoes blanketing his cell by lying down on the cool cement slab where he slept. These were the same mosquitoes that, at one point, gave him Dengue fever.
"You're never prepared for something like this, no matter how much you research or pray. Nothing can prepare you," he said. "One of the things that I learned throughout this experience is that it's the simple things that make me happy."
The day he was released, which his father Ricardo Marquez – a former Jesuit priest –describes as Marquez's 'rebirth,' the family was given three hours to get their belongings and say their goodbyes. He says he will miss his grandparents the most.
In recent weeks, the halt to the Vatican-sponsored dialogue between the government and the opposition and news of a hunger strike that lead to the beatings of several opposition political prisoners, have made it difficult for him to find sleep.
The family even penned a letter to Pope Francis asking him to deliver on his promise and to press for more prisoners to be released in time for the holidays, but to no avail.
Marquez said being free but not being able to go back to Venezuela is "really more like heartbreak." He said his work in human rights advocacy is only just beginning.
"Venezuela is on my mind; working for Venezuela is always going to be a full-time thing and it has been for as long as I can remember," he said. "Imagine having really, really good friends – people you love – people that you care about in harm's way and being far away?"