NEW YORK CITY — As much as many would like to think Puerto Rico's worries are over because Congress passed a law to clean up its fiscal problems, the reality is sinking in that this will be no quick fix.
Professor Hector Cordero-Guzmán of Baruch College, a moderator at a conference on Puerto Rico's ongoing debt crisis held Tuesday, told NBC Latino that, so far, reaction in Puerto Rico to the debt-fixing PROMESA Act passed by Congress seems to be mixed. "The way I would describe it is that the emotions have gone through some changes."
A few months ago, before the act passed, many Puerto Ricans were feeling frustrated with what they perceived as an inattentive government as well as high levels of corruption, Cordero-Guzmán said. "So many people initially saw the bill as a cause for optimism, that the americanos were going to come save them," he said.
"As PROMESA became real," Cordero-Guzmán continued, "many people in Puerto Rico did an about-face. They realized that there are some positive aspects (to the law) but that the absolute power the (fiscal oversight) board potentially has can change their lives… Now people are afraid that there will be a bondholder board that will raise taxes and fees, and cut services in ways that will compromise the livelihood of middle and low-income people."
"On one hand they want Congress and the federal government involved," he said, "but on the other hand they now feel a sense of anxiety and loss of power. I would describe ... the mood in Puerto Rico as one of anxiety and uncertainty."
RELATED: Puerto Rico Bill Moves Forward, Bipartisan Compromise Holding
Cordero-Guzmán was among leading attorneys, analysts and experts who gathered at City University of New York Graduate School of Journalism to offer their perspectives on Puerto Rico's ongoing debt crisis. In the daylong conference that featured a Skype interview with the island's Gov. Alejandro García Padilla, journalists learned about the background and potential implications of the PROMESA Act, which was signed into law by President Barack Obama on June 30.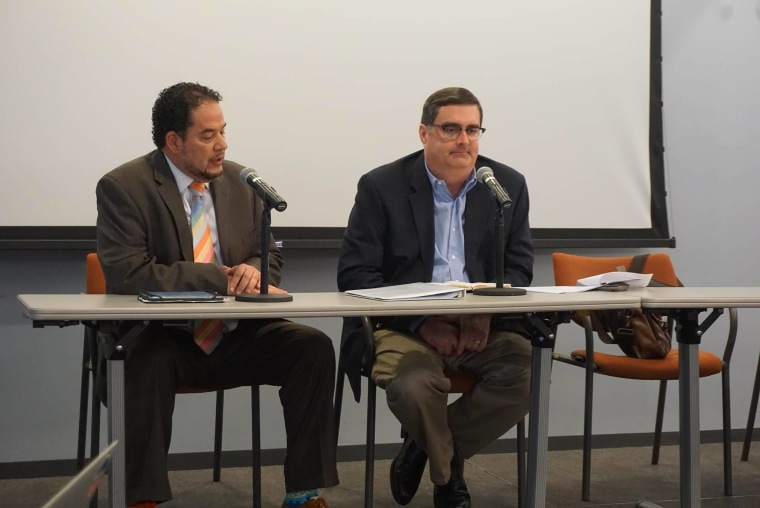 The PROMESA Act — the acronym stands for Puerto Rico Oversight, Management, and Economic Stability – offers a range of measures to help Puerto Rico get its economic house in order. Among other things, the act lowers the minimum wage in the territory to $4.25 for workers age 24 and under. The act also provides for an appointed seven-member oversight board that will supervise Puerto Rico's bond restructuring and that can force the island to balance its budget.
The oversight board will be charged with taking on a serviceable debt structure – one that will still allow the island's government to carry out its other responsibilities.
The passage of the act has been closely watched by Puerto Ricans on the island and on the mainland, as well as by the creditors and bondholders who are carrying the territory's debt. According to the New York Times, Puerto Rico is an island whose "government has effectively gone broke." Forty-six percent of Puerto Ricans live below the poverty line.
RELATED: Hedge Funds Sue Puerto Rico
As Bloomberg has reported, Puerto Rico missed payments of almost $1 billion due to bondholders on July 1, including $780 million of principal and interest on general obligations. This came after a historic default on payments in 2015, the first in the island's history.
Right now, lawmakers in D.C are reportedly putting together lists of possible candidates for the federal oversight board. Under the provisions of the PROMESA Act, the deadline for naming the members of the seven-member board is September 15. Obama will choose between potential candidates submitted by both Republican and Democratic leaders in the House and Senate.
In his hour-long address with journalists, Puerto Rico Governor García Padilla said that, once the members of the oversight board were named, he would present a financial restructuring plan. "I expect this new fiscal plan will be ready once the board is announced," he said.
"Make no mistake," the governor said, "we will not cut a bad deal for the people of Puerto Rico." He added that, while he had met with Hillary Clinton to discuss Puerto Rico's situation, he had not met with Donald Trump — whom he termed "so disrespectful of Latinos."
García Padilla pledged that his administration would work proactively and transparently with the oversight board. Still, the governor cautioned that, "prosperity will not return overnight."
At the conference, Richard Cooper of Cleary Gottlieb Steen & Hamilton LLP, pushed back on the notion that the Treasury Department previously told Puerto Rican officials to default on their debt. "At least in my experience, U.S. Treasury doesn't say to the Commonwealth to do x or y," he said. "That (idea) is ultimately, I think fueled by creditors speculating for their own purposes."
The Cleary Gottlieb law firm is advising Puerto Rico as it seeks to reduce its $70 billion debt load.
But attorney Cooper denied any undue influence by the federal government on Puerto Rico's defaults. "Anyone who is seriously looking at this situation could have told you that there wasn't enough funds on July 1 to make payments," he said.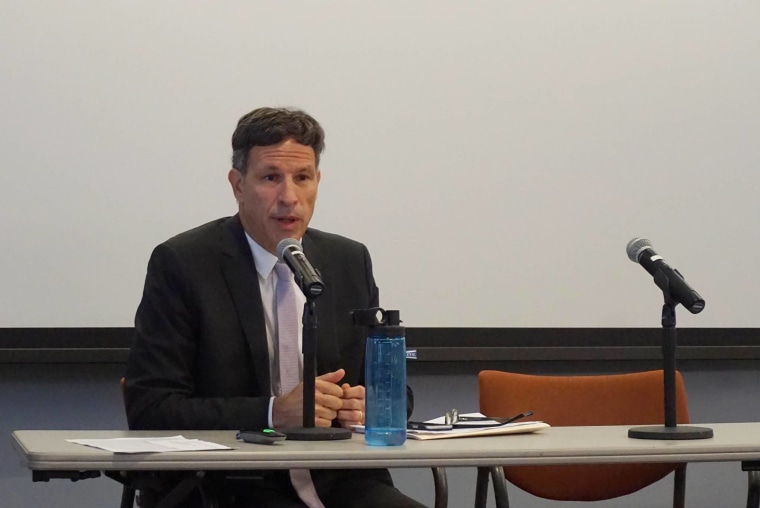 Cooper shot down the suggestion that, going forward, some of Puerto Rico's creditors would be treated better than others; some bondholders have pushed to have the commonwealth's restructuring plan differentiate between long-term investors and hedge funds that invested after bond prices had dropped.
"Alexander Hamilton, among others, thought it (creditor differentiation) was a terrible idea," Cooper said. "He happened to be right about that."
RELATED: Puerto Rico Picks Debt Bill Opponent in Gubernatorial Primary
Sergio Marxuach, Public Policy Director and General Counsel for the Center for a New Economy, outlined to NBC Latino some of the unique structural challenges that Puerto Rico faces.
"The government of Puerto Rico depends a lot, to a large extent, on federal funds for its functioning. We are not a sovereign country, so we do not have our own money, our own currency, that we can devalue to pay off our own debt," he said.
"Also a lot of services that in the United States are provided by the federal government are capped in Puerto Rico, especially health care services and other programs that tend to help the poor. They apply to Puerto Rico, but are subject to very strict caps. So… it has been a very difficult situation because you are talking about cutting expenditures for programs that mostly affect the poorest people in Puerto Rico," he said.
Because Puerto Rico is not a sovereign country, Marxauch explained, the island does not have access to lending or restructuring through the IMF or World Bank. "Yes, Puerto Rico spent a lot, but the only thing Puerto Rico could do in terms of economic policy was tax, spend, and issue debt," he said. "And for many years we did that very well. Actually, you look at Puerto Rico, the island is electrified, we had good roads, we had good hospitals. But over the last 15 years we used a lot of that money to finance deficits and that's what really got us into problems."
Cordero-Guzmán, the professor, pointed out how Puerto Ricans have "voted with their feet" as he put it, and are leaving the island for the mainland in record numbers.
Confirming this, Giacomo De Giorgi, senior economist of the Federal Reserve Bank of New York, reported at the CUNY Conference that about 300,000 Puerto Ricans have left for the mainland in the last five years. Di Giorgi and other representatives from the Federal Reserve of New York noted that Puerto Rico has low economic growth, and a high debt burden compared with U.S. states and other countries. In 2012, for example, Puerto Rico's total government debt-to-income ratio was 101.8 percent.
On top of its debt load, the Federal Reserve Bank of New York has reported that Puerto Rico faces a net-pension-liability of $43.7 billion as of June 2014, or about 60 percent of GNP.
To Cordero-Guzmán, these figures mean that Puerto Rico has a long road ahead to economic recovery. "The PROMESA Act may fix the debt problem, but we still have problems with parity for funding federal programs and overall economic growth," he said. "So the patient (Puerto Rico) may survive surgery — and still might need surgery again."