WASHINGTON -- The daily unraveling of Venezuela is increasing pressure on the U.S. to toughen its response beyond sanctions.
Experts say there still are steps the U.S. can take on its own, but ultimately its best hope lays in rallying with other countries to take action and working with Latin American and Caribbean countries. Its greatest leverage may also mean suspending imports of Venezuelan crude oil and sales to Venezuela of light crude, they said.
That puts the Trump administration squarely in need of good partnerships with Latin America, including Mexico and potentially Cuba.
"Trump doesn't necessarily have the best relationship with Latin American countries," said Francisco Monaldi, a fellow in Latin American Energy Policy at Rice University's Baker Institute for Public Policy.
Monaldi said sanctions many times don't work and the Trump administration has said it's not in the business of bringing about regime change.
"What that means is what you want is the other forces, the military, to do something because Mr. Maduro will not negotiate getting out of power because of sanctions," he said.
While the U.S. has been able to impose sanctions on individuals, going forward it will need more and more pressure exerted from the international community, the experts said.
Last week, the U.S. joined other countries in declaring that it does not recognize the constituent assembly tasked with rewriting Venezuela's constitution following the Maduro-organized election that put the assembly in place.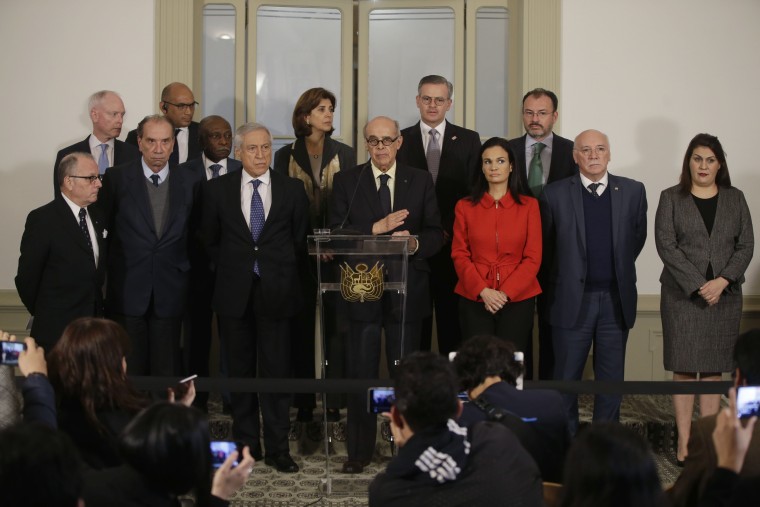 The assembly was "the illegitimate product of a flawed process designed by the Maduro dictatorship," according to the U.S. State Department.
What the U.S. does next depends partly on how quickly things accelerate in Venezuela. The constituent assembly on Tuesday declared itself superior to all of Venezuela's other institutions.
If that translates into the constituent assembly seizing authority from the legislature – known as the National Assembly – "then it's a clear sign they are disregarding the constitutional powers of the country" and "foreign powers should react," said Jennifer McCoy, distinguished university professor of political science at Georgia State University.
The response should be coordinated, it should take into account the options Venezuela has to turn to Russia and China to make up for any economic sanctions and should offer Venezuela some incentives such as promises of emergency aid and loans, McCoy said.
Related: US Slaps Sanctions on Maduro to Stop Constitution Rewrite
Venezuelan government officials "may be able to hang on. How long can they hang on? People will suffer more and violence will increase because people are getting desperate and if they feel there is no other resort, no peaceful mechanism open to them, some people will resort to arms and violence to resist," McCoy said.
In the interim, an option for the U.S. is to work with other countries to facilitate a way out for Maduro and his inner circle, a place to go into exile, said Moisés Rendón, associate director and associate fellow at Center for Strategic & International Studies, a Washington think tank.
"At this point, Maduro and his inner circle are in a very defensive mode. They know leaving power will mean facing justice, losing control of assets, losing business. There's a lot of people doing a lot of criminal activity," Rendon said.
But he said Maduro and his inner circle won't leave any time soon, so international pressure needs to increase. The U.S. sanctions on individuals, which have frozen the assets of Venezuelan officials and former officials and barred U.S. companies and individuals from doing businesses with them, need to also be applied by countries such as Mexico, Panama and Colombia.
The U.S. and other governments also can release information that links Maduro and his government with criminal activity to help "delegitimize" the Maduro government, Rendon said.
"There's no reason to keep it secret anymore," he said.
That's what Sen. Marco Rubio, R-Fla., was doing when he called Diosdado Cabello, vice president of the socialist party of Venezuela, the Pablo Escobar of Venezuela and when the U.S. used the Kingpin Act to sanction Venezuela vice president Tareck Al Aissami.
What about the oil?
The toughest sanctions and those that will have the most consequences for the U.S. would require limiting or suspending crude oil imports from Venezuela and U.S. exports of refined products such as gasoline to Venezuela. Also, limiting Venezuela's access to international financial markets could provide leverage to remove Maduro and his inner circle out of the country, Rendón said.
While Venezuela could turn to Russia or Africa to replace refined oil imported from the U.S., it would have to acquire it at a higher cost, Monaldi sid.
The U.S. buys half of the oil that Venezuela exports. The rest goes to either China as loan repayments or to Caribbean countries on promises of future payments, McCoy said.
"In this case, the U.S. does have a lot of leverage, being primary purchasers. In addition there are U.S. exports to Venezuela, which are very important for the petroleum industry, including gasoline to lighten the heavy crude Venezuela produces and to drive cars," she said.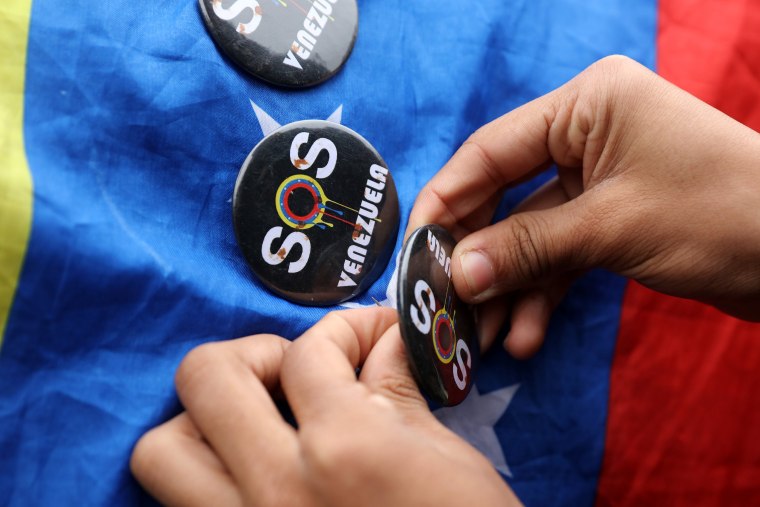 Venezuela could develop other partners; India is most often mentioned as a possible substitute market for its heavy crude, McCoy said. Venezuela also has been turning to Russia as a lender of last resort and giving collateral to Russia in its oil industry, including Citgo, in exchange. Russia has 49 percent of Citgo as collateral, which is of concern to the U.S. Congress.
"What I expect the U.S. can do if they are smart is to coordinate with other Latin American countries, Mexico, Colombia and Peru and put specific things on the table and if the Venezuelan government does not do (them) by a certain date, let's implement another sanction," Monaldi said.
Restricting imports and financial transactions would have a big impact, but also would generate economic collapse in Venezuela and create poverty and a refugee crisis, Monaldi said. Brazil and Colombia, which are likely to see many of the refugees coming across their borders, could oppose going those routes.
"You have a big cannon but probably will not be able to use them," he said.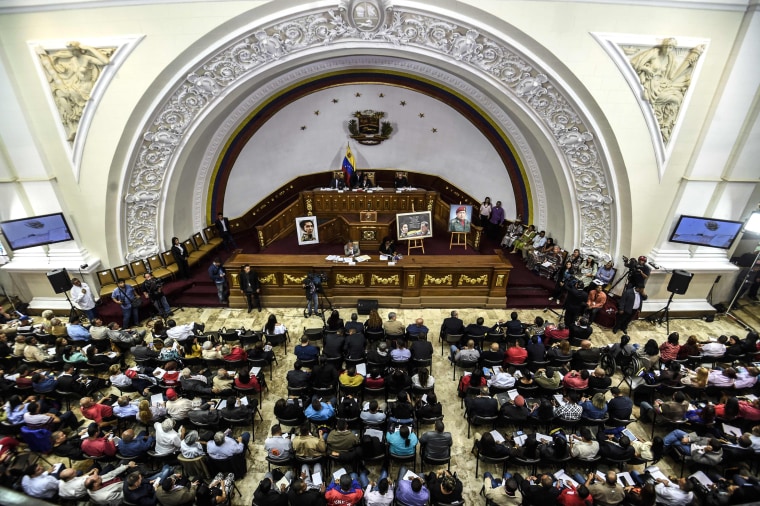 The U.S. has been cautious about sanctions to avoid further hurting the Venezuela population. But holding out the possibility of the oil and financial sanctions still does put a lot of pressure on Venezuela, McCoy said.
She said the U.S. and Canada need to talk to other governments about the refugee crisis that could hit if Venezuela implodes.
"It's going to hit all our shores, going to hit the Caribbean, it's going to hit U.S., Colombia and Brazil but also Mexico and other Latin American countries," McCoy said. "That's one thing they should be discussing internationally: How is this hemisphere going to be prepared to handle a refugee crisis?"
She added that the international community has been slow in reaching out to dissident Chavistas, former supporters of Hug Chavez who became unhappy with the direction he took the country. She said the U.S. and other countries need to make "bridges" with them to "help persuade the political opposition in Venezuela to be reassuring, rather than threatening in messages to people who have supported Chavez movement."
Monaldi said it is hard to see Maduro and his government reversing course anytime soon.
"We have gotten to a point that the government is almost an open dictatorship. It's hard to backtrack," Monaldi said.
"They'd have to cancel the constituent assembly, put together a calendar for presidential elections, with some guarantees that the electoral council will have elections with international observers and the like," he said. "I think the Venezuelans are unlikely to do that because they know they are likely to lose a massive election that is free and fair."