Ingrid Duran and Catherine Pino set out on a mission three years ago to "change hearts and minds" about acceptance of LGBT family members within the Latino community.
"The number one thing that we hear is that, in a lot of Latino families, it's hard to come out," Duran said. "Catherine and I faced the same thing when we came out. Although fast forward to today, our families are amazing and they support us in every way."
For years the couple, which run a consulting firm in Washington, D.C. and plan to get married in October, felt there wasn't a national effort to advocate for LGBT issues within the Hispanic community. Seeking to fill that void, they formed the Familia es Familia campaign in 2012 with the help of Freedom to Marry, a pro-gay marriage organization. They also recruited national Latino organizations to partner with them.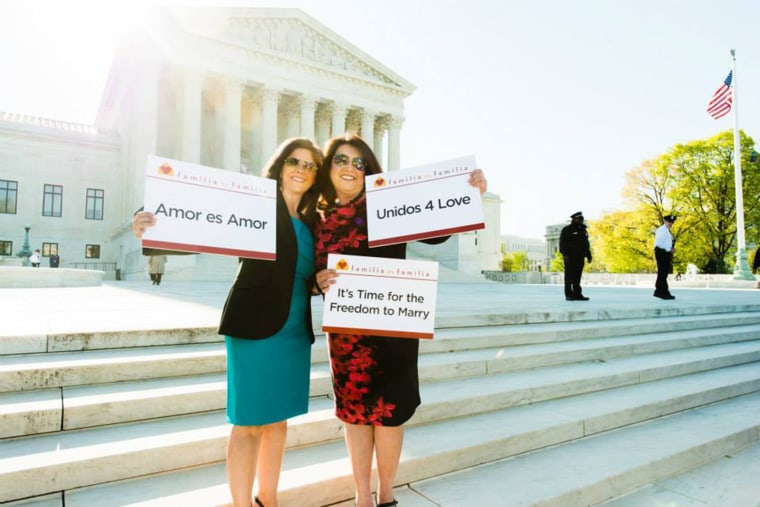 "What we said to them was 'you can help us change hearts and minds,'" Duran said, referring to the Hispanic organizations. "That's what this campaign is about. It's about changing hearts and minds and attitudes and helping our Latino brothers and sisters who are LGBT come out more easily to their families."
Twenty-four of the nation's largest Latino organizations are now partners of the campaign, including the National Council of La Raza (NCLR), the Mexican American Legal Defense And Educational Fund (MALDEF), and Voto Latino. They're provided with trainings and resources on how to engage their members around LGBT issues.
The goal of the groundbreaking, bilingual public education campaign is to raise awareness and build support among Hispanics for acceptance of LGBT family members. The campaign also focuses on four pillars: marriage equality, bullying, discrimination and family unity. In February, it collaborated with members of the Hispanic Caucus on a photo project to push forward these four pillars.
Fernand Amandi, managing partner at the Bendixen & Amandi International polling firm, said Latino attitudes toward the LGBT community have changed "dramatically" since the early 2000's. He said it's due in large part to the advocacy work of groups like Familia es Familia.
"Back then, it was quite literally a taboo that wasn't discussed," Amandi said. "You would bring up the subject in focus groups or polls and people would literally change the subject. They did not want to discuss it or engage on it."
Today, research shows the majority of Latinos are supportive of equality for the LGBT community. A 2010 public opinion poll conducted by Amandi's firm found that 68 percent of Latino Catholics—and 55 percent of the general Hispanic population—believe that being gay is morally acceptable.
The poll also found that 75 percent of Latinos support school policies to prevent harassment and bullying of students who are LGBT or are perceived to be. Furthermore, the poll found that 83 percent of Latinos support laws that protect LGBT people from discrimination in housing and employment.
Amandi said these findings were part of a national study that his firm conducted for the Familia es Familia campaign. He said the purpose of the study was to get a sense of what Hispanic attitudes were toward the LGBT community and what message framework would work best to build support for LGBT issues within the Latino community.
What they found was that Latinos are more likely to become sympathetic and supportive of the LGBT community if they're able to connect emotionally and if the message is tied to family. This includes stressing that every gay or lesbian person is part of someone's family and that no member of anyone's family should be excluded or face discrimination.
They also found it's more effective to have Latinos speak about their experiences with their LGBT family members or close friends.
"You've seen now within the Hispanic community, especially based on public opinion polls just over the last four years, that it seems to have worked significantly," Amandi said about the message framework, which the Familia es Familia campaign adopted.
The connection to family is at the forefront of a series of public service announcements released by the Familia es Familia campaign, including one with civil rights activist Dolores Huerta and another with actress Eva Longoria. Some also feature Latino LGBT couples and their families.
Duran said the public service announcements are meant to "put a human face" to the issue. "These are real couples across the country who have allowed us to share their images," she said.
The latest one features a wedding photo of Ruben Gonzales and Joaquin Tamayo, both of whom grew up in Mexican American families. The couple got married November 2011 in Washington, D.C.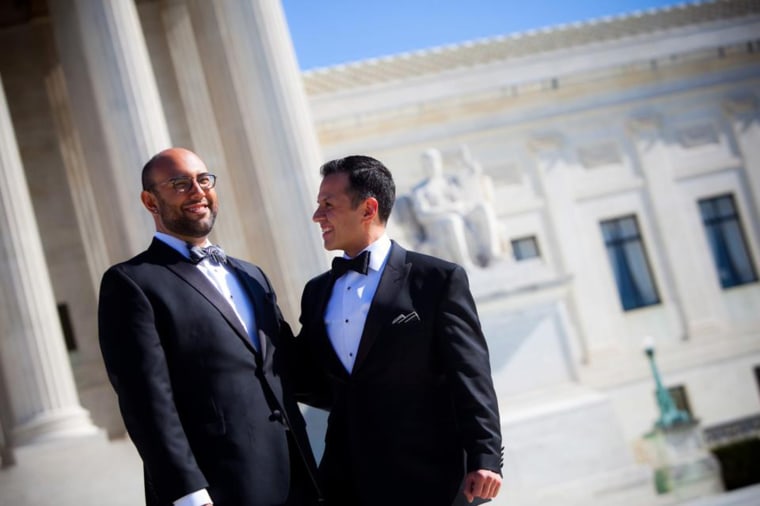 "People think that Latino families aren't supportive of LGBT people, but they're actually very supportive," said Gonzales, who's the vice president of philanthropy for the Congressional Hispanic Caucus Institute. "There just aren't a lot of images out there of Latino families celebrating a gay wedding."
Gonzales said he and Tamayo wanted to incorporate and celebrate various aspects of their Mexican culture in their wedding. They had mariachis, Día de los Muertos altars and traditional Mexican food. They also had Gonzales' aunt and uncle, who have been married for more than 30 years, place a lasso over them during the wedding ceremony, a tradition seen in Catholic wedding ceremonies.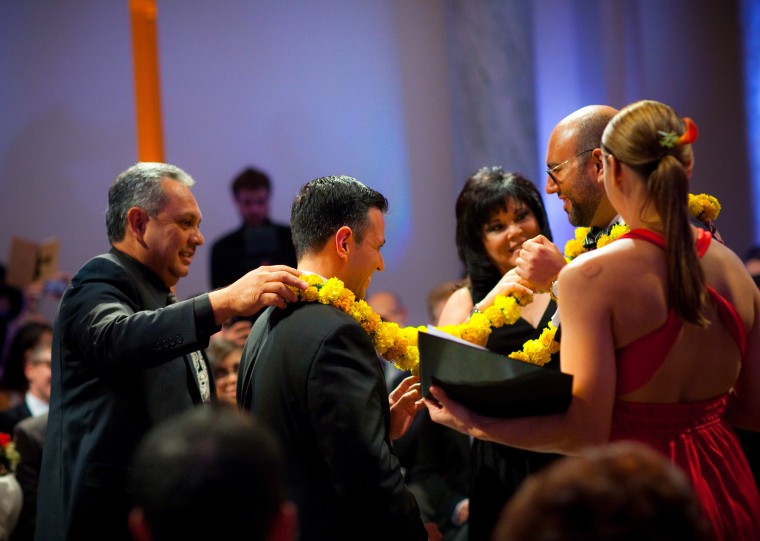 "It was definitely the happiest day of my life and so much of that was because my family and Joaquin's family were there to support us," Gonzales said.
Now, four years after their wedding, the couple often gets invited to dinner with friends and their parents who aren't supportive of LGBT couples as a way to show them an example of a loving gay couple. One of those dinners occurred in 2012 with their friend Julia and her parents.
"[Her mother] said she was Latina and that she could not support this sort of lifestyle," Gonzales said, recalling his conversation with the mother. "I told her, 'You don't have to support us, but you can't blame that on being Latina. There's lots of Latinos who are very supportive of their LGBT family members so it's not about being Latina. You can't use that as an excuse.'"
Julia's mother may well be among the Hispanics who, no matter the message, will not be persuaded to support the LGBT community because of their strong religious attitudes or beliefs. "You're never going to convince everybody," Amandi said.
But that doesn't discourage Duran, who said she believes in the power of storytelling. "The more people come out and tell their stories, the more acceptance there is in the community," she said.
"At the end of the day, family is family and that's why we named the campaign Familia es Familia," she added. "Your grandparents, your parents, your relatives love you because you're part of their family. It might take them a little while to come to terms with it. But for the most part, they're very accepting."