Mexicans and other human rights supporters will march through the streets of New York — and cities around the world — to demand justice for 43 teacher's college students who were abducted in Guerrero, Mexico two years ago today.
On the nightfall of September 26, 2014, a group of nearly 100 students from the Ayotzinapa Teacher's College were ambushed by municipal police from Iguala and Cocula, along with other armed men, leaving six people dead and 43 students missing.
The case sparked thousands of protesters in Mexico and other countries to take to the streets. The Mexican government initially concluded that the 43 students were handed over by police to the drug gang Guerreros Unidos (United Warriors), who then murdered and incinerated their bodies at a garbage dump. But a group of international forensic experts rejected the official account, and presented key evidence exposing how suspects were tortured for testimonies.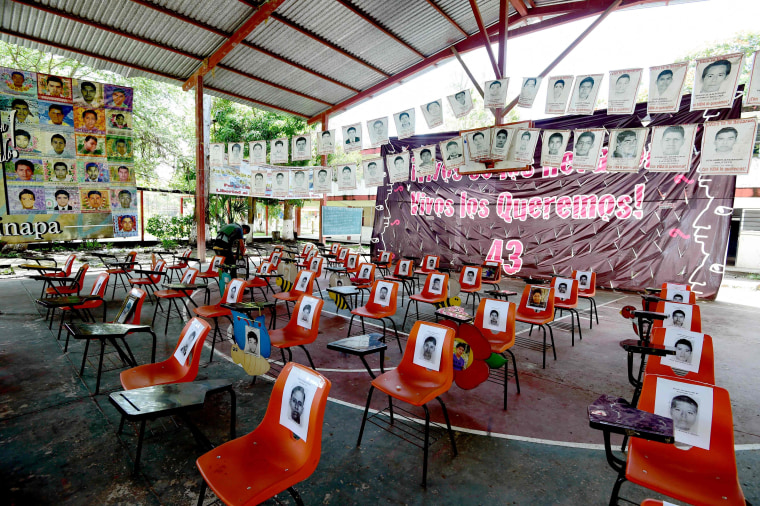 Two years later, the ongoing protests have damaged the image of Mexican President Enrique Peña Nieto, who just seven months before the mass kidnapping was credited on the cover of Time magazine with "Saving Mexico."
Now, 11 women who were brutally raped in San Salvador Atenco after the Mexican president (then governor) ordered a police crackdown in 2006, have called on the Inter-American Commission on Human Rights to investigate Peña Nieto and Mexico's top chain of command.
RELATED: Mexico Agrees to Advisers to Monitor Missing Students Investigation
Human Rights activists marching this evening in New York say that the Atenco case, like the Ayotzinapa kidnapping, was politically motivated—the student teachers were also on their way to a protest in Mexico City when they were intercepted by police—and both are part of a greater crisis afflicting all of Mexico.
"The mass kidnapping was really about silencing protestors, silencing an entire group of people, who are exposing what the government is doing bad," said Silvia García, a native from Mexico City marching in New York today.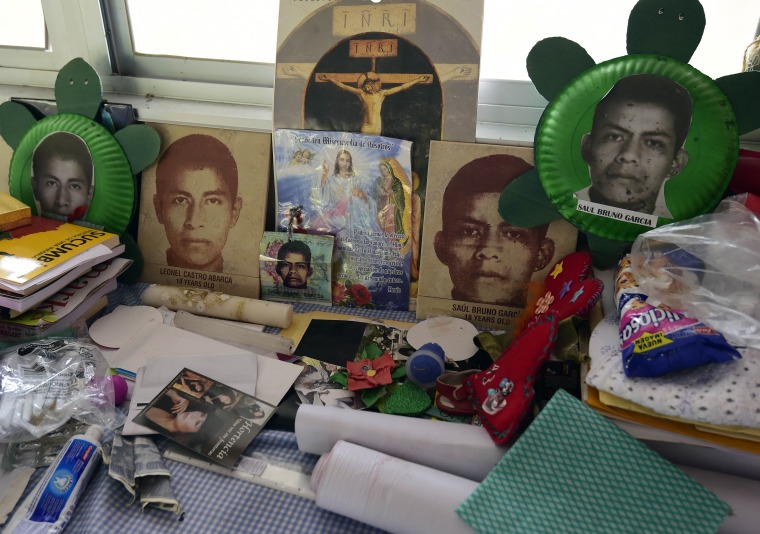 García's family lived a different but parallel tragedy in Mexico. She told NBC Latino that her father, José García Loza, was kidnapped by police 25 years ago, and then murdered in an unrelated carjacking five years later. This experience has connected her emotionally with the Ayotzinapa parents.
"The impotence of not knowing where they are. Waiting and hoping to find them well. I suffered that way for my father. And because of that pain I can connect in part with the parents," García said.
Over the last two years, the pain of the 43 student families has brought many Mexicans together. And transformed Ayotzinapa into a travesía (a crossing) that urges human rights activists on both sides of the U.S.-Mexico border to find common ground.
RELATED: 'Semillas' Uses Dance, Art to Grow Ayotzinapa Awareness
"We are all part of a system," said the Mexican Catholic priest and human rights activist Alejandro Solalinde during a lecture at Barnard College in Manhattan on May 5, 2015. "If we analyze reality as scattered elements we won't find answers… But if we interpret everything as part of a larger system, then we will understand what is going on."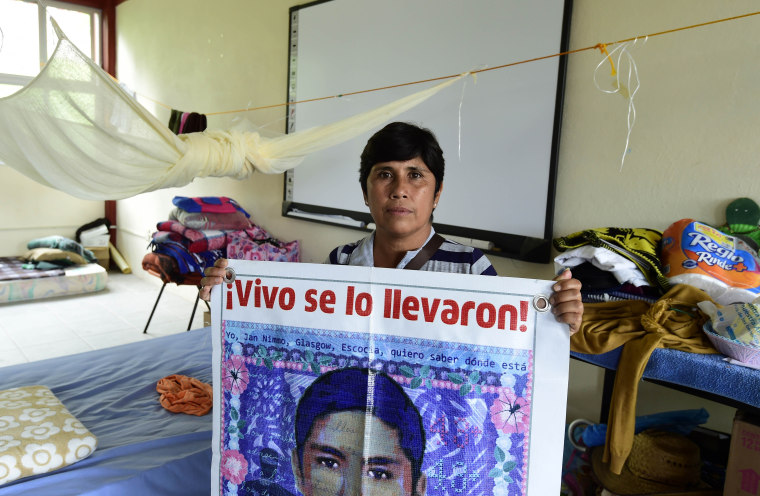 Solalinde described Ayotzinapa and other social movements like Javier Sicilia's Caravan for Peace in 2011—which called for an end to the drug war in Mexico, and Yo Soy 132—a Mexican social movement that denounced corruption and inequality during the presidential election in 2012, as X-rays of Mexican politics.
This larger perspective is also shared by other Mexicans marching today in New York. Vicente Soriano sees Ayotzinapa as a symbol of empowerment and resistance against a larger global system that promotes the interests of different industries and groups over Mexico.
"I think that in a few years Latin America will be a tenant in its own continent," he said. "And the 43 students are teaching all of us to be empowered, self-reliant."
RELATED: Moms of Missing Ayotzinapa, Mexico Students Make Pilgrimage to See Pope
Similarly, Amado Tlatempa, cousin of two of the 43 missing students—Jesús Jovany Rodríguez Tlatempa and José Eduardo Bartolo Tlatempa—believes that Ayotzinapa has elevated the moral conscience of Mexico, and will give people the courage to fight for their rights.
"There are many human rights cases we still don't know about. But Ayotzinapa has opened a road to justice," Tlatempa told NBC Latino.
Activists will read the names of the 43 students in Times Square. And Antonio Tizapa, father of the missing Ayotzinapa student Jorge Antonio Tizapa Legideño will speak out on behalf of the families.