The uncertainty and tension as events unfolded in Thursday night's deadly attack in Nice, France was acutely felt thousands of miles away in San Juan, Puerto Rico, as parents of a school group spent anxious hours ensuring that all their teenage children were safe.
A group of 50 high school students from several private schools in Puerto Rico were in Nice on Thursday night enjoying the fireworks on Bastille Day when they heard shots and were caught in the frantic activity.
"We got a text from our daughter, she used a friend's phone, to say she was okay and inside a store," said Angel Rotger, who spoke to NBC Latino by phone on Friday morning.
Rotger was at work on Thursday afternoon when his wife forwarded the text from their daughter Adriana, 16. He said he immediately started trying to find news of what was taking place in Nice and it took a while before he saw an article and a picture of the white truck used in the attack.
Nice, a renowned French destination known for its seaside promenade was enjoying its Bastille Day celebrations, the equivalent of July 4 celebrations in the U.S. when a white truck rammed into the packed crowds enjoying the fireworks and celebrations. Eighty four people have been confirmed dead and dozens more are gravely injured, according to reports.
Camelia Garrido told NBC Latino her son texted her to say he was hearing shots and his group had taken refuge in a restaurant. She was able to stay in touch "in real time" with her son, which made an unbearably tense situation easier.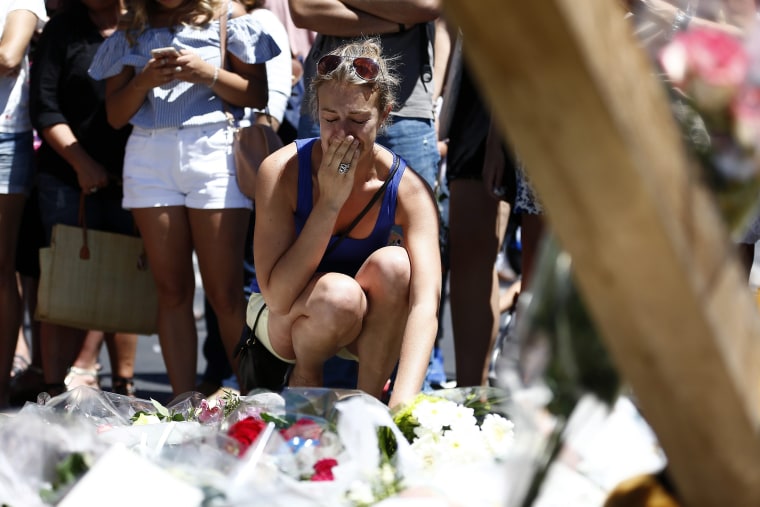 "Thank God they had all turned on phones and were texting," said Garrido, who said she and other parents spent hours in constant communication with their children, the teachers and chaperones on the trip and each other to ensure everyone was okay. Some students who took refuge in a casino were not allowed out for several hours as police were investigating the area. Though they met up with the larger group at their accorded meeting point at a later time, everyone knew they were okay from texts and phone calls.
The parents praised the coordination and work of José Leavitt, a teacher at the Academia Perpetuo Socorro who first organized the European tour about 40 years ago for students about to enter Junior year in high school. In fact, some of the parents themselves had gone on the tour when they were teens.
Rotger's wife, Giovanna, said they lived hours of "sheer anguish, waiting for bits and pieces of information." Though her daughter and the others are okay, she was saddened by the ones who did not have the same luck as their children and was appreciative of those who helped keep the teens safe.
She was also thankful. "We are grateful for the many French people and tourists that helped with communication and by letting them in their establishments," she said.
The tour group left France en route to the rest of their trip in Spain. For parents half a world away, it was a morning of relief.
NBC Latino contributor Susanne Ramirez de Arellano contributed to this report.