In a magnificent room down a hall of vaulted ceilings and Greek revival architecture of the Smithsonian National Portrait Gallery, hangs a painting of an iconic Puerto Rican political figure unveiled Thursday in Washington, D.C.
It is of Luis Muñoz Marín, considered the father of modern Puerto Rico and the first democratically elected governor of the island. Marín known more commonly as Don Luis but whose full name was Jose Luis Alberto Munõz Marín, was a poet, writer, journalist, politician and statesman, and the architect of what is now the island's current status as a commonwealth of the United States.
An island senator and then governor for 16 years starting in 1949, Muñoz Marín was partial to the arts and was nicknamed El Vate (The Poet/Bard).
His portrait was painted by Puerto Rican artist Francisco Rodón, considered one of the island's most pre-eminent artists. The artwork is on loan to the National Portrait Gallery until 2017.
"To me it is a great honor that this remarkable man who did so much for Puerto Rico and what he meant for Puerto Ricans is here at the National Portrait Gallery. To be here and show this work of art is truly one of my life's greatest privileges," Rodón told NBC News.
Rodón was already a well-known painter in Puerto Rico and in most of Latin America when Muñoz Marín came calling.
"I had just come back from Buenos Aires after painting writer Jorge Luis Borges and Don Luis called me and asked if I could paint him," Rodón said. "He said, 'The portrait that you make of me I believe will be my real memoirs, and not anything I write or anything that anyone else writes about me. I will give you my spirit and my all to tell you how I feel and how my work needs to continue after I'm gone.'"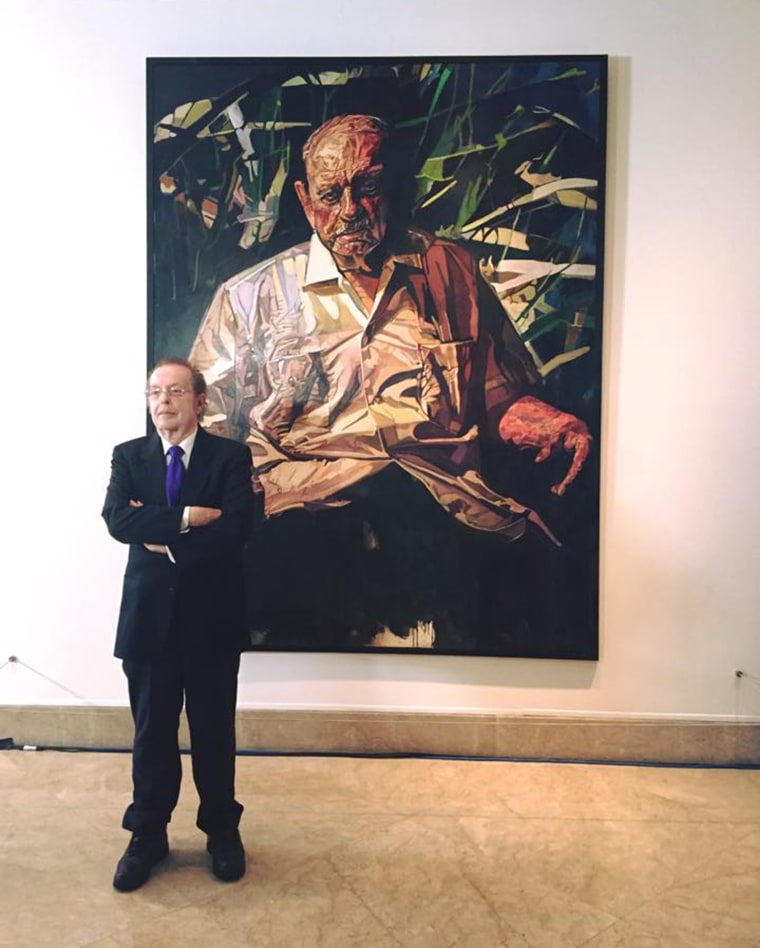 Rodón began the portrait in 1974 with several sessions in Muñoz Marín's home in the San Juan suburb of Trujillo Alto, and the painting caused an immediate sensation when it was unveiled in 1977, called a psychological portrait of the Puerto Rican leader in retirement. Muñoz Marín told Rodón he was very touched by the portrait, saying, "This is definitely my memoir. It captures the feeling in a stage of my life where I look back and I am saddened not to have done or not being able to do much more than what I have already done." Muñoz Marín died in 1980.
It has been described as one of the most important and most recognized paintings of Rodón, appraised at upwards of $1 million, and is part of a series of portraits Rodón did in the 1970s called "Personajes" (Personalities) that includes not only Muñoz Marín and Borges, but also Mexican writer and photographer Juan Rulfo, Cuban ballerina and choreographer Alicia Alonso, and Peruvian writer Mario Vargas Llosa, among others.
Rodón was born in Puerto Rico in 1934, starting his artistic endeavors at an early age by drawing sketches of Mexican actress María Félix after seeing one of her movies. Rodón studied in France, Mexico and Spain, and began painting celebrities and other famous figures in the 1950s. He is most known for his deep, penetrating portraits that seem to capture thoughts on canvas. In 1992, the World's Fair in Seville, Spain, named him Puerto Rico's most important painter of the 20th century, and his most recent oil on canvas in 2009 fetched $302,500 at auction in New York City – the highest price paid so far for a Puerto Rican painting.
"Rodón's work deserves to be seen internationally and wide ranging, and we are very happy to have it here because we'll have a chance to share it with many people," Taína Caragol, curator of Latino Art and History at the National Portrait Gallery.
"We get more than 1 million visitors a year to the museum and it's also a chance for the Latino community in the United States to see this significant work of art," Caragol said. "Having the portrait here is a great opportunity to talk about the history of the island and of Muñoz Marín, who is such a key part of that history, also of the relationship between the island and the mainland United States, and of the presence of Puerto Ricans in the United States which goes back many years."
Flavio Cumpiano, a Puerto Rican lawyer living and working in Washington, said the painting is a welcome respite from all the bad news of economic woes and severe drought coming out of Puerto Rico lately.
"Puerto Rico has a lot to offer. The island has produced some world-class artists like Francisco Rodón who is an immortal artist and that is a great source of pride. The fact that his magnum opus, his most famous work of art, is here in Washington, D.C. is good news. Puerto Rico has been getting a lot of negative coverage lately, and this is just wonderful and a big honor," Cumpiano said.
RELATED: Puerto Rico Rep in Congress Pleads For Drought Aid
Rodón said he looks at the portrait, with a wall all to itself, and he feels an immediate connection to his subject long gone. "He is here with me spiritually, and at this moment I feel great pride and love for my land."