LIMA, Peru — If this country's spectacular culinary boom has a birthplace, it is the Lima restaurant Astrid y Gaston.
For 20 years, owner and chef Gaston Acurio has been spearheading a national movement that has successfully fused Peru's myriad traditional recipes with mouth-watering modernist creativity.
And the word is out. Astrid y Gaston has been ranked Latin America's best restaurant. Acurio is so popular, thanks to his championing of humble cooks and farmers, that polls give him a real shot at becoming president, should he ever step out from behind his stove.
In the spirit of personal sacrifice that so characterizes our journalism, GlobalPost decided to see if we could last through the entire 29-course tasting menu.
Titled "Viru," after a mysterious pre-Columbian kingdom that presaged the naming of modern day Peru, the menu takes diners on a journey from the country's prolific Pacific waters to its coastal desert, Andean mountains and sprawling Amazon rain forest.
Here are the highlights.
1. Smoked butter and fruit seed bread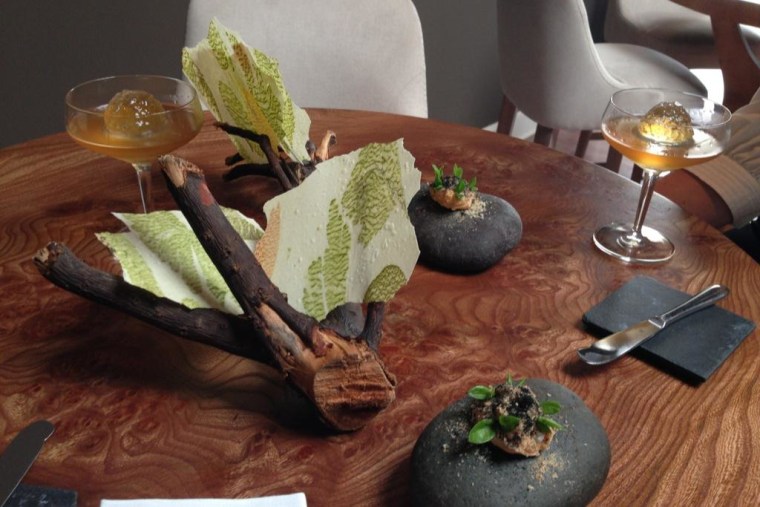 Presentation is everything at Astrid y Gaston, and conventional crockery just doesn't cut it. Here, one of several starter courses involves bread made from fruit seeds, served on a branch, and smoked butter presented on a stone and flavored with tomatoes, malted wheat, and pecans. The cocktail is pisco, a Peruvian fortified white wine, infused with shades of smoky fruit. Yes, smoky fruit!
2. Squid ink and baby carrots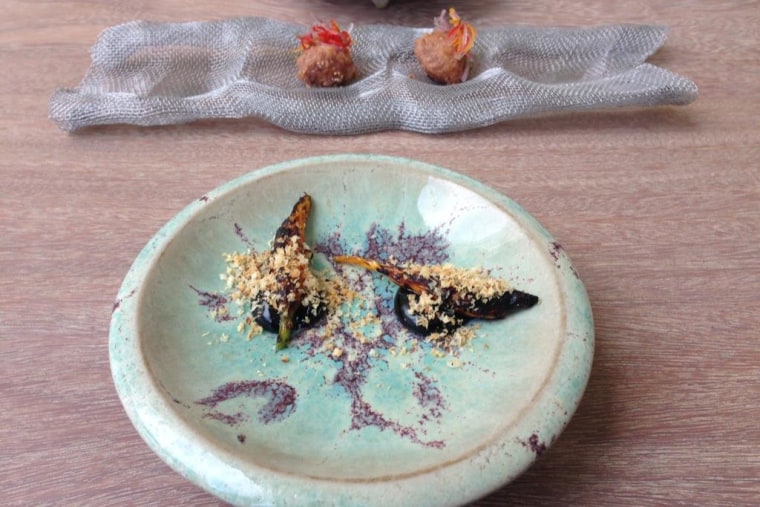 Another starter, this one is baby carrots gently grilled until they melt in your mouth, garnished with a squid ink sauce and diced Brazil nuts.
3. Sea urchin ceviche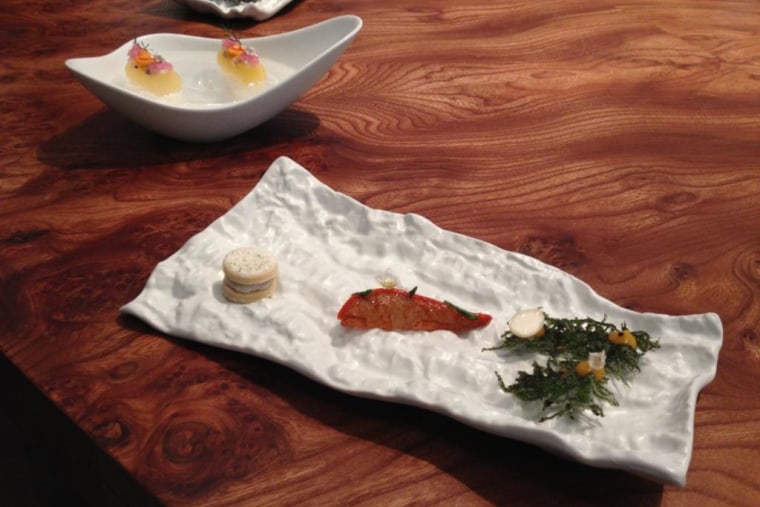 The first of the main courses, straight from the Pacific. The dish in the background is a ceviche of clam and sea urchin, served on a refreshing bed of "melon cucumber." In the foreground, the delicacies include a peach and seaweed salad and a savory alfajor, a local cookie that has had the usual sweet milk caramel filling replaced with anchovy paste.
4. Savory sand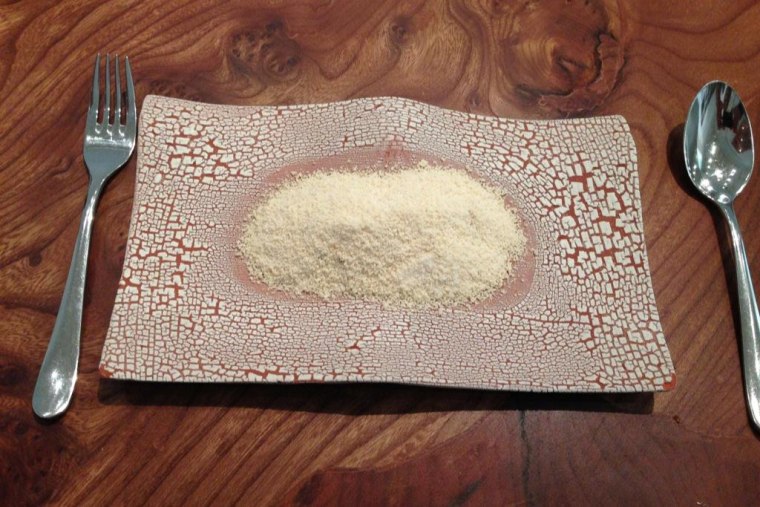 No, it's not cocaine. This dish, called Pisco Beach, is named after a remote windswept strand in southern Peru, with the powder resembling sand. Believe it or not, it's actually made from yogurt, olive oil and scallops. Underneath it, there's a delicate blend of bacon, cilantro, cacao and peppers.
5. Pisco and prawn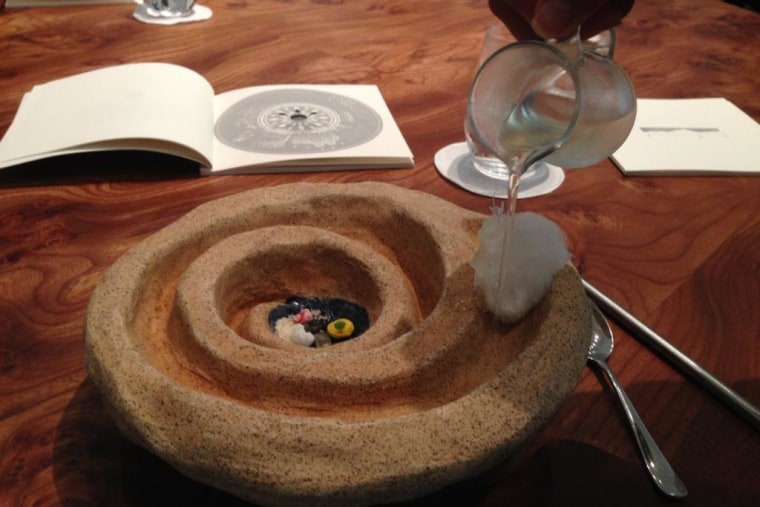 Memories of Cantalloc, a "cocktail" made by pouring pisco down the stone spiral until it blends with the dab of prawn, vanilla and maca at the base. You eat this one first with a spoon and then finish it off with a metal straw.
6. Mud-baked potatoes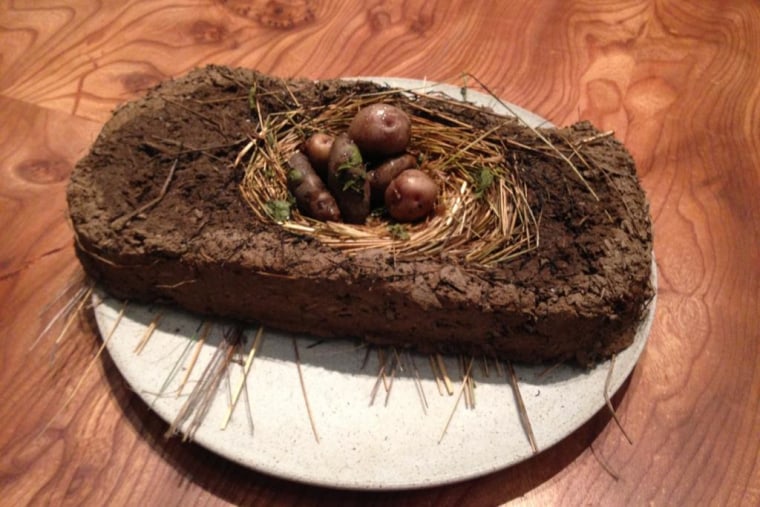 We're now in the Andes. This dish, called Huatia, is about as authentic a way of presenting some of Peru's more than 3,000 potato varieties as it gets — baked in a brick of mud. This is finger-food, and no utensils are needed as you add a garnish to the tiny spuds.
7. Guinea pig bacon bits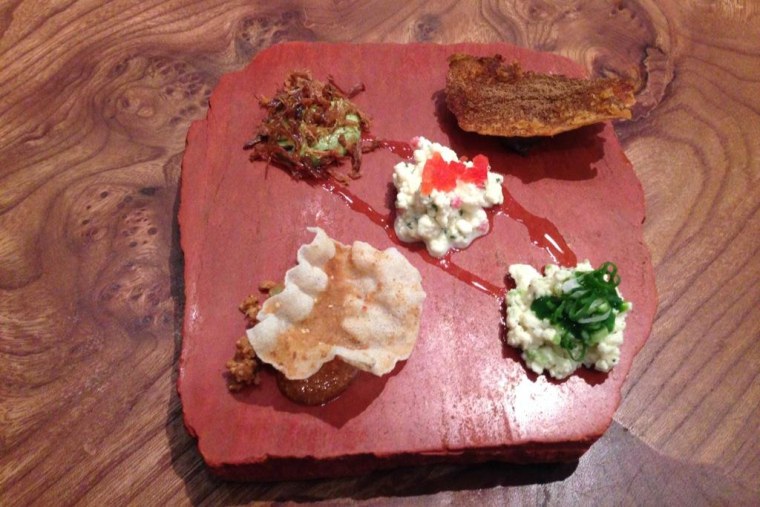 The five garnishes for the potatoes are served on a blood red stone. On the top left is some shredded crispy guinea pig skin with guacamole (more on guinea pig cuisine here). On the bottom left is a sweetish sauce flavored with peanuts and alpaca, tasting a little like a Thai satay. The two white garnishes are each made with cream cheese.
8. Heavenly coca leaves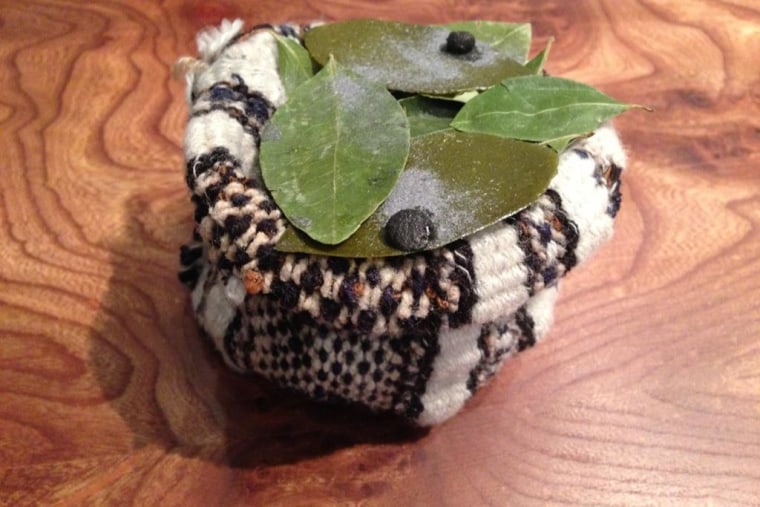 No Peruvian feast would be complete without "challa," an offering of coca leaves to the "Pachamama" or Mother Earth. Because this is Astrid y Gaston, the coca leaves here are like nothing else you've ever tasted, including, uh, coca leaves. Using molecular gastronomy, the leaves are frozen, made sweet and light as air, and seem to vaporize as they hit your tongue.
9. Trout with duck sauce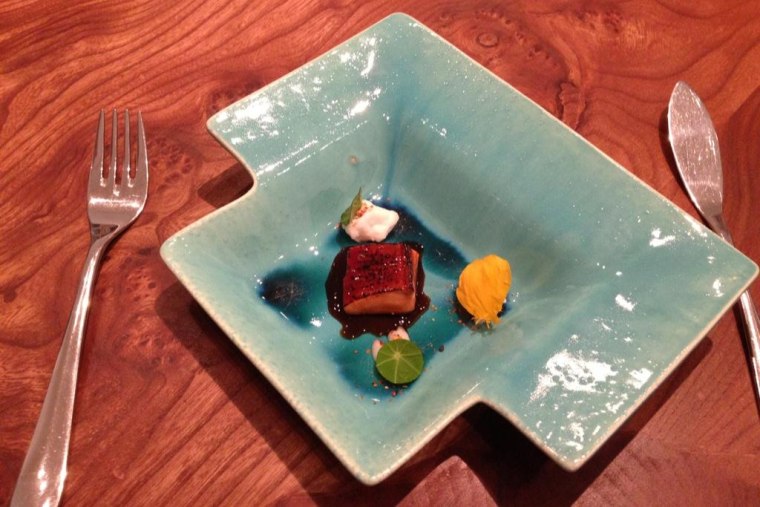 Another Andean creation, this is trout, served with a duck sauce and a dab of custard apple.
10. 'Wild boar' with jungle cilantro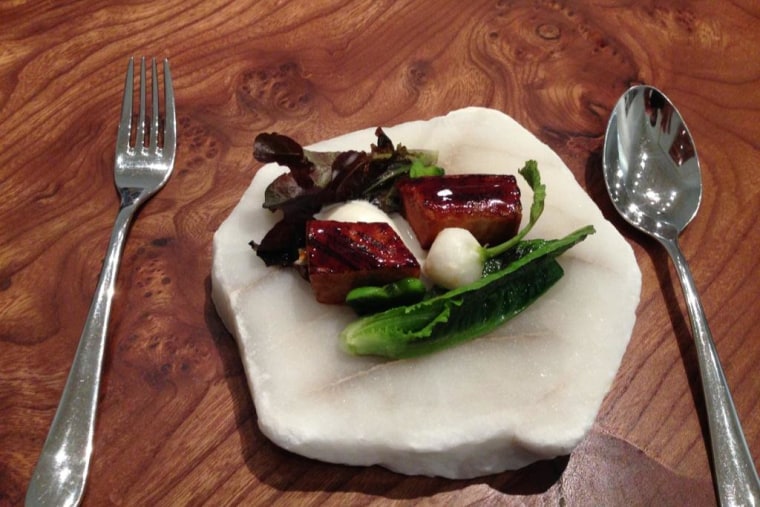 Now we're down in the Amazon. This is "toasted" pig jowl, inspired by the peccary, a kind of Amazonian wild boar. We say "inspired" because the real thing is bushmeat, so this dish instead uses organic, farmyard pork. It's served with a sprig of sachaculantro, aka "jungle cilantro."
11. So much more than sorbet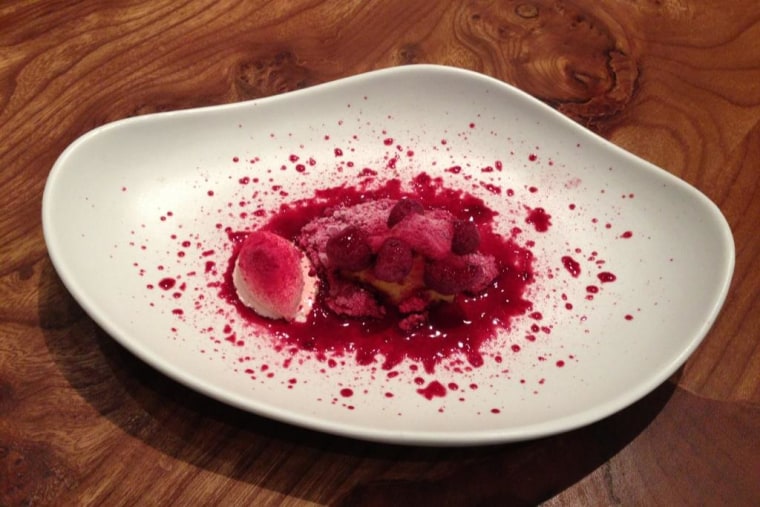 This one's dessert, of course. A baffling blend of purple corn and two Amazonian fruits, lucumaand aguaje, with more molecular wizardry giving this dish a breezy texture somewhere between a mousse and a sorbet.
Time for a coffee!
This was originally published on GlobalPost.
More stories from GlobalPost:
Do these displaced Hondurans deserve asylum in America?
18 images that show just how hard it is to treat Ebola?