NEW YORK, NY -- New York City-based cartoonist Felipe Galindo, otherwise known as "Feggo," just returned from a vacation in Paris on Tuesday. On Wednesday morning, he woke up to the news that his friend, Georges Wolinski, was one of the 10 cartoonists shot dead at Charlie Hebdo magazine in Paris.
"It was as if someone threw a bucket of cold water on me," said Galindo, 57. "It was really surreal. I knew they were a target, but not something like this. It's really abominable."
Galindo had first met Wolinski in Portugal during the 2012 Porto Cartoon Festival. Wolinski was one of the jurors, and the one who handed Galindo an award for his cartoon about global warming.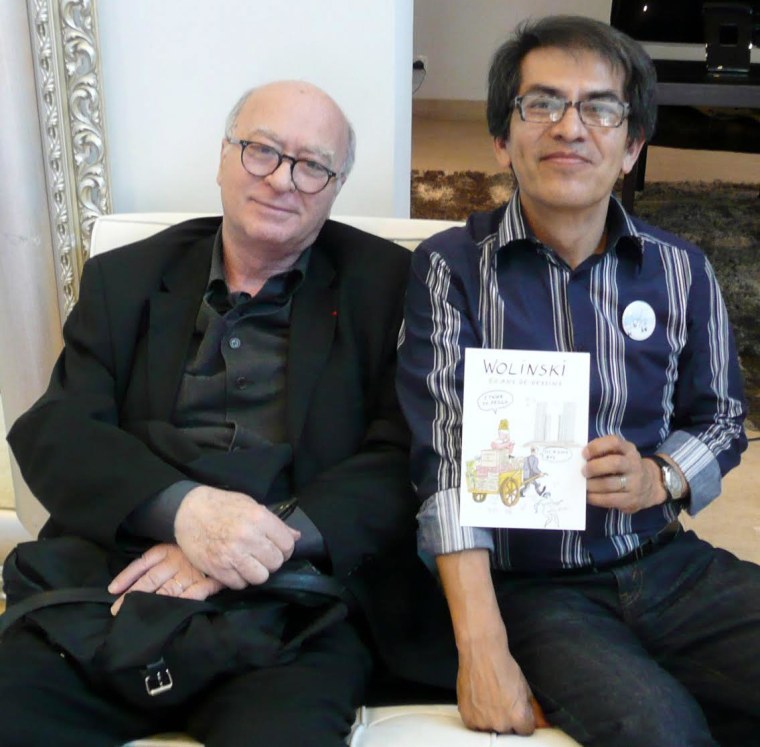 "We had a chance to be together for a couple of days - having meals and attending events with the President of Portugual," remembered Galindo. "He was very gentle, kind -you wouldn't know he was a cartoonist doing work that was very outrageous."
He said a trait he believes all cartoonists share is being able to recognize different types of humor.
As a juror at the Porto Cartoon Festival, for example, Wolinski had to go through at least 2,500 entries before choosing the winners, explained Galindo.
"The work they choose has nothing to do with what they do," he said. "In his life, he decided to create awareness of the ills of society in a very outrageous, satirical way. This team of cartoonists in France, they chose that. It wasn't mainstream. It was a very specialized market. It touches sensibilities."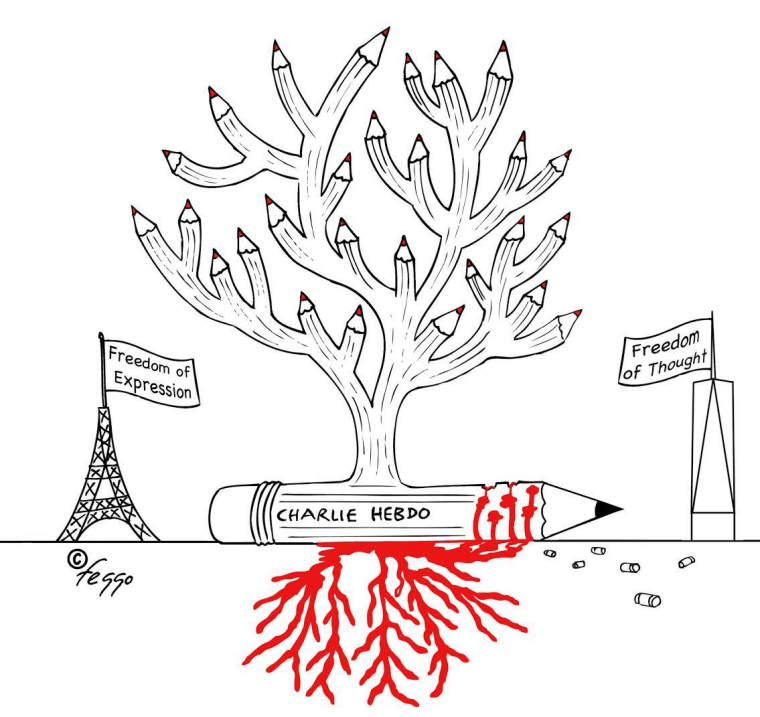 He went on to say another common trait of cartoonists around the world is awareness of what's going on in the world. "We are like antennas," said Galindo, whose cartoons are known for their lighter humor. "Some might do it in a gentler way."
Before returning home from Paris, Galindo passed by a newsstand and decided to buy a copy of Charlie Hebdo.
"I hadn't seen a copy in a long time," he said. He remembers Charlie Hebdo covers showing the president of France in a very satirical way, as well as the Pope.
"They had a point of view - the French people have that tradition of making attention - they don't like institutions, or at least they question them," says Galindo. "They have been doing that since the time of the kings and Napoleon. They were following what cartoonists did in France in previous centuries."
"For myself, for example, I don't want to hurt anybody, and I think that applies to other cartoonists," said Galindo. "We make fun of ourselves or current conditions, but perhaps not religion, or things that are sacred to others."
But he also believes that the work of the slain Charlie Hebdo cartoonists was not in vain, because instead of instilling fear, the terrorists have created a backlash.
"People are now aware and communities all over the world are uniting in the name of freedom of expression," says Galindo. "The magazine was going under financial troubles in early 90's, and now they are going to publish 1 million copies from 60,000."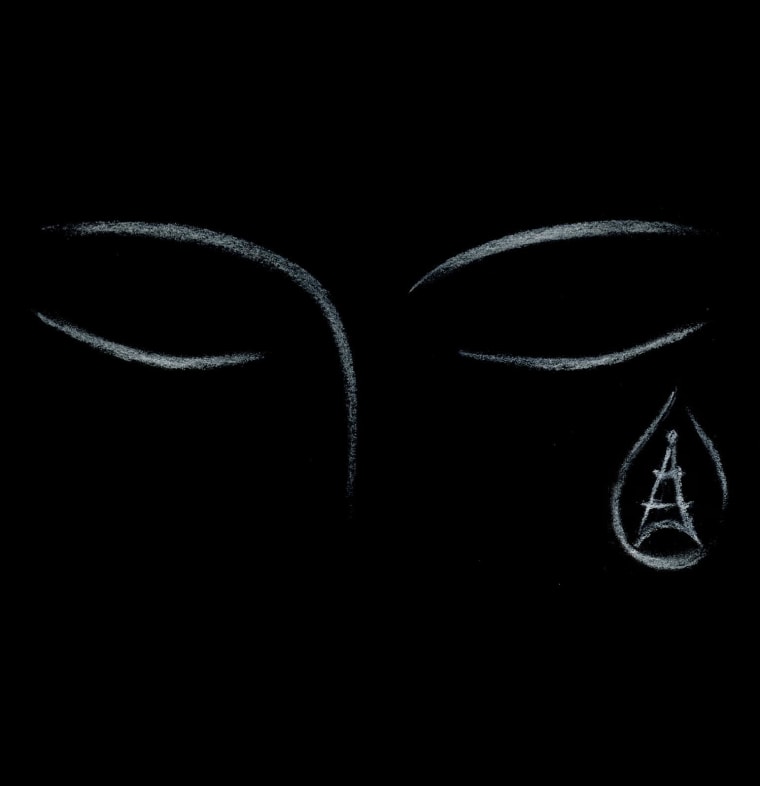 Galindo is only one of the many cartoonists around the world who has done a homage to those killed at Charlie Hebdo. His wife, fellow artist, Andrea Arroyo, also made one called "A Tear For Paris," and is holding a community workshop Saturday in New York to try and heal victims of violence through art.
"The cartoon I did means the blood that was shed is going to nurture more artistic response - instead of silencing the voice of these criticisms, it's going to raise more," said Galindo. "The terrorists are afraid of people criticizing. You cannot kill good ideas with a weapon...We have to show the world that violence is not the answer."