When Michael Guerra saw that a public school education wasn't a good fit for his young daughter, he began looking for an alternative. He turned to the principal of St. Matthew Catholic School, where he teaches, for advice.
"She convinced me to bring her here, and it was the best thing I could've done," he said. "I like the discipline and the core Catholic values she's learning at this school."
Guerra's 6-year-old daughter is now a first-grader at St. Matthew Catholic School, located in a predominately Latino neighborhood in Phoenix.
She's also one of the few Hispanic children attending a Catholic school in the United States. Less than 300,000 Hispanic children — just 4 percent of the 8 million Hispanic school age Catholics and 2.3 percent of the 12.4 million Hispanic school age population in the country — attend a Catholic school, according to a recent report by Boston College.
In total, there are about 1.9 million children enrolled in Catholic schools nationwide. For the 2013–14 academic year, about 15 percent of students enrolled in Catholic schools were Hispanic.
The report, based on a national survey of Catholic schools, found that Hispanic enrollment in Catholic schools has remained stagnant over the last two decades. Currently, there are more non-Catholic students enrolled in Catholic schools than there are Hispanic Catholic children.
RELATED: Pope-Admiring Latino Youth Are the Catholic Church's Present, Future
"The numbers are without a doubt sobering," the report states.
The report explores why Hispanics are underrepresented in Catholic schools. It concludes that though there are exceptions, Catholic schools have been slow to respond to the rapidly growing Hispanic Catholic population, which according to the report is vital to the future of the Catholic Church in the United States.
More than 40 percent of U.S. Catholics are Hispanic, but about 2 percent of school-age Latino students are attending Catholic schools - a missed opportunity for the church, says the report.
More than 40 percent of Catholics in the country are Hispanic — up from about 5 percent in the middle of the 20th century — and about 60 percent of Catholics under the age of 18 are Hispanic.
"Given the striking growth of the Hispanic Catholic school-age population and the declining enrollment in Catholic schools, the Church must be realistic and plan creatively — and prophetically — to serve this critical and growing group of American Catholics," said Hosffman Ospino, a professor at Boston College and co-author of the report.
Cost of tuition and the absence of sufficient financial support remains the primary reason for low Hispanic enrollment in Catholic schools. According to the report, an estimated 60 percent of Hispanic households in the U.S. earn less than $30,000 a year, so "increased tuition support is essential."
Another area where Catholic schools need improvement, according to the report, is in providing a culturally welcoming environment for Hispanic families and their children. The report notes that "unknowingly, some Catholic schools exhibit what has been described as a 'chilly climate' when hosting Hispanic families."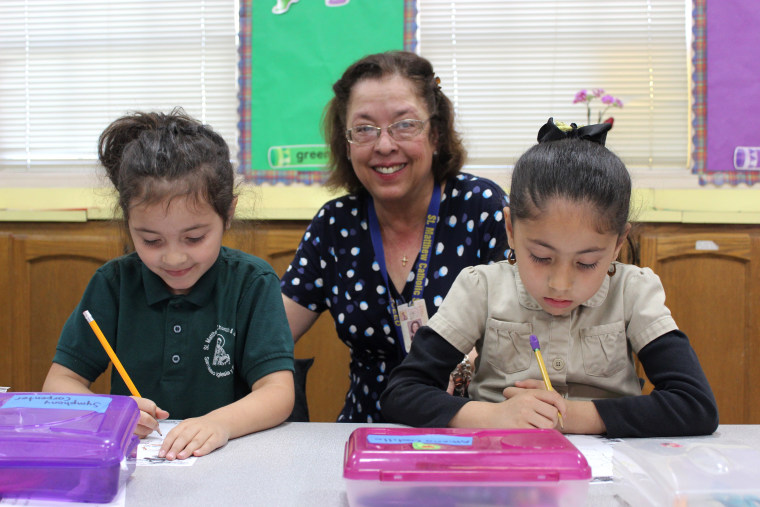 Ospino said Catholic schools, especially those in Hispanic neighborhoods, can make Hispanic families feel welcomed by having teachers and principals who are either Hispanic or speak Spanish.
According to the report, only 14 percent of Catholic school principals and 12 percent of teachers self-identified as Hispanic. In addition, only 17 percent of school leaders said they speak Spanish.
"Although most Latinos speak English, there are millions who primarily speak Spanish," he said. "By not having someone who speaks Spanish, the school is unable to develop personal relationships with primarily Spanish-speaking parents."
Ospino added that Catholic schools can also integrate signs, symbols, prayers, or liturgies that are in Spanish and represent the Hispanic culture in order to create a welcoming environment for Latino families. Less than one-third of Catholic educators said they already do this at their schools.
In addition to providing a welcoming environment, Ospino said Catholic schools should see Hispanic parents as partners who can help them achieve their educational goals. He said it's important for Catholic schools to do this if they want "to survive in the 21st century."
Jorge Hernandez, principal of Lawrence Catholic Academy in Massachusetts, said his school has been taking steps to be more welcoming to Hispanic families, including hiring him to head the school three years ago. More bilingual staff members were hired shortly after that.
"When I first came on board, I think that was something that a lot of our Hispanic families really were drawn to, and it encouraged them to begin coming to the school," he said.
As a result, enrollment of Hispanic students has increased and the school is considering adding another classroom next year to keep up with the demand. This year, 77 percent of students are Hispanic, compared to 64 percent three years ago.
Catholic schools that have reached out to Latino families through tuition help, more Hispanic teachers and a more welcoming environment have seen an increase in Latino enrollment.
Hernandez said his school also hosts community engagement events as a way to serve the majority-Hispanic community in which the school is located.
"We're not interested in being a stand alone institution," he said. "We're looking to be part of the very fabric of the community that we serve."
The report also points to other Catholic schools that serve as examples for others to follow. St. Matthew Catholic School, where Guerra's daughter is attending, is one of them.
Opened in 1943, the school faced a real possibility of closing in 2009 due to declining enrollment. But after its principal, Eugenia McGowan, transformed it into a dual-language school, enrollment increased by more than 25 percent and the school remained open.
Today, it is one of the few dual-language Catholic schools in the country. Students learn to read, write and speak in both English and Spanish.
McGowan said she pushed for a dual-language education as a way to better serve the school's largely Latino and low-income population, but also because she thought it would help improve test scores.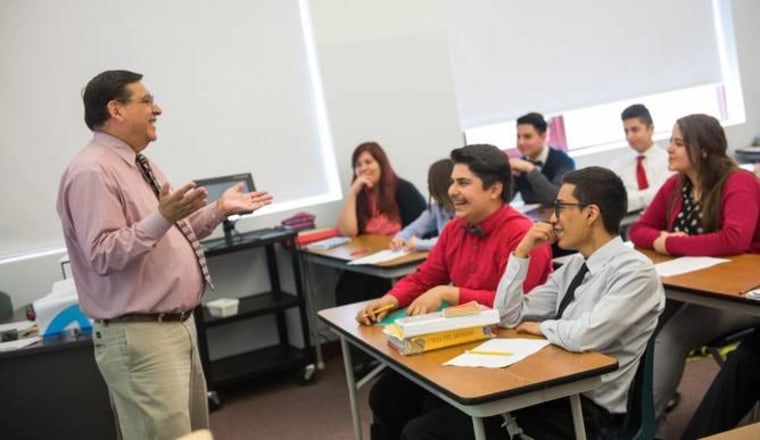 "That has in fact happened — our reading scores have gone up exponentially throughout the years," she said. "Math scores have gone up as well."
Cristo Rey Jesuit High School in Chicago, which is celebrating its 20th anniversary this year, is another dual-language school. President Antonio Ortiz said it became a dual-language school in part because "we wanted the parents to be part of the learning process, and the best way to ensure that was to speak their language."
"Everything we do is both in English and Spanish, from graduation to the admissions interview," he said. "That sends parents the message that your native language is not only welcomed, it's celebrated at the school."
Cristo Rey Jesuit High School only serves students from low-income families. As a way to help cover the cost of tuition, the school pioneered a work-study program that allows students to use the money they earn working for Chicago firms to pay for nearly 70 percent of their tuition. Thirty other schools serving low-income communities across the country have adopted this model.
RELATED: Heart of 'El Barrio' Busts With Pride for Latino Pope
There is a great need for more Catholic schools like these, Ospino insisted, in part because the majority of Hispanic children currently attend "hyper-segregated" public schools. He said these schools tend to have fewer resources to educate and, therefore, are lower performing compared with non-segregated schools.
"In a sense, our pubic education system is creating a de facto subclass just by the way it is educating Hispanic children," Ospino said. "This is an opportunity for the Catholic Church to say we are going to step in and offer resources to our own people, to our Catholic people, a majority of whom happen to be Hispanic."
In September, Boston College will host a first-of-its-kind summit to examine the issues raised by the report and develop strategies that Catholic schools can implement to better engage with Hispanic Catholics.