SAN ANTONIO - Selena's first annual Fiesta de la Flor Music Festival takes place Friday and Saturday in Corpus Christi and features heavyweights like Los Lobos, Chris Pérez and A.B. Quintanilla's Kumbia Kings All Starz. And remember this name, Nina Díaz, who could be the one stealing the show when she performs Saturday in the early afternoon in front of an estimated crowd of 50,000.
"That's our conservative estimate," Ashley H. Simper, communications director for the Corpus Christi Convention & Visitors Bureau, told NBC Latino. "The economic impact of this event is amazing already. This is the first event I've ever been a part of where sponsors are calling you wanting to know if they can give you money to be a part of this."
For organizers of the Fiesta de la Flor (named after Selena's hit "Como la flor"), the success of the festival's first edition has exceeded all expectations: hotels have been pretty much booked for weeks now with fans coming from all over the world, and the Corpus Christi City Police department had to develop a traffic plan to try to minimize congestion that includes a recommendation to use the free shuttle service to and from the festival in Corpus, about 143 miles southeast of San Antonio.
A talented young singer, gone too early, is remembered by musicians including a new generation of Latina singers like Nina Díaz.
"It'll be a rain or shine event, unless there's a dangerous electric storm," said Simper last week.
The festival starts late afternoon Friday (Steve James, Las Fénix, Los Lobos and a special screening of the Selena movie directed by Gregory Nava), and Saturday morning (Chicas Rock, Clarissa Serna, Nina Díaz, Stefani Montiel, Chris Pérez, Los Palominos, Jay Pérez, A.B. Quintanilla & los Kumbia Kings All Starz and Little Joe y La Familia).
Since talks began a year ago between Corpus City's Convention and Visitors Bureau and the Quintanilla family, everyone agreed on one point: the festival had to be as down-to-earth as Selena herself, thus the $2 and $5 admission tickets (free for children under 5).
"She adopted Corpus and Corpus adopted her," said Simper. "She considered Corpus her home and her family still lives here. We fell in love with her and we embraced her. Her heart was full of compassion and she never wanted to put anything between her and her fans, and that's one of the main reasons we established ticket prices accessible to all."
While there were other tributes to Selena around the 20th anniversary of her death, March 31, 1995, the festival follows Selena's birthday, April 16.
For Nina Díaz, the singer/guitarist for San Antonio's all-female band Girl in a Coma and now embarking on a parallel solo career, her Saturday gig will be unlike any other.
"[Selena's] music was always playing at home when I grew up," Díaz, 27, told NBC Latino. "I saw the Selena movie and I knew who she was, but I didn't really understand who she was until about three years ago, when GIAC covered 'Si una vez' and I started listening more and more. Playing in her hometown will be very special for me."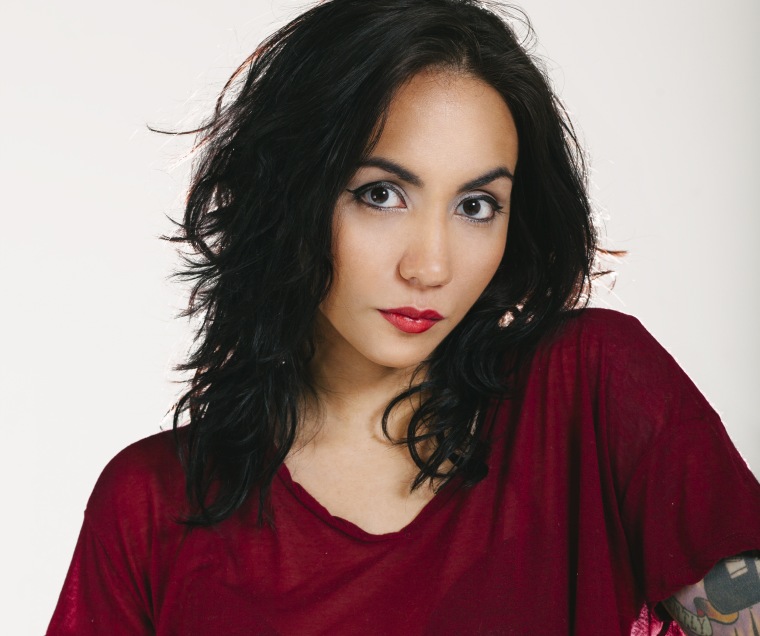 GIAC (named after English rock band The Smith's "Girlfriend in a Coma") formed when Díaz was 13 years old, but the band started to take off outside the confines of San Antonio in 2006, when rock star Joan Jett ("I Love Rock & Roll") saw them perform for a TV show in New York and signed them to her Blackheart Records label.
Simply put, GIAC is San Antonio's most beloved rock band. It is a garage power trio with a strong melodic sense even at its rawest moments. National Public Radio hailed Díaz as "one of the two or three most exciting, scary-good vocalists in rock today" and, for those who know Díaz, the statement is anything but an exaggeration. In "The Beat is Dead", her solo debut to be released independently around July, Díaz gets as personal as ever.
"I always wanted to do a solo album," Díaz said. "It something that happens naturally with bands that have been together for so long. I've gone through a lot of changes in my life and wanted to get outside of my musical box, I wanted to communicate more."
And communicate she does, in a direct, brutally honest way. The album is the crowning jewel of her biggest triumph after years of struggling with addiction: her two-year chip from AA.
"The album is a rollercoaster ride, just like my journey to sobriety," Díaz said. "It is a New Wave-ish album that explores my dance side and my love for 80s and 90s music. It does have its dark moments, because us artists love going to the dark, we feed off it a lot.
Her Fiesta de la Flor gig will have her sing in front of the largest crowd she ever had to face as a solo artist, but she's not intimidated.
"I love big crowds, and especially this festival makes me feel I'll be playing in front of a bunch of cousins," said Díaz, who once performed with GIAC in front of 500,000 at Poland's Woodstock festival. "I like smaller crowds too, but when there's only 20 people they're really, really looking at you. With huge crowds you can get lost in the pile of people."
Though Díaz's set won't include Selena's "Si una vez" (which she recorded with GIAC in 2010's Adventures in Coverland album), she will perform "Techno Cumbia," another Selena cover to be included in her solo debut.
There's been talk of a "Bidi Bidi Bom Bom" duet with Selena widower Chris Pérez, but "it is not 100 percent confirmed yet," she said.
For Díaz, the festival's timing couldn't have been more perfect for her.
"I'm at the golden age where I'm going to outlive my idols," said Díaz, referring to artists like Jimi Hendrix, Janis Joplin, Jim Morrison and Kurt Cobain, all dead at 27. "This is a scary age for any musician. Luckily, I knocked out any possibilities I could bring to myself for something destructive to happen to me at this age...I'm handling things a lot better now."
If Fiesta de la Flor is a festival honoring the legacy of a star that left us way too soon, Nina Díaz is yet another living proof of Selena's impact: a young Texan girl who was seven when Selena died, at age 23, but nevertheless grew up idolizing her and learning from her in ways that went beyond singing.
"Selena was a full-figured girl like me and looked absolutely amazing," Díaz said. "She used her body to her full advantage, and that's what I'm trying to do. I'm still not fluent in Spanish, but the most fluent I get is when I sing Selena's songs, so we'll see. I'm excited and honored to be a part of this."