NEW YORK -- Growing up in the Dominican Republic, New York state Sen. Adriano Espaillat was a typical kid. "I wanted to play third base for the New York Yankees!" he said. Then his family moved to the U.S. and his future changed. "I came here when I was 9; I came with no papers, then I had to go back to get my green card. Now I'm still here, 50 years later! And never in my wildest dreams did I have any idea of the opportunities in front of me," he said.
Espaillat, 59, is fighting - for the second time - to unseat twenty-three term Democratic congressman Charles Rangel, 84, for the Democratic nomination of New York's 13th Congressional District. Because New York is a heavily Democratic city, if Espaillat wins the primary on June 24, he will be positioned to make history as the first Dominican-American congressman in the U.S. House of Representatives. the Rev. Michael Walrond, pastor of First Corinthian Baptist Church in Harlem and the son of Barbados immigrants, and Yolanda Garcia, a Bronx activist born in the Dominican Republic, also are in the race.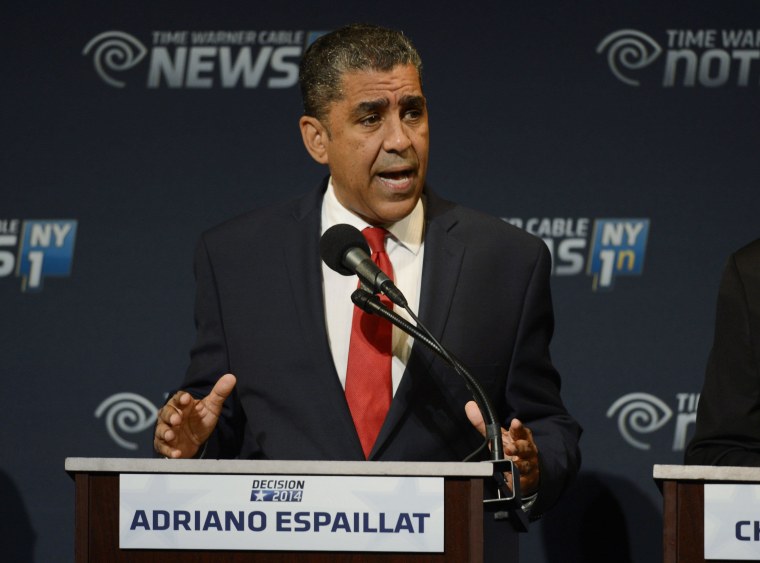 In 2012, Rangel defeated Espaillat in the primary by fewer than 1,100 votes. Rangel is a veteran congressman who cites his long legislative record and support of civil rights, liberal economic policies, education and immigration reform. He was the first African American congressman to chair the powerful Ways and Means committee. He is still a member, although he stepped down as chairman while being scrutinized and later censured by the House for ethics violations. Two Puerto Rican members of Congress, Illinois Democrat Luis Gutierrez and New York Democrat Jose Serrano, are among the Democrats who have endorsed Rangel for re-election.
Espaillat, who chairs the New York state Senate's Puerto Rican/Latino caucus, got his start as a community organizer in Northern Manhattan. "When I was 15 or 16, I was part of an effort to bring fresh produce to my neighborhood. I was part of a group of young people who protested at supermarkets," he said. "During this time, the Vietnam War was on, the Civil Rights Movement was happening, so it was difficult to avoid becoming involved in politics."
After working in non-profit organizations, Espaillat was elected in 1996 to the New York State Assembly, becoming the first Dominican-American elected to a state legislature. He cites his legislation protecting tenants' rights and strengthening rent regulations as well as protections for livery drivers and daycare providers. Espaillat has been endorsed by several key unions representing teachers and transport workers, as well as the Working Families Party, which endorsed current New York Democratic Mayor Bill de Blasio.
The race in the 13th District is notable because the district's boundaries have changed. Although it was for decades predominantly African-American, the district was reconfigured in 2012 and it is now majority Hispanic. An analysis of U.S. Census Bureau data by the National Institute for Latino Policy shows that the district's eligible voters are 46 percent Latino, 34 percent African-American, 17 percent white, and 3 percent Asian.
Although NY's 13th Congressional District was for decades predominantly African-American, the district was reconfigured in 2012 and is now majority Hispanic.
Rangel is one of the more prominent African American members of Congress and is a founding member of the Congressional Black Caucus. Though his father was Puerto Rican, he has said he had painful memories of him and did not grow up with him.
Rangel said he is untroubled by the altered ethnic makeup of his district. "I talk to all voters the same way," he said. "I talk about issues they care about, like immigration, affordable housing, and jobs. It doesn't make any difference whether they are black, white, or Latino," he said. Rangel firmly believes his experience give him an edge. "Voters should think, who can serve us best? Who can be most helpful to the president? What can a newcomer really do and say, except that they want to be a member of Congress?"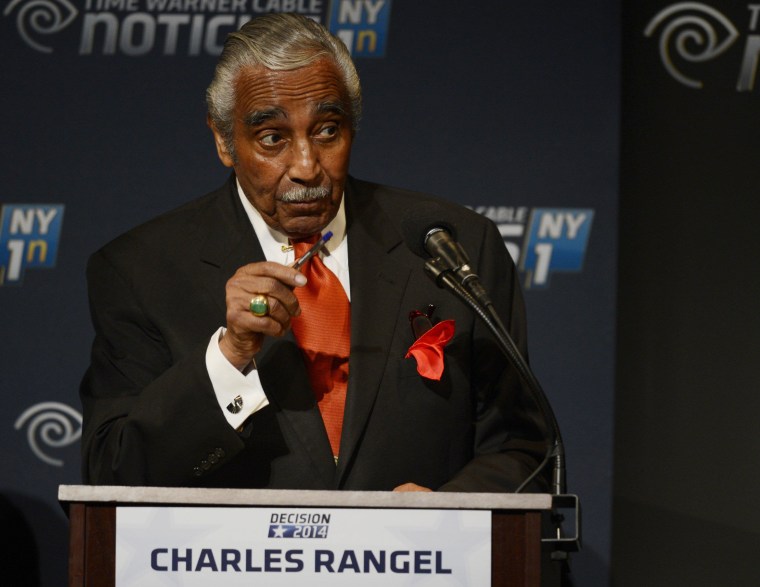 But Rangel drew criticism after a recent debate where he questioned Espaillat's record by asking, "What the heck has he done, besides saying he's a Dominican?"
Asked about Rangel's remark, Espaillat said, "I think it is unfortunate, but I want to focus on the issues that voters really care about."
Both Espaillat and Rangel list affordable housing, jobs, and immigration reform as top issues in their campaigns. Yet the two candidates sparred last week over Espaillat's assertion that Rangel endorsed President Barrack Obama's record level of deportations. Rangel's camp denied the allegations.
Espaillat has attracted attention as reflecting the growing political engagement of New York City's Dominican population. "It is clear that Dominican-Americans are very excited about Espaillat," said Ramona Hernández, director of the Dominican Studies institute at the City University of New York. She notes that Dominican-Americans have become politically engaged in a relatively short period of time. "The massive migration from the Dominican Republic began in 1966. So in only 40, 50 years we are seeing more Dominican candidates and elected officials. This is a community that is establishing deep roots."
Rangel is the race's money leader with about $1.03 million raised for the entire election cycle thus far and $882,000 spent on the race, according to OpenSecrets.org. Espaillat has raised $510,934 and spent $362,625. As of Tuesday, they had almost the same amount of cash on hand, Rangel with $151,000 to Espaillat's $160,000. Walrond had raised $181,416 the election and no information was available for Garcia.
Doug Muzzio, professor of public affairs at Baruch College of the City University of New York, expects demography to play a role in the race. "New York City is still primal, tribal politics. Espaillat's base is in the Dominican community, and that informs his message." He said that Espaillat and Rangel do not have significant policy differences between them. "This is a race about Rangel's past and Espaillat's future," Muzzio said.
Although a May New York Times poll showed Rangel leading Espaillat by nine points, "this election will be decided by turnout," said John A. Gutiérrez, assistant professor of Latin American and Latina/o Studies at John Jay College of the City University of New York. "There is a level of familiarity that people have with the congressman. Espaillat has to work twice as hard as Rangel to win." According to Gutiérrez, both candidates face challenges. "It's not easy for Rangel because he's been there for so long. And it's not easy for Espaillat because he is less well known," he said.
New York's primary is on June 24th, and candidate preferences aside, Rangel stressed the importance of civic engagement. "I hope people take advantage of the right to vote, a right that people fought for, and died for," he said. "Don't wake up after the election and say 'I forgot." I hope people take a look at us both, and that they vote."