PARK CITY, Utah — The beloved astrologer Walter Mercado, who died on Nov. 2, left an indelible mark on millions of viewers, readers and listeners around the globe. Whether they watched Mercado in bedazzling capes on "Primer Impacto" — a Spanish-language news program on Univision — read his horoscopes in their local newspaper or listened to him on the radio, his fans looked to him for his insight into the stars, signs and maybe even a dash of hope in trying times. After decades on television, Mercado suddenly disappeared from our screens in 2010. The reasons behind his absence were as mysterious as his stage sets, and the rumors only added to his legend.
Years later, two documentarians, Cristina Costantini and Kareem Tabsch, approached the mythical man himself for his side of the story. From his humble beginnings in rural Puerto Rico until the last few months of his life, Mercado shared his story with a lively candor and vulnerability, opening up about the painful reasons that caused him to fall out from the public eye. Through several candid interviews and plenty of delightfully extravagant archival footage, Mercado's larger-than-life reputation gets a retelling fit for his outsize personality.
Costantini and Tabsch spoke with NBC Latino ahead of the premiere of their documentary, "Mucho Mucho Amor," at the Sundance Film Festival and just after the announcement that the film was acquired by Netflix. A release date has not been set. The interview has been edited and condensed for clarity.
When did you first learn about Walter Mercado?
Costantini: Kareem and I both grew up with Walter and as well as our producer, Alex Fumero. The three of us have basically been obsessed with Walter since childhood, watching him in his fabulous capes, looking the way he looks on TV from Day One. I actually don't remember a time when Walter didn't exist. As the three of us became adults, I think we kept thinking about Walter and realized that he was light years ahead of his time – being genderqueer in that time was not really a thing and becoming so huge in the Latino community, he's basically the only one who's done it.
The three of us actually all independently started thinking about how to do a film about Walter. We always quote Walter when we talk about this because he says, according to the stars, it was perfect, and it was. Alex ended up putting Kareem and me in touch because we'd never met. We decided then and there that we were going to make a movie about Walter together.
Tabsch: For me, particularly having grown up in Miami, here he was like another deity. When I went to the estate sale from his apartment in Miami, one of the things that really took me aback was just how young the audience was. Sure, there are older folk that went to the estate sale who obviously love Walter, but so many young people were obsessed with him, and when I was there, I felt like I bumped into everybody I knew who I think is cool in the city. It was a sign of the appeal of Walter on our generation.
How did you decide to explore Mercado's connection to millennials more deeply?
Tabsch: As a young queer boy growing up in Miami, watching Walter on TV was this sense of recognition, like a common otherness. I was nowhere near as fabulous as Walter – maybe secretly wanting to be. I certainly recognize that otherness, that he was different and I was different, and he reminded me that it was OK to be different. That was obviously so important for us to get across in the film, the significance he had for the LGBT community as a pioneer, somebody who's unabashedly and authenticity themselves from the moment they came on TV.
Costantini: When astrology started coming back and getting very popular with my generation, and when people started talking about being genderqueer, I thought back to my first experiences with those ideas, and they all come from Walter. And I think it's really interesting that these things that he was so into, whether it was interfaith religion, whether it's sequins and capes or his augmented face – someone once told us that Walter invented Instagram filters. Walter was the first person I'd ever seen to do any of this, and I think that's part of the reason our generation is so into him.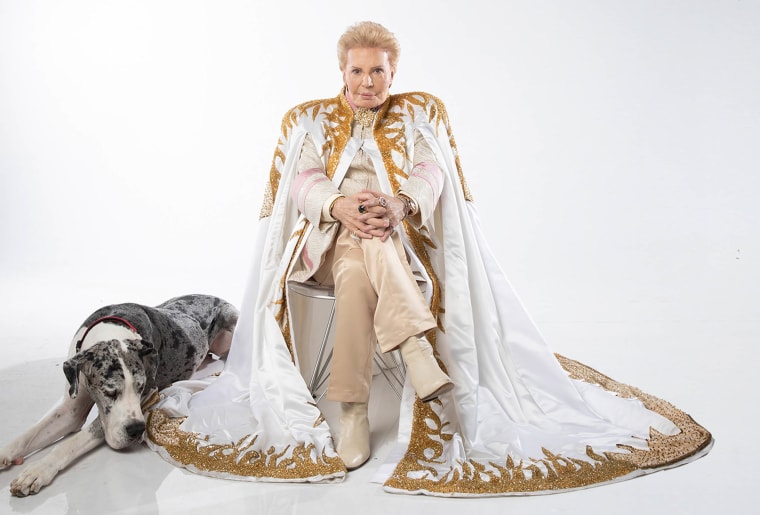 How did you take the news of Mercado's death? On the one hand, you're fans who learned their idol died and on the other, you're also filmmakers whose subject passed away.
Costantini: It was very hard for us because when we met Walter, he was our childhood icon and we were his fans. The longer we spent with him, the more we became close with him. He became like an extended member of our family. We think of him as like an abuela (grandmother) or something like that because our love for abuelas is so tied up in our love for him. He really became an extended member of our family to the extent that at his funeral, Alex, our producer and Kareem were pallbearers. We were all there. We grew very close to him and his family, so our relationship very much shifted. It is a great tragedy that he passed away, especially before the film came out. We always had this great vision of him at a film festival, and the dream was that he would be at Sundance in his winter cape. He would have loved it, he really would have loved it.
Tabsch: Walter's story is such a personal story for us that it was very hard to not get close to him. He was this enigmatic figure who also felt like part of the family and he has this uncanny ability of being larger-than-life while very down-to-earth at the same time. The whole process of working with him and becoming friends and becoming part of his inner circle was really interesting. You had an opportunity to meet your childhood icon, this staple of your household, and then you have this responsibility as a filmmaker to tell the story.
How did you get him to talk about his life so openly?
Costantini: I don't think either of us have ever worked with a subject who is so media savvy, so camera trained. He [was] so polished every moment even at 88. He would be aware of where the camera was, and he would start voguing to the camera. It took a lot of time and a lot of patience and a lot of conversations to try to get him to open up. Slowly through time and trust, we were able to get at who Walter really is, the man behind the cape, which was ultimately our goal.
Tabsch: Every time we would go back to shoot, it would take at least a day to warm him up. He was so media savvy, he had 50 years of rehearsed answers. For somebody that age who had been away from the grind of production for at least over a decade, there is a lot of long shoot days and a lot of going back and forth. It was a process. I say it's like an old car you got to warm up before it starts going. It was a battle, but it was also him being this kind of consummate professional where he's very image conscious of what he looked like. He always said he had respect for his audience, so he has to look his best. Getting through that was what wasn't easy. It took time. It took building trust in us.
What was the thing that surprised him the most about working on this project?
Costantini: Walter is hilarious. We saw him every day on TV, and he was smart and quick and interesting and performative, but I don't think I had ever seen how hilarious he is. He is incredibly self deprecating, but he also loves teasing people. He loves playing little tricks on people, and we just had so much fun with him because he was always joking. Even at his age, his mind was so sharp.
He made us laugh all the time and even evaded questions very successfully. Kareem and I went into an interview, and we had to ask him about the sexuality thing. I remember Kareem's question was, "But Walter, you're not telling us you're a virgin?" And he looks at us, pauses, and then very flirtatiously goes, "The only one in town!" And we died, the whole crew. We were laughing so hard.
Is there any question that you wish he answered or wish you could ask him now?
Tabsch: I'm really curious of what he would have thought of the film. Not just because we all want a little bit of validation from our abuelos (grandparents) or our family, but because we showed him at moments that he looked rough. He was so self-conscious of the image that he projected and protected. There's times even when we're editing, we would joke that he would have hated this. But he was also so smart and was such a film lover. He just adored cinema and we talked about movies all the time. I would be very curious to hear what he thought of the movie and as a subject.
Costantini: One thing that I've never been satisfied with — although it's not our place to push him — is just the answer to the sexuality question. I think there's an inherent contradiction of being a queer icon, but also being very conscious of the time that you were coming up. I think we tried to make the point that it would have been difficult for him to be openly gay if he was openly gay. He never talked about it. I'm always conflicted on this question because it's deeply unsatisfying to me, but also it is who Walter is and what he wanted to talk about. Also, he really didn't believe in labels, and he didn't want to be labeled as one thing or the other. As filmmakers, we have to let him dictate what it is that we're saying and what we're not saying. So perhaps that's the question that he never answers.
The Sundance Film Festival runs Jan. 23 - Feb. 2.
Follow NBC Latino on Facebook, Twitter and Instagram.