DALLAS -- By day, he's a modest 5th grade school teacher. By night – and weekends and other spare time he finds – Hector Gonzalez Rodriguez III is the creator of "El Peso Hero" comic and he's convening a league of Latinos from the comic book universe.
He's called together the comic creators or the first-ever Texas Latino Comic Con on Saturday to display the superpowers, villains and brown heroes and heroines of Latino comic creators. But more important, Rodriguez said, these comic crusaders are convening to "represent."
"Our objective is representation matters," Rodriguez said. "That's the purpose … to have representation and have accessibility to everybody."
There are superheroes of color in the comic book world - America, La Boriqueña and Black Panther at Marvel - created to respond to a comic fandom that has become more female and more multicultural.
But the comic book giants have struggled to keep up with the demographic shift. A Marvel vice president this years said diversification had hurt sales. The executive later backpedaled and other company officials disagreed.
"Marvel and top comic book companies, they have their own (comic book characters of color) and they've capitalized on diversity," Rodriguez said. But "they tend to be stereotypes or, currently the trend is having established characters turned into black, Latino, LGBTQ characters. Spiderman, for example, is now Dominican and LGBTQ and there's a black Captain America."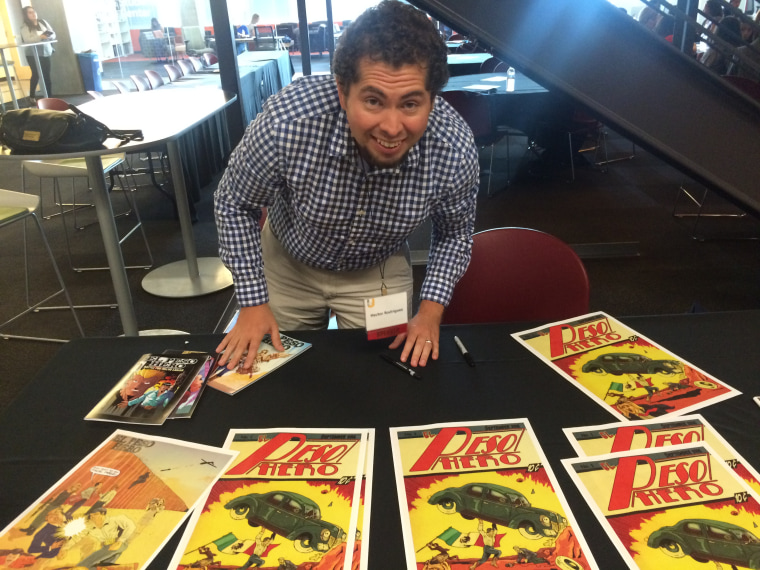 Rodriguez said his goal in creating the Texas Latino Comic Con is to build access and help showcase independent comic artists and creators.
Scheduled to make presentations at Texas Latino Comic Con are Richard Dominguez, creator of El Gato Negro, Sam De La Rosa, a comic artist who worked with Marvel and drew some of the Spiderman series, among other charaters and Hector Cantu, creator with Carlos Castelanos of the syndicated comic strip "Baldo."
"Being an educator, my students are all following El Peso Hero," said Rodriguez who teaches in the McKinney, Texas, school disrtrict outside Dallas. "They are from a low socio-economic status. Some wanted to go and see me at the Dallas Comic Con in 2014, but it was $40 each. That's two weeks groceries for a lot of families. In a way they are excluded."
Building a Bicultural Comic Book Hero
Rodriguez's arrival at the comic book drawing board was a cross-border journey.
Growing up on the U.S.-Mexican border in Eagle Pass, Texas, Rodriguez's superheroes were from Mexico. They were the likes of El Santo, the Lucha Libre wrestler who fought mummies and monsters. There also was his dad's favorite, Kalimán an "old school" Mexican superhero, Rodriguez said.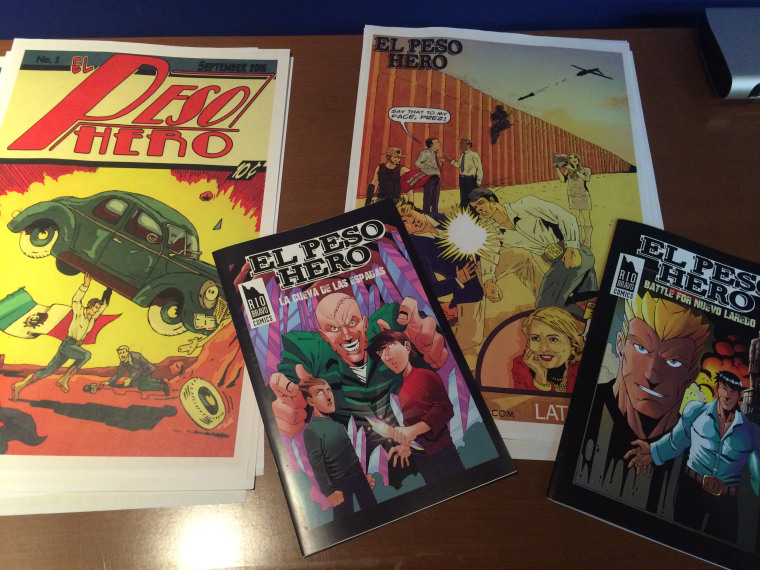 "I connected more toward the Mexican superheroes. It was one of the privileges that I had just because I had entertainment with my own language and my own culture," said Rodriguez, 34. "The border is a crossroads of culture and languages and mestizaje and everything." (Mestizaje is a reference to the indigenous and other cultures of some Latinos.)
Then at 9 years old, Rodriguez and his family moved to the rural Texas town of College Station, home to Texas A&M University, so his father could get his master's degree.
"That was a culture shock. I went (from) being in a place with majority all Chicano kids in my second grade class, to being the only Hispanic kid in the third grade," Rodriguez said. The tougher adjustment was that his superheroes from Mexico were replaced by Batman and Superman and the other DC and Marvel characters.
"Who doesn't love Batman? But they didn't speak to me and looking through the comic book racks at a comic book store, there were none, so much that the only comic books I read were Godzilla comic books," he said.
Related: La Borinqueña Comic Book Is Out: Proud Puerto Rican Talks of Latina Super Hero
Rodriguez sees his grandfather in El Peso Hero, or at least in helping create the cowboy boot- and big belt buckle-wearing super hero with a chiseled chest and six-pack abs. His grandfather hated injustices, Rodriguez said.
His grandfather also had seen a lot of discrimination in Texas and would tell Rodriguez stories about the former military special forces who had begun their own criminal enterprises on the border. His grandfather had only a sixth-grade education, but believed in the American Dream and became a successful car dealership owner in Eagle Pass, he said.
Watching telenovelas with his mother and Mexican Grindhouse movies also inspired his work. The eyepatch-wearing, manipulative matriarch "La Patrona" has origins in "Cuna de Lobos," one of his favorite telenovelas to watch with his mom, he said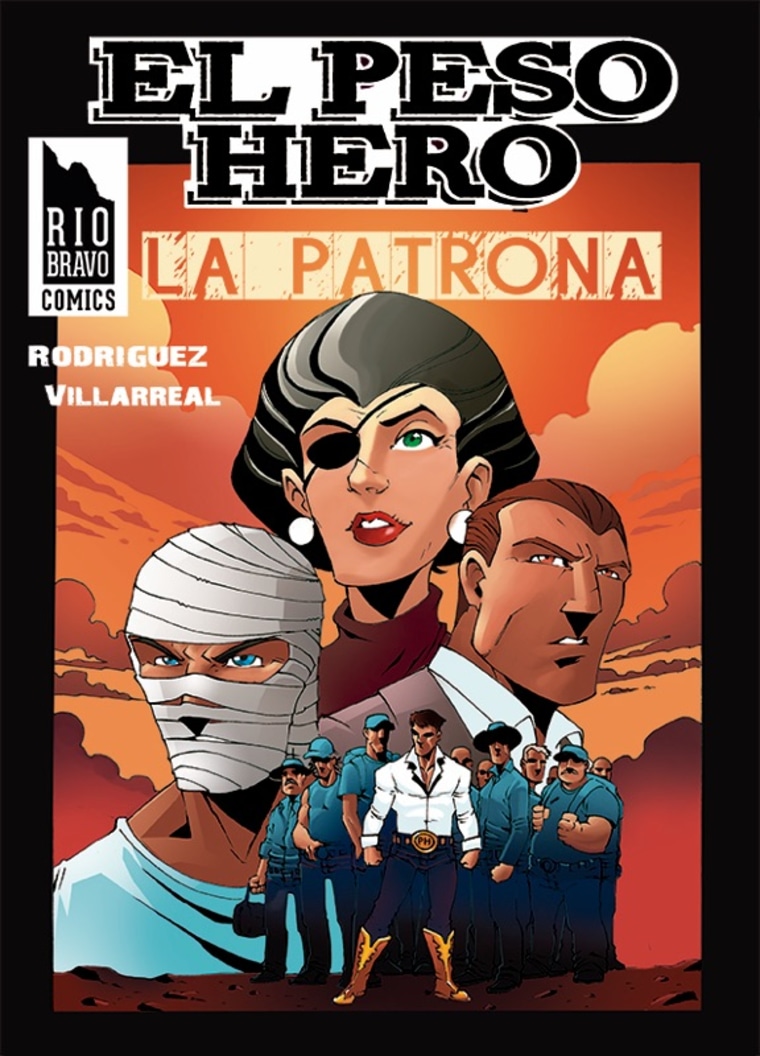 During a visit with his grandfather on a break from Texas Woman's University in Denton, Texas, where he was studying art, Rodriguez got the idea that it would be nice if there was a norteño superhero to fight the drug cartels.
The idea stewed in his mind while he got his sociology degree and went into teaching.
But confronted with the struggles of his young, mostly Latino elementary school students, first in the Dallas school district and then in McKinney, his vision of a norteño superhero got stronger.
"I didn't really get the full on spark to do it until I was an educator and being in the trenches where our community is receiving education and seeing Latinos going to the library getting their books, but not getting books that are representative to them," he said.
Also, his students were dealing with deportations of parents and being fatherless, he said.
"They come to school and it's really hard for them to leave everything at home. They come home hungry. They are worrying about whether their mom is going to be deported the next day, or the house lady (employer) is going to fire their mom," he said.
In his 2011 summer break, Rodriguez started writing and sketching and soon his superhero – Ignacio Rivera who was infused with powers from a crystal he found in a cave in Chihuahua, Mexico – took shape.
"I finally thought: 'I have to do this. It hit me. I have to do El Peso Hero. I'm not going to wait until someone else does it. The time is now and these kids need it, they need to see a hero that speaks their language, symbolizes their culture, is proud of their heritage too," he said.
Getting help from the Latino comic league
Rodriguez's own admiration for other Latino comic artists and creators was critical to his taking the dive into the independent comic industry.
He got a push from Javier Hernandez, the creator of El Muerto comics that he'd been following on My Space. Hernandez released a movie in 2005 starring Wilmer Valderrama as El Muerto. It was the first Latino independent comic to make it to the silver screen, a still too rare occurrence, Hernandez said.
With help from Ricardo Padilla, Hernandez held the first-ever Latino Comic Con in the country, Latino Comics Expo, in 2011. Rodriguez said it made sense for him to go back to Hernandez when he began thinking of organizing this weekend's Texas Latino Comic Con.
"With the amount of Latino creators spread throughout the country, and also so many audiences available for the content, it seemed a natural for this type of event in Texas," Hernandez told NBC Latino through email.
"Hector and I had known of one another's work through social networks, so when he reached out to me, it didn't take much to realize the time was right for his event," he said.
Hernandez said there are at least a dozen shows focused on African American comic creators and "it seems more culturally specific shows are showing up all the time.
"In addition to the rise of LGBTQ comic shows, an indigenous comics convention started last year, so I think people are seeing the advantage of marketing comic conventions to specific groups, highlighting the contributions of people that can easily get overlooked in the larger pop culture-centered shows already flooding the market."
He and Padilla are about to host their seventh convention, which they are holding with the Museum of Latin American Art in Long Beach, California, Hernandez said. What began as an event of about a dozen tables has grown to a large exhibit hall featuring "over 75 vendors consisting of cartoonists, writers, publishers, artists, filmmakers, Latina creators, zine makers, web cartoonists, legends like the Hernandez Bros (Love and Rockets), the late underground icon Spain Rodriguez, to first time exhibitors and everyone in between," he said.
Rodriguez, too, has seens his comic enterpirse blossom. He has produced six editions of his El Peso Hero comic and now employs other artists to help produce the comic.
He's gained cross-border fame from his renditions of El Peso Hero taking on Donald Trump the candidate and president, including a cover that paid homage to a Captain America cover that shows Captain America slapping Hitler. In his version, El Peso Hero delivers the slap – "trumpazo" – to Trump.
"I'd never really taken a political stand. I have friends who are conservative, liberal, but this story tells itself … In the summer of 2015, when he came down that escalator and gave his spiel, it was like, you know what no, it's not going to fly," he said.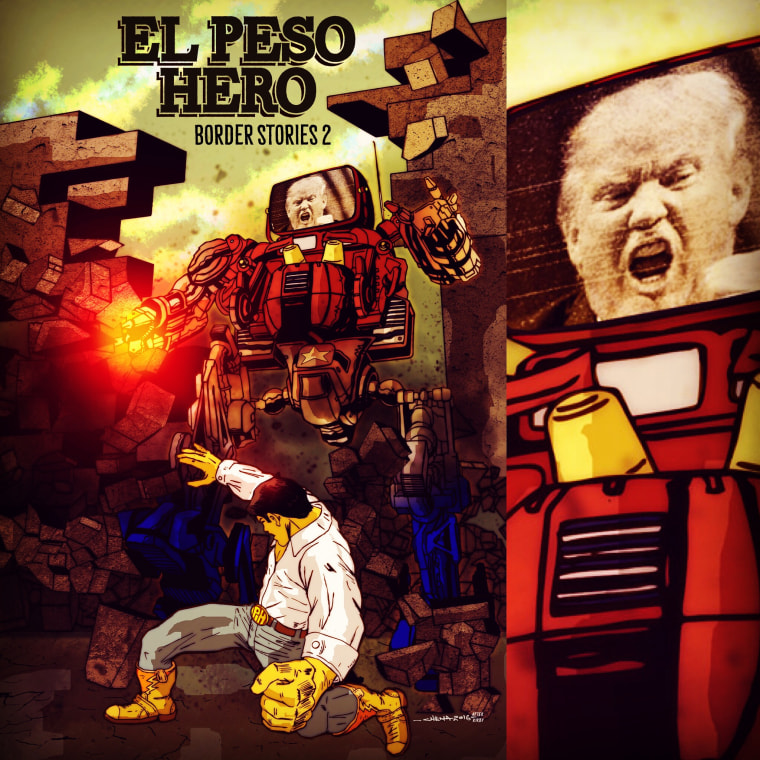 "Being Chicano, my family has served in the military, fought in World War II, the Korean War, Vietnam, Rodriguez said. "I found it kind of insulting that somebody wanted to be a leader was coming out and insulting my community, insulting my relatives who had been in the military and served."
Rodriguez has been incorporating issues of the times in his comics, particularly in the El Peso Hero Border Stories anthology.
"I've been told El Peso Hero stories are heavy. Some of my friends ask me 'When is El Peso Hero going to have fun, be the whimsical story?' and I'm like, it's hard for me. It's hard to pull the hero from this world," he said. "Until immigration has a fixed system and crime has subsided and people feel safe crossing and living on the border, then El Peso Hero could fight fake monsters or fake villains."