SAN ANTONIO - With all due respect to Selena and Tejano music, the key ingredient of the infectious Texas music genre is conjunto.
"You take conjunto out of Tejano, you get nothing," Tejano legend Little Joe Hernández (of Little Joe & La Familia fame) told me years ago.
"I agree with Little Joe 100 percent," Flaco Jiménez told NBC News, speaking in both English and Spanish from his home in San Antonio. "The accordion is the heart of our music. Some [Tejano] artists ignored, hated the accordion and took it out of Tejano music. But if you take the accordion out, you get rid of all the flavor. Little Joe is absolutely right."
If anyone is qualified to talk about the intimate relationship between conjunto and Tejano music, that's Flaco Jiménez. He won six Grammy Awards (including a 2015 Lifetime Achievement Award), a National Heritage Fellowship from the National Endowment of the Arts (the highest honor for folk and traditional arts in the U.S.), has recorded 13 albums (not counting live collections and compilations) as a solo artist and as a member of the Texas Tornados, among others, and has played with everyone from Café Tacuba to the Rolling Stones.
Widely considered the greatest living legend of conjunto music, Jiménez turned 76 on March 11 and hasn't slowed down a bit: He will be headlining the 34th edition of San Antonio's Tejano Conjunto Festival (May 13-17), the premier showcase for both old-timers and the new generation of accordion- and bajo sexto-wielding heroes. In fact, having Flaco play at this year's festival is a semi-miracle in itself: he underwent back surgery last year and recently broke his hip after a fall. As he told San Antonio's Express-News, the local daily, "I'm all metal now. I'm bionic."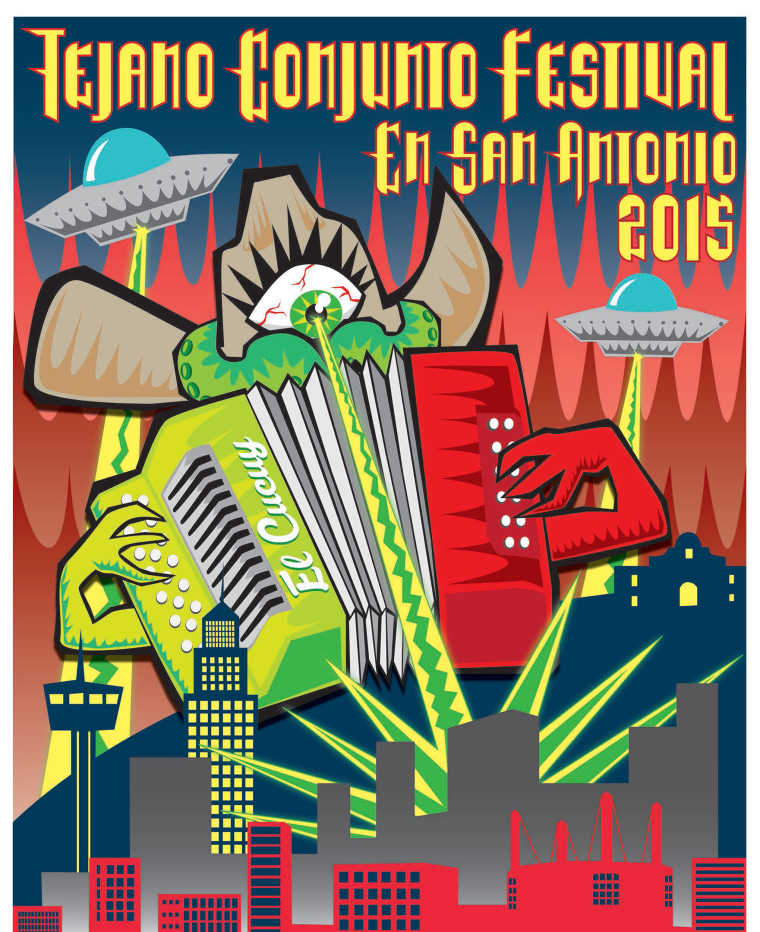 "Nothing can't stop me from playing [at the TCF]," Jiménez told NBC Latino. "My surgery went well, I'm doing all right. It's not that I'm taking any chances, I just feel I can do it."
Jiménez continues to travel on his own and as one of the two remaining original members of the Texas Tornados, the Grammy-winning Tex-Mex supergroup that, in the 90s, took conjunto music to unexpected heights (after the passing of Doug Sahm and Freddy Fender, only Jiménez and Augie Meyers remain; Sahm was replaced by his son Shawn, who also produces the group).
"After my surgeries and recent fall, [the band] wanted to cancel some dates, but I've decided to go on," said Jiménez. "I'm taking [Dutch] Dwayne [Verheyden] with me, in case I can't perform. He can back me up."
Twenty-three-year-old Verheyden, a Flaco Jiménez fan, is one of the up-and-coming heirs to the conjunto tradition, which is a topic Jiménez doesn't take lightly. Born in Northern Mexico and South Texas at the end of the 1800s, conjunto tejano (a close cousin to Mexico's norteña) is the sound that appeared after German and Eastern European settlers brought the accordion to the region. The format of drums, bajo sexto (a guitar with six double strings), bass and drums is shared on both sides of the border, and both traditions also share the danceable oompah-oohmpah polka beat, but a closer look (and a trained ear) will find clear differences between conjunto and norteña. When I asked whether Mexican norteños are better lyricists and Tejanos more instrumentally proficient, the singer of Intocable (a hugely successful Zapata, Texas group with one foot on Tejano and another on norteña) quickly agreed.
"We pochos speak in pocho," Intocable's Ricky Muñoz said in Spanish in an earlier interview, referring to a word used to describe people of Mexican descent who don't speak Spanish fluently. "Just imagine, how can you express your feelings when your Spanish vocabulary is only 36 words? There's great musicians on both sides of the border, but I agree there's better lyricists in Mexico, because that's their language."
Conjunto has managed to compensate whatever language limitations it may have with simple but heartfelt lyrics and musical skills. The gender barrier is a different matter. Even though conjunto has its female heroines, patriarchal attitudes have often relegated them to second-class status. This year's Tejano Conjunto Festival will honor women with a special Sunday honoring the all-female Grupo Imagen (from Corpus Christi), Las Tesoros de San Antonio and the great Eva Ybarra, considered the best, and, paradoxically, the most neglected female conjunto accordionist ever.
"Sometimes I think [conjunto is] a man's world, because the support [men] get is not the same as we get," Ybarra told NBC Latino on the phone from San Antonio, where she resides. "And that's not right. It's not a man's world. But do they get all the support? Yes."
Born in 1945, Ybarra began playing accordion at age 4 and continues to perform and record independently. She has just released two new albums (Mi único amor and Ven, regresa a mí), both of which will be available when she performs at the festival on Sunday. Comprised mostly of her own compositions, many of the songs have her playing also bajo sexto and other instruments.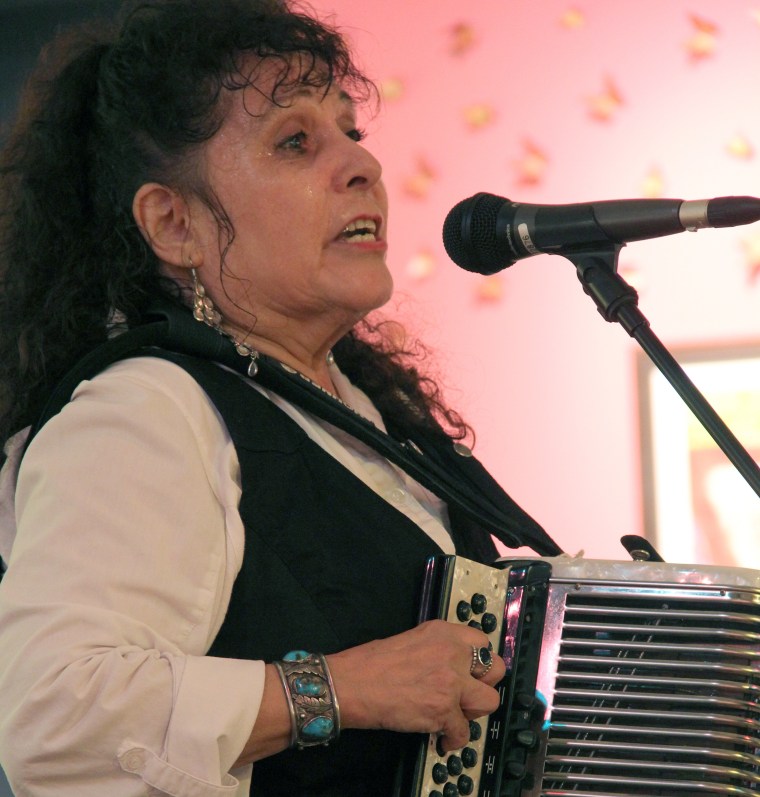 "Life is a struggle, but I look ahead, I never look back," she said. "I like to play more progressive [conjunto], a little jazzy."
"Flaco [Jiménez], Steve Jordan, Mingo [Saldívar], Joel Guzmán, are all known for creating an 'individual' accordion style, challenging tradition, but without losing the important musical references that define conjunto accordion style," said musicologist Cathy Ragland (a former Ybarra manager) in a previous interview. "But for some reason when Eva does it, she gets some criticism (mostly from other musicians, not fans) for being too 'out there.' I think part of the issue is that, as a woman, they think she should play more 'straight' and not challenge the boys. Who knows … Maybe Steve Jordan was the Jimi Hendrix of the Tex-Mex accordion, but Eva's approach can be compared to that of Miles Davis."
Yet, for any genre to survive, you need new blood. And even though there are plenty of young conjunto musicians in Texas, Jiménez sees an alarming lack of originality.
"The youth put too much technology into [conjunto]," said Jiménez. There are no styles, and the youngsters are mostly copying the old masters instead of developing their own style. We need new legends, but I won't see them in my lifetime."
In the meantime, Jiménez continues to work because he has to and because he likes it.
"We're not megasellers, nobody has become rich thanks to conjunto, so we have to work," said Jiménez, who is recording an album with his brother Santiago Jiménez Jr., a legend in his own right. "One was born for this and (it) is the only job we ever had. The body gets tired, but the heart is still there and I keep playing because I have to, but also because I love it. And I'm not planning to stop anytime soon."