MIAMI — After Hurricane Maria swept through Puerto Rico last September, María Baez and her 5-year-old grandson, Christian Dariel, were facing precarious living conditions.
The boy has cerebral palsy and needs help for all basic functions. Baez, who has custody of him, had no power and intermittent running water. She was facing six-hour lines for ice and other supplies. The island's medical system was barely functioning.
In early November, Baez and Christian Dariel boarded a plane for Orlando, where they had no family or contacts. Florida's disaster relief center, which was set up at the airport to help hurricane victims arriving from Puerto Rico, helped them get settled in with medical care, a school for Christian and a hotel room provided by the Transitional Shelter Assistance (TSA) from the Federal Emergency Management Agency (FEMA).
Now over nine months later, Baez, who worked as a practical nurse in Puerto Rico, has not been able to find an apartment to rent. She has applied to numerous low-income apartment complexes, but after following up on her applications two weeks ago, Baez was told they're still pending.
"We wish to have an apartment or a house that we can afford to pay," Baez told NBC News. "We feel marginalized. We feel discriminated. All of the Puerto Ricans living here, what we're wishing for at the moment is to have a home."
FEMA's TSA program ends June 30. Families have to check out of hotel rooms by July 1; FEMA extended the deadline four times. Florida lawmakers had said the last extension was needed so displaced kids could finish the school year where they were enrolled.
As the day approaches to leave the hotels, some Puerto Ricans still have the same sense of uncertainty they had after Hurricane Maria.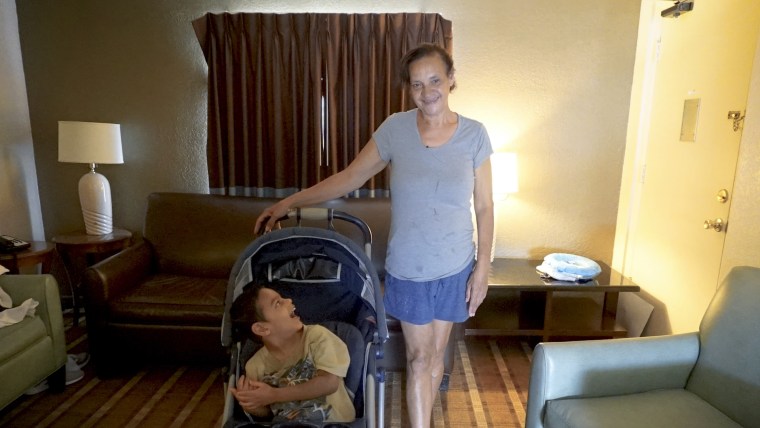 Baez is still not sure where she will live. In the meantime, a case manager who works at a local Methodist church is helping Baez figure out what's next for her and her grandson.
For families like Baez's, who still don't have an alternate home, FEMA offered to pay for their one-way plane tickets to return to Puerto Rico. Last week, Baez received FEMA's call with the offer, but had to decline it. Baez said her grandson is scheduled to undergo medical procedures soon and doesn't want to risk her grandson's life.
"There are days that I get really depressed," said Baez about her grandson's situation. "I want to do more for him and I feel like my hands are tied up."
As of May 31, there were close to 2,000 Puerto Rican families staying under the TSA program in 30 states and Puerto Rico, according to FEMA spokesperson Lenisha Smith. Florida, has 656 families relying on the program — the largest amount in any state. According to Smith, FEMA has already funded over $77.1 million for this program alone.
The desperation among Puerto Ricans following the bleak aftermath of the hurricane caused a massive flow of Puerto Ricans to the mainland. Up to 75,000 Puerto Ricans arrived in Florida and many settled in the Orlando area — home to hundreds of thousands of Puerto Ricans.
Florida's affordable housing shortage
For some, the uprooting was temporary and returned home while others rebuilt new lives across the U.S. But for Puerto Ricans in Central Florida who are still relying on hotel rooms provided by FEMA, moving on has been tough. With pricey rentals in Orlando, many Puerto Ricans making minimum wage cannot afford the first and last months' rent plus security deposit required by most landlords.
The Orlando-Kissimmee metropolitan area ranks third in the country for its lack of affordable rentals, according to the National Low Income Housing Coalition's (NLIHC) 2018 GAP report.
Even pricier markets like Boston and Pittsburgh have more affordable housing than Orlando.
"Prior to the Hurricanes, Orlando had one of the country's most severe shortages of rental homes for the lowest income people," according to Diane Yentel, President and CEO of NLIHC.
In 2017, for every 100 of the lowest income families in Orlando, there were just 17 affordable homes available to them.
"The influx of low-income people from Puerto Rico who are also in need of affordable housing exacerbates the shortage," Yentel said.
Linette Rivera of Outreach Access Center, a community center based in Kissimmee, near Orlando, was assisting about 60 newly arrived Puerto Ricans per day after the hurricane. She said many were under the impression that government assistance packages were being handed out, so they arrived without luggage or contacts.
Rivera, who is Puerto Rican, said it hurts when she hears residents criticize Puerto Ricans, saying they are taking advantage of the assistance. Many of the families who arrived from the island are working, Rivera said, but have not been able to save enough money for a deposit on an apartment.
"Emotionally they are drained because of the uncertainty of not knowing what they are going to do," Rivera said.
Some evacuees from Puerto Rico have tried to transport their federal Section 8 housing vouchers from the island, but have found it difficult to use them.
"The problem is that it's really hard to find landlords who accept those," said Jamie Ross, CEO of the Florida Housing Coalition, a Tallahassee-based nonprofit.
Part of the problem with the housing shortage is that, for years, the Florida Legislature has diverted funds reserved for affordable housing. This year, the Legislature used $185 million from housing trust funds to spend on school safety, The Orlando Sentinel reported in April.
Florida is an increasingly desirable place to live, said Ross, and prices are going to reflect that desirability according to Ross.
Bracing for the worst
At the Florida Housing Coalition, they are already bracing for the worst-case scenario — homelessness.
"One of the strategies is looking at the different homeless organizations to see what they can do because people are going to be homeless," said Gladys Cook, technical advisor at Florida Housing Coalition.
Unable to find an apartment for rent in the Kissimmee-Orlando area, Victor Valentín Crespo, 55, a widowed father of three, is one of the many Puerto Ricans who was returning to the island before the June 30 deadline.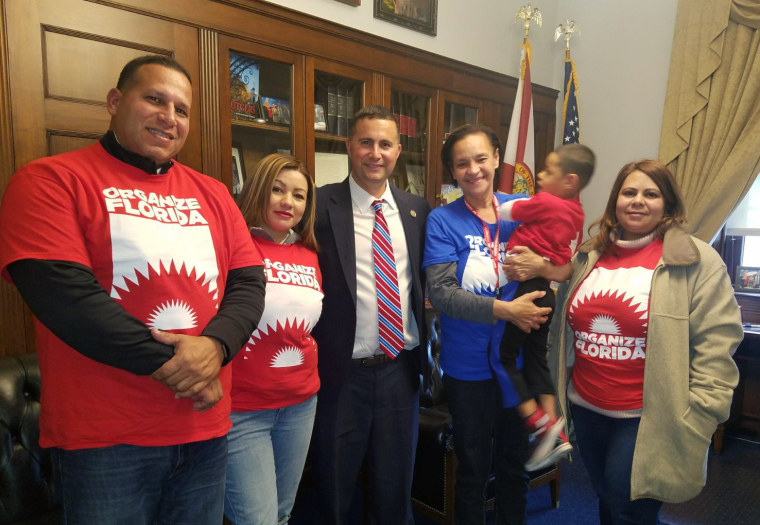 Out of fear of ending up homeless, Crespo took up FEMA's offer to pay for his plane ticket back.
Crespo's house in Arecibo, on the northern coast of Puerto Rico, was left uninhabitable after the storm. The family arrived in Kissimmee on Nov. 3 and Crespo enrolled the children in local schools.
They have been staying in a hotel room provided by FEMA's TSA program, but haven't had any luck finding an apartment for rent.
Crespo, a former police officer in Puerto Rico, suffered an accident in 2010 that left his left leg fractured in three parts. He can no longer work and lives off his pension.
He is hoping to apply for a loan to buy a house in Puerto Rico, since he has run out of options here.
"Where would I go after June 30? I was afraid of ending up in the streets with my kids," he said.
Nicole Acevedo contributed reporting from New York, video shot, produced and edited by Nirma Hasty.