MIAMI ­— Latinos are a coveted voting bloc in the battleground state of Florida — but they're not one group when it comes to their countries of origin and the issues on which they focus.
To that end, a progressive political action committee has been releasing a series of ads targeting specific Latino groups as the voting registration deadline approaches.
Forward Florida Action has begun airing Spanish-language radio ads this month across the state encouraging voters to register as Democrats before the deadline of next Tuesday to participate in the presidential primary.
One radio ad targeting Puerto Ricans tells prospective voters that as "our families suffer the impact of hurricanes and earthquakes, this president throws paper towels at our people," referring to President Donald Trump's gesture during his visit following Hurricane Maria.
Another radio ad, aimed at Florida's Mexican American voters, tells them that after they made it in the United States through their labor and worked to become citizens, Trump and his administration don't value them. "They tell us to go back to where we came from because they see our skin color and they hear us speaking Spanish," the ad says. "Demand respect. ... Be part of the change, and let's choose a new president together."
In a third radio ad geared toward the general Latino population, different narrators say things such as, "We came to escape oppression and to live in a country with democratic values," as well as "We work, we study, and some of us do the work no one else wants to do. ... We are fed up with the discrimination."
Latin America "becomes domestic policy"
"We are so close to Latin America and the Caribbean that Latin America policy becomes domestic policy," said Evelyn Pérez-Verdía, Forward Florida Action's adviser for Latino issues. Former Tallahassee Mayor Andrew Gillum founded the PAC after he lost a tight gubernatorial race in 2018.
On Wednesday, the group released a Spanish-language digital ad, featuring a young woman who is a recipient of DACA, the Obama-era program that allows young immigrants without legal status who have been in the U.S. since they were children to work and study in the country without fear of being deported. The Trump administration, as well as Republican governments in several states, want to get rid of the program, and the case is with the Supreme Court.
The ad features the young woman, a college student, saying her parents were deported back to Ecuador after having been in the U.S. for 20 years. "Voting has consequences," she says.
Billboards also went up in Central and South Florida criticizing Trump's hard-line immigration policies.
Fending off Republican efforts
Trump won Florida in 2016 by less than 1 percentage point, and he needs to win it again to be re-elected. The president and other Republicans have been campaigning hard in Florida and zeroing in on Hispanics.
Trump kicked off his 2020 campaign from Orlando and his Latinos for Trump coalition from Miami in June. Trump and the Republicans have held numerous campaign rallies and events throughout the state and engaged with Latinos here with constant messages branding Democrats as socialists and touting a strong economy.
The efforts by Trump and Republicans to focus on Latino voters — who make up over a quarter of Florida's population and over 16 percent of its electorate — worry Democrats in the state who are concerned that their party isn't being aggressive enough.
Democrats running for president have been focused on early primary states and spent little or no time in Florida. That leaves political groups and the Florida Democratic Party with most of the work of registering voters and motivating them until a nominee is chosen.
Gillum told NBC News in December, "The reason why I chose to focus on the mechanics, like voter registration, like addressing the issues of voter intimidation, and disenfranchisement, is because I feel we have taken the eye off the ball of the Hispanics that are necessary to win."
There are more Latinos registered as Democrats than as Republicans in the state, but the overall number of Democratic voters has slipped in recent years. In 2008, there were 694,000 more Democratic registered voters than Republicans. That number dipped to a little over 225,000 in 2019, according to data from the Florida Division of Elections.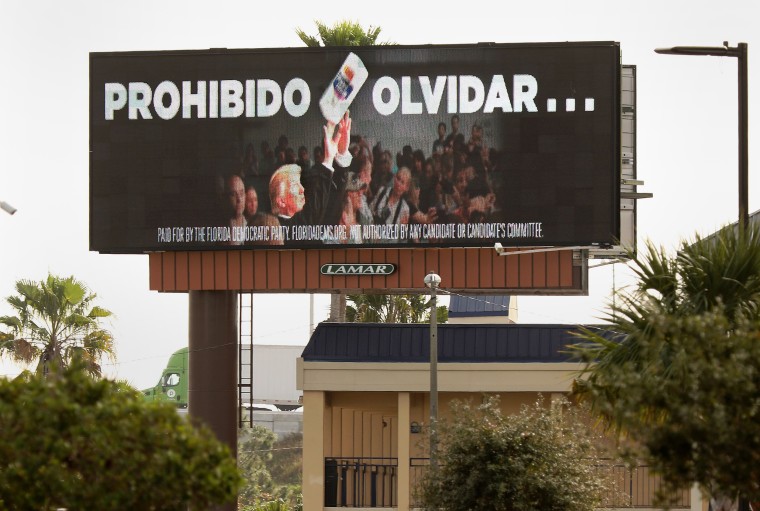 Democrats like Gillum worry their party is also at a disadvantage because of the number of voters who have been purged in recent years under the Republican state government. Between 2016 and 2018, more than seven percent of Florida's voters were purged from the rolls, according to the Election Administration and Voting Survey.
"Most purges are people who have died but with statewide massive purges, they are bound to have some problems with them," said Kevin Morris, a voting rights researcher with the Brennan Center for Justice at NYU's School of Law adding that in some states, people of color are at higher risk of being purged.
At the same time, the number of voters registering with no party affiliation (NPA) jumped exponentially by over 1 million between 2008 and 2019, according to the Florida Department of State. There is a tendency for new Latino voters to register with NPA.
With the deadline to register or switch party affiliations less than a week away, Forward Florida Action is hoping the different messages help engage Latino voters.
"We are working with Latinos and Latinas around the state who understand our differences and our subcultures, because we live in them every day," Pérez Verdía said.
Follow NBC Latino on Facebook, Twitter and Instagram.