As grocery aisles get increasingly global, more Latin American vendors hope their products can find a space in U.S. stores.
After Francisco Pizarro and his Spanish men destroyed the Incan civilization, it's said that some Incan treasures may still remain hidden somewhere in the Ecuadorian mountains. Ahmad Sebastian Ashrafi, 29, says he's brought some of that treasure to New York City to try and sell.
"People think it's diamonds and gold and many other things, but I knew that it was in the land," Ashrafi told NBC News. "It's in the fruits and the products that we bring."
Ashrafi is talking about his company Inca's Treasure, a business he and his sister Ahdieh Ashrafi , 27, co-founded five years ago. They sell one-ingredient superfood based products, like quinoa, and have gone from having one product to 21 in just five years.
It's the first year they've brought their products to the 2017 Summer Fun Food Show in New York City, running from June 25th to the 27th. They hope to gain more exposure and interest and even potential U.S. partners.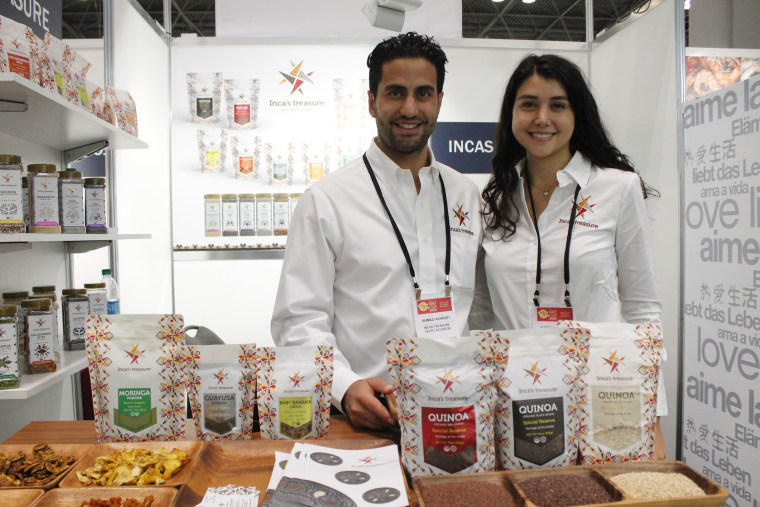 Ron Tanner is a spokesperson for the Specialty Food Association, which runs the Summer Fancy Food Show each year. He says the annual festival is the perfect place for people like the Ashrafis, so that buyers can see if they want to sell their items in their stores, restaurants and other types of businesses, which can include supermarkets, mass markets, online retailers, gift stores and more.
RELATED: 4 Delicious Latino Food Trends: We Asked the Chefs
Tanner says the specialty food industry has become a significant part of the food market because people want better and healthier products; it's now a $127 billion dollar industry. Ten years ago, specialty foods were about 7 percent of the market. Now the number has grown to about 16 percent, said Tanner.
This year there are about 2,700 hopeful exhibitors showcasing their products from 52 countries around the world. Of those, 137 exhibitors are from eight Latin American countries that include Mexico, Chile, Peru, Brazil, Uruguay, Argentina, Ecuador and Costa Rica.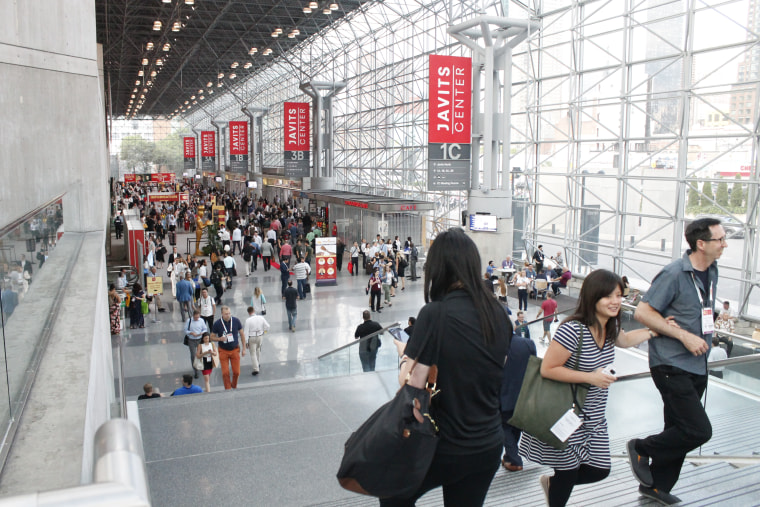 Tanner says their research shows there's a growing interest in Latin cuisine.
"We ask people which types of cuisines they are interested in and people are looking for those spicier flavors," said Tanner. "They're also looking for alternative proteins and there's a lot of beans and other types of basics, so I think it's a really good time for products from these countries to come into the U.S. market - I think there will be a great demand for them."
Alternative proteins are not the only hot trend this summer. The market for certain snacks and beverages is also growing.
"Protein is big in the American diet right now, more so than carbohydrates, so one of the biggest growing categories is jerky and meat snacks," said Tanner. "Healthier beverages, water that's enhanced with pomegranate oil or teas with anti inflammatories in them were trends last year, but they're getting bigger and bigger this year."
Rima Jiménez, 44, from San José, Costa Rica is one of the exhibitors trying to get noticed in the snack arena.
"I have two little girls and they're allergic to different things, so I decided to make some salsa that they weren't allergic to and that they'd be able to eat," she said.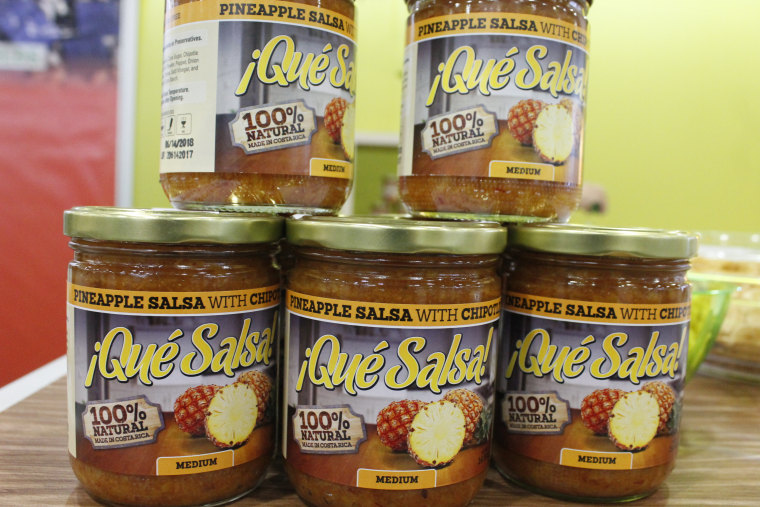 Her product is called Que Salsa. She's showcasing an all-natural pineapple based dipping salsa with Chipotle spices with no additives, preservatives, or artificial colors. Like the Ashrafi siblings, it's her first time at the food show.
Jiménez says her product is sold locally in Costa Rica and remembers the first sale she made; it was to a friend who bought an entire box.
"Then we started going to little festivals," said Jiménez. "Most of the people who bought the salsa were foreigners, so that's when I had the light on, 'Oh I should export this and go and sell in other places.'"
RELATED: Six Latino 'Superfoods' You Should Add to Your Diet
Maykool López is the director of a trade promotion agency representing Costa Rica which helps provide training to people like Jiménez. López believes sustainable products are becoming more important in the specialty foods market, and thinks his country is poised to deliver.
"I believe Costa Rica has a very strong story to tell - we've committed to being carbon neutral by 2021," said López. "We also have a very strong policy in our country to promote and protect our entire land and our environment."
Jiménez just entered the market in Panama, but is aiming to break into the U.S. industry, hoping her product is one day in U.S. shelves.