Seventy five years ago on August 25th, French general Charles de Gaulle delivered a famous speech at the Paris city hall championing the courage and determination of an empowered France that stood up to liberate itself from the occupation of Nazi Germany.
But historians say that behind this victory is a much more complicated history that relied on the heroic sacrifices of many forgotten people — including a group of Spanish soldiers who many thought were American.
This small group of Spaniards were among the first allied troops to enter Paris on the evening of August 24, 1944. Many of these men were veterans from the Spanish Civil War (1936-1939) and had exiled themselves to France and northern Africa after General Francisco Franco defeated the Spanish Republic.
"The Spanish soldiers who served in General Leclerc's division weren't just in the 9th Company, although 95 percent of that company was made up of Spaniards or of Spanish origin from northern Africa," said Professor Robert S. Coale, a Spanish Civil War and World War II historian based in France. "They had false names because they had deserted the French Foreign Legion. So when they joined the Free French Army in 1943, they had to sign up with a fake name so they wouldn't be caught."
Professor Coale explained that while this company did not liberate Paris, they were given the honor to protect General de Gaulle during his victory parade down the Champs-Elysées on August 26 because they had been the first allied soldiers to enter the city.
The 9th Company, known as La Nueve, (which means The Nine in Spanish) landed with the rest of Leclerc's division on Utah Beach in Normandy—two months after D-Day. And after the liberation of Paris, these Spanish soldiers also participated in other campaigns until the end of World War II, including Lorraine, Strasbourg, Alsace and Berchtesgaden—Adolf Hitler's headquarters in the German Alps.
Many of these soldiers have been misidentified in history books as Americans.
"Often pictures of the Leclerc Division are mislabeled in American history books as American soldiers," Coale told NBC News. "They were wearing American uniforms, and riding in American half-tracks. But you have to look very carefully at the markings or names of the half-tracks to see that they belonged to Leclerc's Division."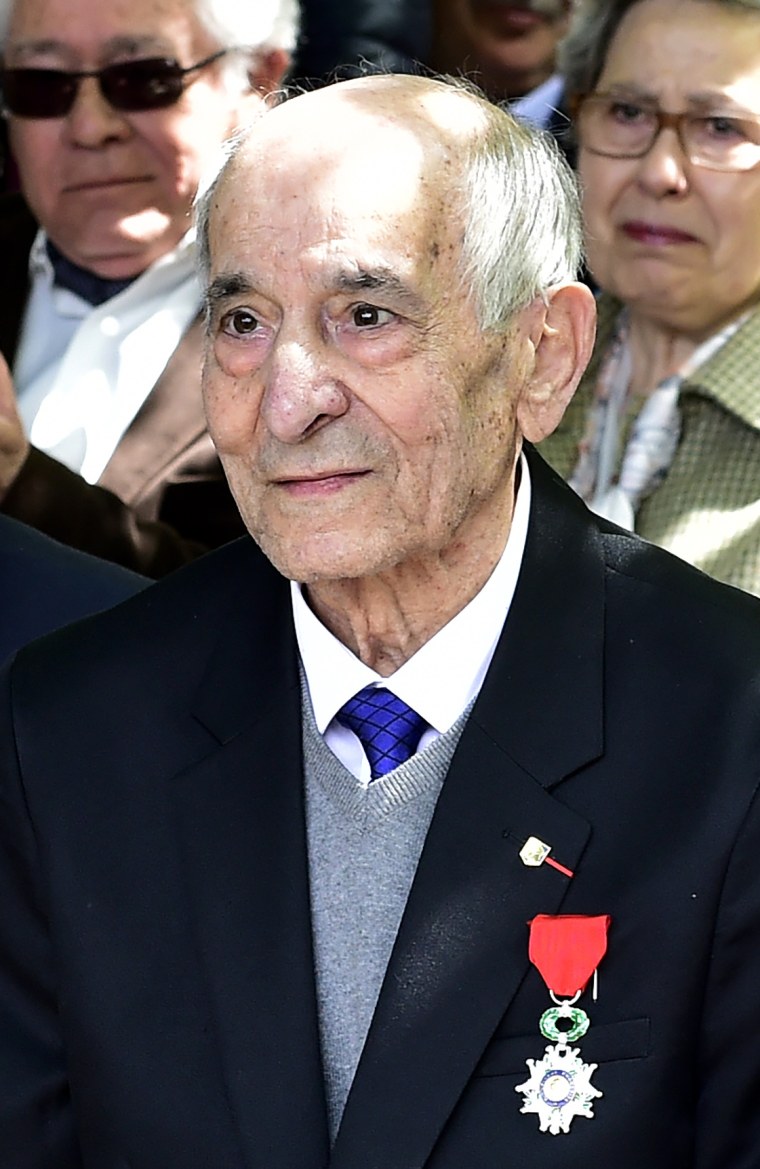 Spaniards painted the names of historic battle sites from the Spanish Civil War—"Teruel" and "Guadalajara"— on their half-tracks, as well as other names that evoked their heritage—"España Cañí" and "Don Quichote" ("Don Quixote" in French).
Historians say that France was not the first place where Spanish soldiers had seen combat in World War II. In fact, the 9th Company was only the tip of the iceberg.
Professor Coale explained that 450,000 Spaniards left Spain as a result of the Spanish Civil War in 1939. And 150,000 were still in France at the end of World War II in 1945. Exiles were put in refugee camps, where men were separated from the elderly, women, and children. And many veterans enlisted in the French Foreign Legion as a way to get out of the camps, while others were sent out to work on the Trans-Saharan Railway in Africa, which was never completed.
Some Spanish soldiers in the French Foreign Legion first saw combat in Norway at the Battle of Narvik in 1940. Others deserted the Legion in northern Africa after officers in German-controlled areas (loyal to Vichy or occupied France) had commanded them to fight against the allies. Many of these men joined the Free French Army.
In 2013, the award-winning comic book creator Paco Roca published "Surcos del Azar" (translated as "Twists of Fate" by Fantagraphics Books in 2018) to celebrate the forgotten story of these soldiers.
"Because of the amnesty law and the transition to democracy, there is a collective amnesia when it comes to the Franco dictatorship and the Spanish Civil War," Roca told NBC News. "And stories like this one, which in another country would be widely celebrated, it was widely unnoticed in Spain."
The graphic novel focuses on the story of the real-life soldier Miguel Campos who disappeared in 1944. In the novel, Roca uses this mysterious end to dramatize the long difficult journey of many exiles who survived the war by fighting with the allies.
"Leclerc attracted volunteers from different backgrounds. There were Spanish veterans and other Europeans who fought against fascism. Black soldiers from French colonies [who were not allowed to participate in the Normandy invasion]. And many other forgotten people who helped the allies win," said Roca.
Follow NBC Latino on Facebook, Twitter and Instagram.