GUATEMALA CITY — Former Guatemalan military dictator Efraín Ríos Montt died at the age of 91 on Sunday, a bitterly divisive figure in the country's long civil war who escaped a 2013 genocide conviction only to face renewed charges last year.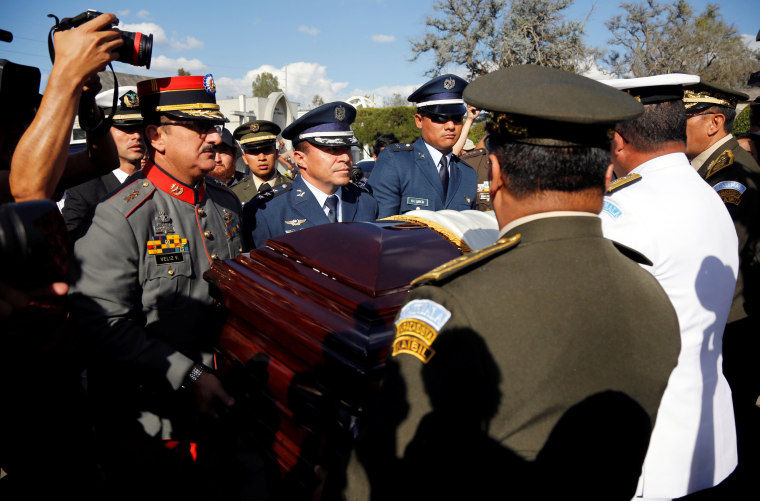 At the time of his death, announced by his lawyer, Ríos Montt was again on trial for genocide for his role during one of the bloodiest phases of the Cold War-era conflict that lasted from 1960 until 1996.
"He died facing justice," tweeted Claudia Paz y Paz, a former Guatemalan attorney general who was instrumental in bringing charges against members of the military accused of committing atrocities during the civil war.
"Thank you to the survivors for their dignity and bravery. May it never happen again," Paz y Paz added.
Ruling Guatemala from 1982 to 1983, Ríos Montt was convicted in 2013 of genocide and crimes against humanity, to the relief of many victims' families. Barely a week later, judges on the country's top court threw out the sentence.
Ríos Montt was buried in the afternoon at an upscale cemetery of Guatemala City known as La Villa de Guadalupe in a closed ceremony attended by military officials, close friends and relatives, including his daughter Zury and widow Teresa.
Zury, a conservative politician, gave a brief eulogy to her father, calling him "general of generals" and a "great political leader and an upstanding man" to applause and shouts of "Viva Ríos Montt!" from mourners, broadcasts on local media showed.
A few protesters gathered outside the National Palace in a square in Guatemala City holding placards saying: "There will be no forgiveness."
On the square, they painted in red letters: "Ríos Montt genocidal killer the people do not forgive, do not forget."
President Jimmy Morales, whose party has strong ties to the military, expressed his condolences to Ríos Montt's family in a brief statement. Other leaders on the right also paid their respects.
Former conservative President Alfonso Portillo, a party colleague of Ríos Montt's who was convicted of money laundering in 2014, said he had valued the retired general as a friend.
"I learnt a lot from him and his life is part of our history," he said, noting the two also had their differences.
MAINTAINED INNOCENCE
An evangelical Protestant, Ríos Montt served in Congress for nearly two decades and stepped down in 2012, putting an end to the immunity he enjoyed by law as a public official.
His lawyer Rosales said on Sunday that Ríos Montt maintained he was innocent of genocide until the end.
An estimated 200,000, mostly Maya civilians were killed during the war, and a further 45,000 went missing.
Born on June 16, 1926, in Guatemala's rural western highland department of Huehuetenango, Ríos Montt took part in the 1954 U.S. Central Intelligence Agency-backed military coup that ousted democratically elected President Jacobo Arbenz, who was seen by the United States as a communist sympathizer.
Ríos Montt was a general by 1972 and ran for the presidency two years later. He lost and went to Spain, serving as military attache, then returned to Guatemala in 1977. In March 1982, he headed a junta that removed President Angel Guevara from power.
Ríos Montt was diagnosed with senile dementia in 2015, and a new genocide trial overseen by a Supreme Court tribunal began against him in 2017. The process was ongoing when he died.
Hector Reyes, a lawyer for victims' families, said the genocide trial would continue because another general, Jose Rodriguez Sanchez, was still facing charges. Ríos Montt's death meant he was no longer part of the process, he added.
Rigoberta Menchu, a Guatemalan activist and Nobel Peace laureate who fought for victims of the conflict, said the death of the general would give some a measure of closure.
"Either way, for us, the victims, he has already been judged, and the crimes have been set out," she said.
FOLLOW NBC LATINO ON FACEBOOK, TWITTER AND INSTAGRAM.