SAN ANTONIO – There's some anticipation about the future role former Housing Secretary Julián Castro will take on. But he makes one thing clear pretty quickly.
"I'm not running for anything in 2018," Castro said.
After his tenure in the Obama administration, Castro has returned to writing the memoir he put on hold when he went to Washington. It will tell his and his family's story and put that in the context of the American dream of the Latino community in the Southwest, Castro told NBC Latino in a recent interview.
"I'm glad I'm at least over 40 now, because I'd have turned (the memoir) in at 39," Castro, 42, quipped.
Though he's kept a lid on any more specific details about his forthcoming manuscript, due this fall, Castro hasn't been quiet on international, national, state and local politics.
Unleashed from strict rules on keeping with the White House message, Castro can be found these days commenting on social media on events.
Castro is firing his missives from the city where, at 26, he was elected to the City Council and then mayor at 34. His return to San Antonio gives him a perch from a majority Latino city and a majority-minority state to keep watch on the governing of the Trump administration and of the administration of Texas Gov. Greg Abbott.
Related: Texas Gov. Greg Abbott Signs Law Banning 'Sanctuary Cities'
In recent days, he has been lobbing criticism at Abbott and state Republicans over a new law, known as SB4, that gives law enforcement new powers to question people's presence in the U.S.
"What Gov. (Greg) Abbott has done is the worst brand of politics and the worst policymaking that we've seen in generations in Texas. This is a show me your papers law that will ensure people of color are profiled in every city, in every town in Texas," Castro said.
He contrasted Abbott's approach to immigration and the largely Mexican American and minority population, with that of previous Texas governors.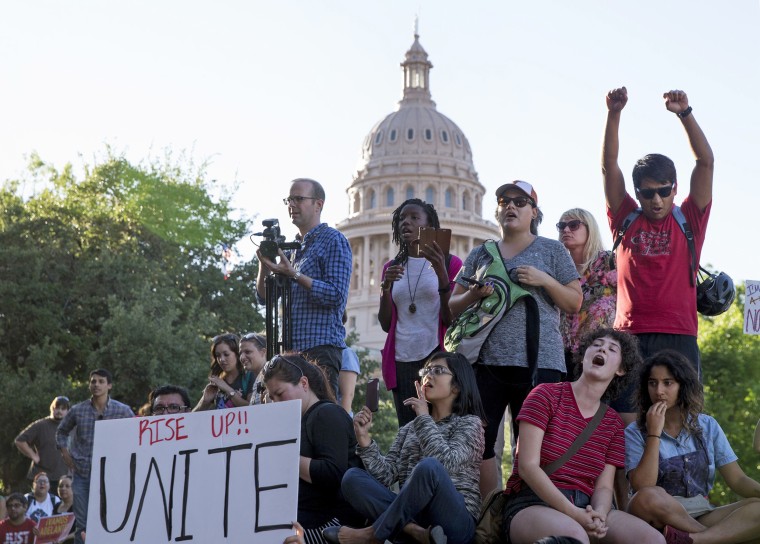 George W. Bush didn't travel down the same roads of former California Gov. Pete Wilson, who backed Proposition 187, and Perry didn't follow the same path of Jan Brewer, who signed SB1070 in Arizona, he said.
"When it came to immigration politics, previous governors had shown admirable restraint in not just throwing red meat to their base," Castro said.
"Greg Abbott is crossing a red line with the Latino community and other communities and I'm convinced that it's going to have terrible consequences for the people of this state and terrible consequences for the Republican Party of Texas for years to come," Castro said.
Castro said he expects 2018 will be a successful year for Democrats. The Republican health care plan approved by the House will help bring about that wave, he said. He expects a wave of Democrats to be elected, but he acknowledges he's not certain how large that wave will be.
"The Republican Congress lived up to the worst stereotypes of American politics. They didn't listen to their constituents who don't like that bill and the vast majority of Americans don't like the bill," Castro said. "It's going to cause premiums to skyrocket and people to lose insurance and they did that without reading the bill. That's the worst kind of policymaking and this is why people hate Washington."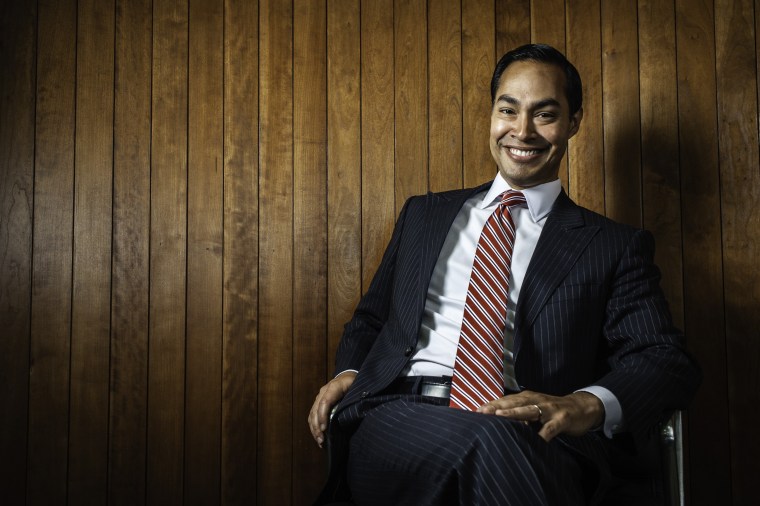 But Democratic wins aren't a given because of the policymaking. The party, he said, must guide and move young people who turned out with enthusiasm for Obama, Clinton and got behind Sen. Bernie Sanders, I-Vt., into politics.
"It all starts with a full-court press to get more young folks to get interested in politics and getting them to go out there to make that jump" into public office, Castro said.
"All of us have a role to play in making that full-court press and this is the term to do it. This is the time to do it, because after the November elections and with this push for a border wall, so many people have been motivated to do something and we can capture that enthusiasm and channel it in a positive way," he said.
Castro said he sees a role for himself for now in helping steer young people to considering themselves qualified to run for office, whether that be on the school board, city council or county commissioner or something higher.
"I'm happy to play a role in encouraging young people. I've done several social media posts, giving people advice about running for office," Castro said. "I started at a young age. I was 26."
Castro added that the key in harnessing the young energy will be to persuade young people "that they can go into politics and not lose their soul and they can be honest and they can have integrity and really make a difference."