Former Mexican Pres. Vicente Fox may have apologized for his crass language while referring to presumptive Republican presidential nominee Donald Trump's calls to build a wall between the U.S. and Mexico, but in a podcast with Kickass Politics released Tuesday, he backpedaled and repeated himself.
"I'm not going to pay for the f**king wall," Fox said. "And please don't take out the f**king full word."
On February 26, Fox joined Maria Bartiromo on Fox Business for an interview, in which he dropped the same expletive on live television and that he would not apologize for his stance.
But then later in a May 4 exclusive interview with Breitbart News Network, Fox apologized to Trump for calling him ignorant, crazy and egocentric.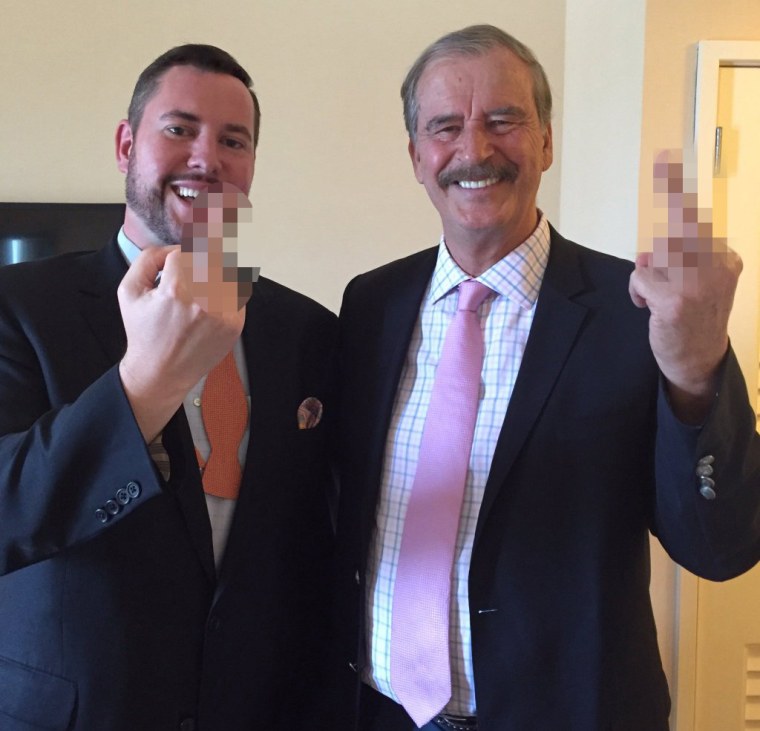 "Yes, I am humble enough, as leaders should be," Fox said. "… If I offended you, I am sorry. But what about the other way around?"
Trump reportedly accepted the former Mexican president's apology on May 5 at a rally in Charleston, West Virginia.
On Tuesday, however, Vicente Fox recanted his apology and repeated himself in an interview with Ben Mathis on the Kickass Politics podcast.
"Wake up Americans," Fox warned. "He is a false prophet."
"Think about it, analyze what he's proposing," Fox continued. "Count the amount of lies he says in every speech, everyday he lies and lies with figures because his sole interest is to do personal business."
RELATED: Former Mexican President: We're Not Paying for a 'Stupid' Wall
Fox likened Trump's rhetoric to "demagogues" in Latin America, comparing him to Hugo Chavez and Evo Morales.
"He is the hated gringo because he is attacking all of us," Fox said. "He is offending all of us. Imagine, that could take us to a war — not to a trade war."
Before his expletive-filled rant regarding Trump, Fox and Mathis discussed the North American Free Trade Agreement (NAFTA), which has been a highly contested topic in the 2016 presidential election. Fox said corporations like Chrysler, Ford Motor Company and General Motors survived the bailout thanks to the trade agreement because it used taxpayer bailout money to become competitive again in all three North American countries.
"The partnership deal of NAFTA nourishes the competitiveness of the three economies of Mexico, US and Canada," Fox said. "… The U.S. cannot compete by itself against others. If Trump says, 'let's enclose by ourselves, let's build walls and then impose heavy taxation to imports,' he's going to asfixiar (asphyxiate) the U.S. economy."