It's been quite the year for author Gabby Rivera.
In addition to getting ready for the hardcover edition launch of her widely acclaimed 2016 young adult novel "Juliet Takes A Breath" — which was originally published by a smaller independent publisher — Rivera is going to roll out her new middle school grade comic series "b.b. free" in November.
The author, who's also known for creating Marvel superhero America Chavez, insists that it is all in a day's work for her.
"I'm just here crafting in my house," said Rivera. "It's just been me and my stories trying to make more magic for the sweet baby queers."
Those "sweet baby queers" — particularly those of Latinx descent — are the readers Rivera says she has created stories for from the beginning. "It's young people that need a lot of love and care and connection," said Rivera. "So in my writing I try to put a lot of tender love and care in there."
"Juliet Takes A Breath" is a coming of age story in which the young woman of the book's title has a terrible experience coming out to her religious Puerto Rican family. Uncertain about the future of her relationship with her mother, Juliet heads off to intern for an acclaimed feminist writer in Portland, Oregon for the summer. While there Juliet realizes that she has to navigate what it means to be both Puerto Rican and part of the LGBT community — while also staying true to herself.
First published three years ago by Seal Press, "Juliet Takes a Breath" was met with widespread praise. With its hardcover release by the Penguin Random House imprint Dial Books, Rivera is hopeful Juliet's story will reach an even wider audience, especially among those who can see themselves in both Juliet and her family.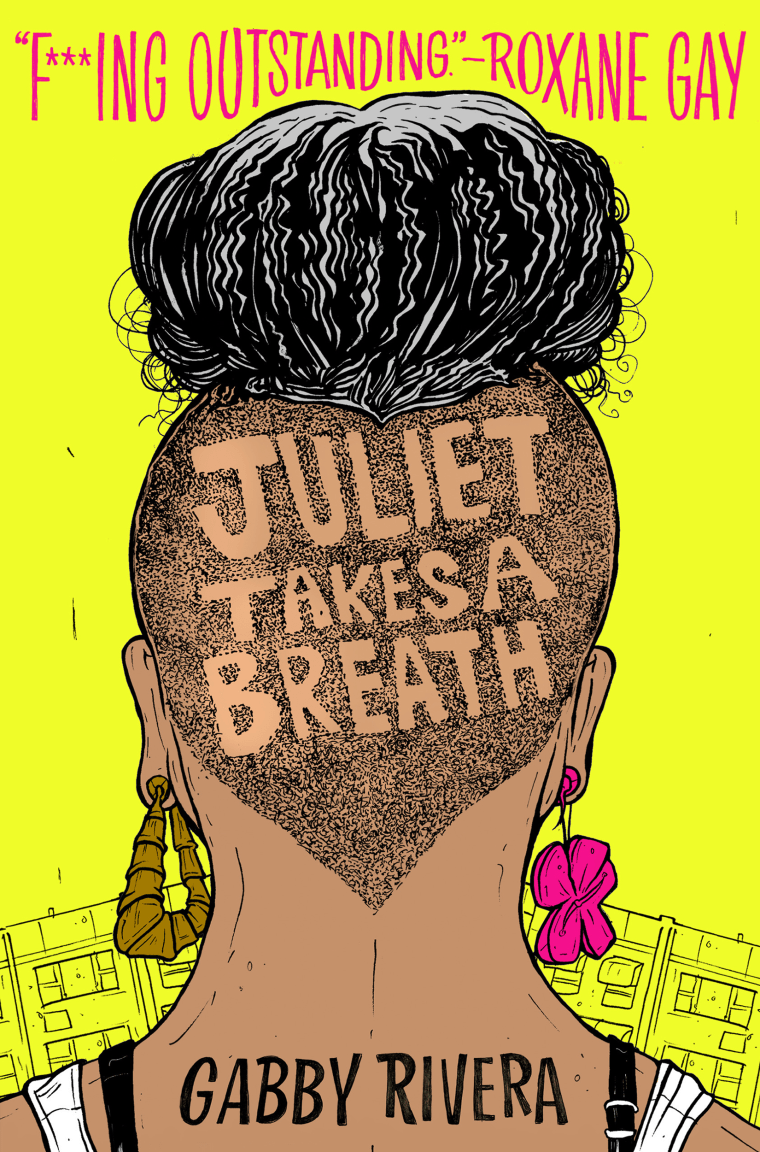 Writing the book was a chance for Rivera to look back at a pivotal time in her life.
"In Juliet all the things I tried to hide about myself — the insecurity and getting really nervous and feeling anxious and not knowing all of these things about being Puerto Rican and being queer — [I] was able to let them just hang out," she recalled.
While Juliet's coming out to her mother was very painful, Rivera says she also hopes the parental relationship in the book will be seen as a hopeful one.
"The work of rebuilding and reclaiming that relationship is not just on Juliet alone," Rivera noted. "I wanted to make sure that in this book you also see her mother going on a journey to understand her gay daughter."
"This book to me has wings," said Rivera, noting its first iteration was as a short story in an LGBT anthology. "She came from my computer at home in my mama's basement and she's been in my notebooks and now she is out in the world. Being republished is like further proof of the wings that [Juliet] has."
Amplifying its reach, en español
Rivera is particularly excited the book is being translated into Spanish. "I am so hyped about that because so many young Latinx folks have said, 'I love this book but I wish I could share it with my grandma or my dad or my aunt or my uncle but they don't speak English,'" she said. "I am really excited about how Juliet and her wings can bridge those conversations."
Creating stories always came naturally to Rivera, adding that "a lifetime of being weird and chubby and ostracized" meant that she always felt comfortable being alone and creating her own fun.
"It was also having strict parents who were like, 'you aren't allowed to play outside, all we're going to do is go to church,'" said Rivera of her passion for storytelling at a young age. "I had a lot of free time."
But while she always knew she wanted to write stories, she never thought that someone like her could grow up to be a professional writer.
"A lot of the reasons why I turned to writing, especially in my 20s, was because I didn't think that there was room for me to thrive," recalled Rivera, noting that she often worried about what being a visibly queer woman would mean for her job prospects. "I saw a lot of my world shrinking right when I was ready to embrace it," she said. "The only place where I didn't have to hide myself and I could always be me was the writing."
The author now hopes that other kids and teens who were once like her can see their experiences reflected in both "Juliet" and "b.b. free." "When I was getting rejections from different writing programs and when my writing was being rejected and sent back to me, I had to sit down and ask myself, 'Who am I really writing for?" Rivera said.
She instantly thought of the support she had gotten throughout her life from her mother and the countless messages she received from her readers ⁠— particularly the ones that said reading "Juliet" made them feel comfortable coming out to their families.
"It clicked in my head that yes, of course, I am writing for the sweet baby queers and my mom," she said. "Of course they will be the ones that really feel the vibrancy and the love."
Follow NBC Latino on Facebook, Twitter and Instagram.