MARACAY, Venezuela — Dozens of cars lined up alongside a gas station just after dawn on a highway in the Venezuelan city of Maracay, in the central state of Aragua. Drivers had been waiting for hours to buy gas, partaking in an all too common ritual in the hopes that when it was their turn, there would be enough gas left to fuel up.
Luis Chourio, 40, spent two mornings last week at a gas station in Maracay, less than 80 miles from the capital of Caracas, waiting for hours to fill up his pickup truck. But each time he made it to a pump, he was told he would have to come back tomorrow.
"What are we supposed to do?" the father of four said.
The wasted trips used up what little was left in his gas tank, and last Tuesday three men had to push his truck from the highway down a long hill to a pump, where he was finally able to fuel up.
Chourio said he worked from day to day as a soldier, traveling to different parts of the country, and if he couldn't commute, "I don't bring money home."
Filling up his tank that day would give his family "about two days of peace," he said.
Venezuelans described lost days of work, anxiety at being unable to feed their families and endless hours waiting in lines because of a gas shortage that's hitting a country with the world's largest producible oil reserves.
For Venezuelans who make it to a gas pump with fuel, filling a tank is basically free. Drivers tip gas station workers a small amount, but there is no real fixed price to fill your tank with the government keeping gas prices low. But the shortages have made finding gas a major problem.
Hours-long lines for gas have become more and more common, especially in states within the interior of Venezuela. But the shortages have increasingly crept closer to Venezuela's capital, hitting cities like Maracay. While Caracas has been largely spared the long lines thus far, Venezuelans in other states are in such desperate need they'll sleep overnight outside gas stations.
"If I don't have gas I have no way to work. I have to go back home," said Jose Diaz, 50, who works for a local business that requires him to travel.
Venezuela is facing an economic crisis, with widespread shortages of basic goods and massive hyperinflation. According to the government's own data, the inflation rate hit 130,060 percent in 2018.
Critics of President Nicolás Maduro blame government mismanagement and corruption spanning years, while the government blames U.S. sanctions that have frozen oil revenues, cut crude oil exports and hampered the country's ability to import fuel.
In January the Trump administration, as part of its tightening sanctions, banned U.S. exports of diluents that the Venezuelan state-run oil company PDVSA relied upon to process its heavy crude oil. And just last week the U.S. government tightened restrictions on exports of diluents from international companies, Reuters reported.
Data released from the United States' Energy Information Administration showed that in April, Venezuela's crude oil production fell down to its lowest levels since January 2003 — when a countrywide strike nearly brought the state-run oil company PDVSA's operations to a halt. In April, crude oil production averaged 830,000 barrels per day, down from 1.2 million in the beginning of the year, according to the data.
The agency said recent production declines can be attributed in part to widespread power outages, mismanagement of the oil industry and U.S. sanctions.
Mark Weisbrot, an economist and a co-director of the Center for Economic and Policy Research, a think tank in Washington, said the gas shortages were an intentional result of the U.S. sanctions under President Donald Trump.
"It's all related to the fact that they're starving and trying to destroy the economy," he said.
Weisbrot said the underlying aim of the sanctions aim was to "prevent the economy from recovering."
Diaz and others said the real impact of the gas shortages went beyond long lines and even lost wages — it was affecting everything from access to food to public transportation.
Carlos Julio Rojas, a community activist in Caracas, said the lack of gas meant needy families could not get the food or other goods they needed.
"Food is rotting in the interior of the country," he said.
The gas shortages also meant disruptions to the once-reliable public transportation system in Caracas, lengthening commutes and exposing Venezuelans to more dangerous situations, Rojas said.
Diaz also said the gas shortages were delaying the delivery of food in states in the Venezuelan interior, leading to rising costs.
And even when there is food available, many families are simply unable to afford it, facing hyperinflation and low wages.
"It's monstrous. The prices are going up daily," Diaz said from the gas station in Maracay.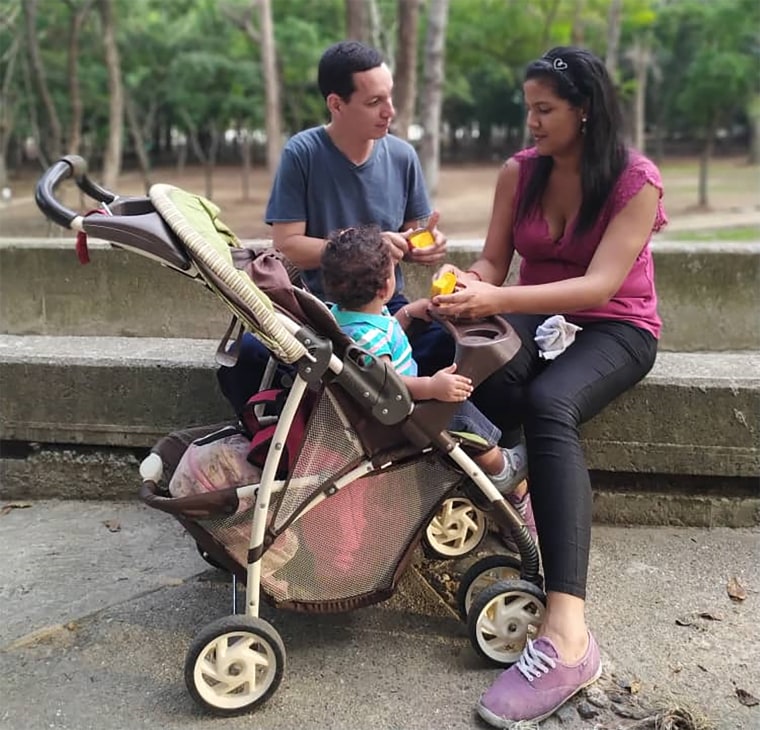 Felipe Garcia, 34, a public employee in Caracas, said that even two years ago, he and his wife were able to afford simple "luxuries," like buying a soda. Now he struggles to feed and take care of his 1-year-old daughter, Arlet.
Diapers and baby formula were unaffordable, and the family struggles to keep enough food on the table, he said.
Many Venezuelan families, including Garcia's, rely on a government subsidized food-aid program.
"Thank God" his family receives the monthly box providing food and milk for Arlet, Garcia said.
"It isn't much, but it does help our situation," he said.
Still, Garcia said if he could afford it, he would relocate to Chile to work and send back money for his family until they had enough money to leave Venezuela altogether.
"There are things that have been lost, so much here in Venezuela," he said, looking down, while he and his family sat sharing a mango in a park. "Sometimes it makes me want to cry, because of everything that's happened."
"This situation that we are living in is beyond the political," he said. "It's like if it were a cancer, we're eating ourselves."