New York, NY – A young woman surveyed the scene in front of the Stonewall Inn in Manhattan's Greenwich Village. A makeshift altar of flowers, U.S. and Puerto Rican flags, candles, and photos of the 49 people killed in the Orlando terror attack was piled up in front of the historic bar on Christopher Street.
She turned to her companion, and said, "This was like the gay 9/11."
It was more than an hour before a scheduled rally Monday night, yet hundreds of people had already gathered to grieve, remember, and show support for the LGBT and Latino communities. As a low breeze rippled through the air, periodic chants went up: "No hate! No hate!"
Sunday's attack in Orlando left Luis Riera "in shock," in part, because he has actually been to the Pulse nightclub.
"I woke up (Sunday) and I saw on my phone news of an Orlando shooting at gay nightclub... When I started seeing the videos of the victims, especially the mom video, I just broke down and cried because you don't want anyone to go through what she's feeling – losing a person – whether it is your child, your brother, your father, your sister, you don't want it," he said.
"It hit home for me because I am a gay Latin man," said Riera.
Although his older brother has asked him not to attend Pride events out of concern for his safety, Riera intends to live his life as usual.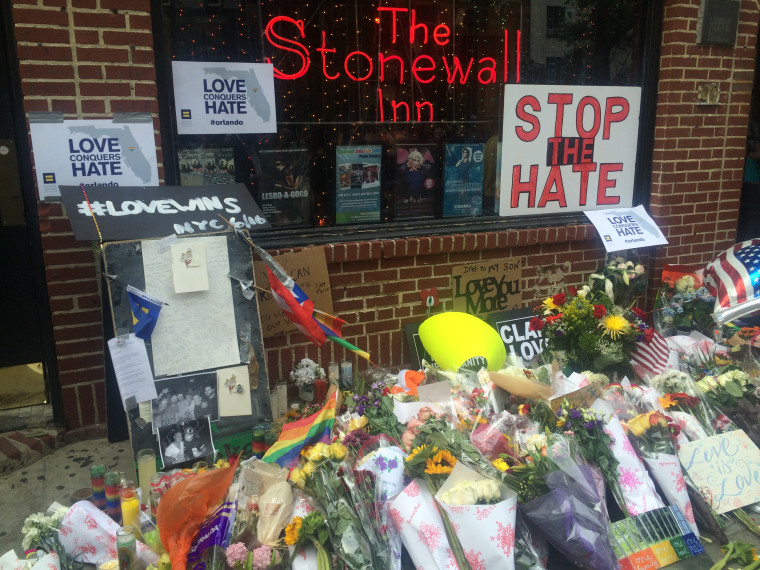 "You can't live your life in fear. Unfortunately people are always going to hate, people are always going to discriminate, someone is always going to make some comment about who you are or what you are, the way you act," he said. "So if we start closing our minds now, then we're letting them win. And if you start fearing now, the person who did this (in Orlando) is going to win. And the people who died, died in vain. And you can't do that. You have to live, if not for yourself, but for them also."
RELATED: Latino Community Hit Hard in Orlando Shootings, Most Victims Were Hispanic
Nearby, Karen Bodon stood with her siblings and friends. "I came tonight just to support my fellow human beings," she said. "I have many friends that are gay and this is just to make a statement that we are all human, that we stand as one, and that we're not going to tolerate this type of brutality.
Bodon felt "extremely shocked, heartbroken, saddened… just speechless" when she learned the details of the attack, which killed a friend of a friend of hers. "We all know someone who has been affected in one way or another."
She surveyed the crowd around her. "This is definitely raising awareness to the rest of country of the hate that people have towards Latinos and the gay community. So I think that things (are) going to get better. Hopefully in my lifetime I will be able to see it."
Members of New York City's LGBT community have historically gathered in front of the Stonewall Inn to mark such occasions as the Supreme Court striking down the Defense of Marriage Act (DOMA), the Court's decision legalizing same-sex marriage, or the murder of Matthew Shepard. But the rally on Monday night was unusually diverse, with same-sex and straight couples, mothers with children in strollers, and senior citizens in wheelchairs all comprising a crowd of thousands that stretched beyond Seventh Avenue.
Chatting in English and Spanish, onlookers raised their cell phones to shoot photos and videos. They waved Pride flags, carried "Orlando Strong" signs, and unfurled banners with messages of solidarity.
Later that night, New York State Governor Andrew Cuomo and New York City Mayor Bill de Blasio addressed the crowd, calling for gun control and decrying the loss of life.
De Blasio specifically mentioned one of the New Yorkers who was killed in Orlando, Enrique Ríos of Brooklyn.
Holding a sign that bore the name of one of the victims and the slogan, "Rest In Power," John Peña declared that it was time for action. "We need, as a community, to talk to legislators… to make sure that stuff like this cannot happen."
He believes that the Orlando attack occurred due to lax gun laws and lax security checks. "At the end of the day we have to do as much as we can to make something like this not happen again, whether it is against the LGBT community, the African-American community or against any religion. It is just not okay that things can happen with weapons purchased in U.S because we do not have these checks in place," said Peña.
RELATED: Latino LGBTQ Leaders: 'We Are Orlando'
More than 150 blocks to the north, an attentive crowd gathered for a candlelight vigil in Washington Heights' Bennett Park. The sun set while the names of each of the victims was read aloud to a gathering of men, women, and children in a neighborhood known for its thriving Dominican population.
"This is a horrible tragedy. This goes beyond ethnic, racial, gender or sexual orientation. This is a humanitarian tragedy," New York State Senator Adriano Espaillat told NBC News. "We need to come out and say that enough is enough. It is just unimaginable how this could continue to happen, so Congress must act," said Espaillat, who is running for a congressional seat in the city's upcoming primary. "How could somebody be walking around with an AK-47?"
Espaillat stated that he favors liability for gun manufacturers, pointing out that if a person contracts food poisoning from something in a can, then they can potentially sue the company that made the product. "But not for gun manufacturers, nothing happens," he said. "This is such a grave double standard. We should lead the world in making sure people don't have access to guns, particularly semi-automatic weapons."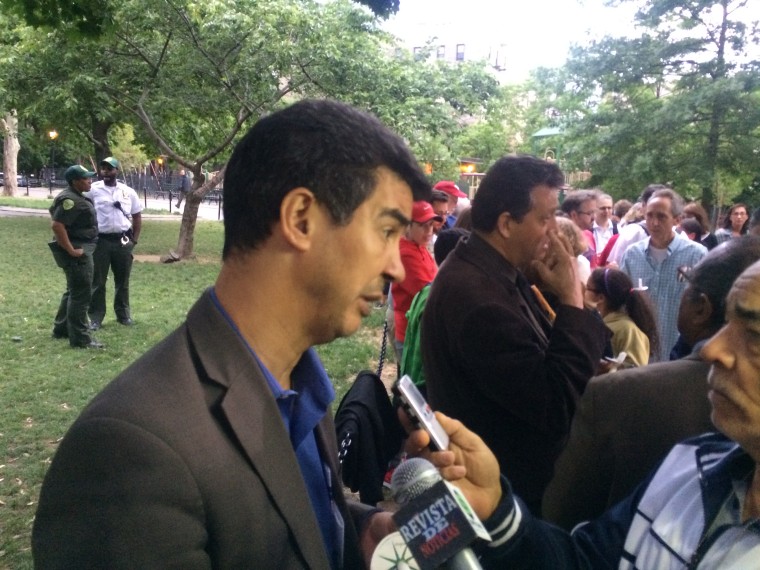 New York City Council member Ydanis Rodriguez told NBC News that he was proud of his community for turning out to show their support for Orlando. "To me, the most important lesson we can learn is that we have to get rid of the message of hate," he said. "We can still take our nation to another level, a nation where we should not have such easy access to weapons – especially to kill beautiful and innocent people. So we are here standing for the beautiful people who died in Orlando."
As it grew dark, a community leader told those assembled to take leave of each other with the expression, "Peace be with you."
Still, the crowd lingered after the event was officially over.
Fianny Cabrera stood on the edge of the group, shielding a flickering candle from the wind. "I came out tonight because I think that love wins over hate," she said.
"We are here in this world to promote love, not hate," said Cabrera. "I'm here mostly in support of the LGBT community because we are all the same; love is the same. It is the same language."