WASHINGTON — Republican candidates are using images of Hispanic gang members to advance their gubernatorial bids in New Jersey and Virginia, sparking criticism from Democrats and advocates who say the ads demonize Latinos.
The GOP candidates have pushed MS-13 gang crime to the forefront with attack ads accusing their Democratic opponents of holding immigration views that foster crime. Democrats, meanwhile, have blasted the ads as desperate, bigoted attempts at "fear-mongering" in states that combined have more than 1 million Latino voters.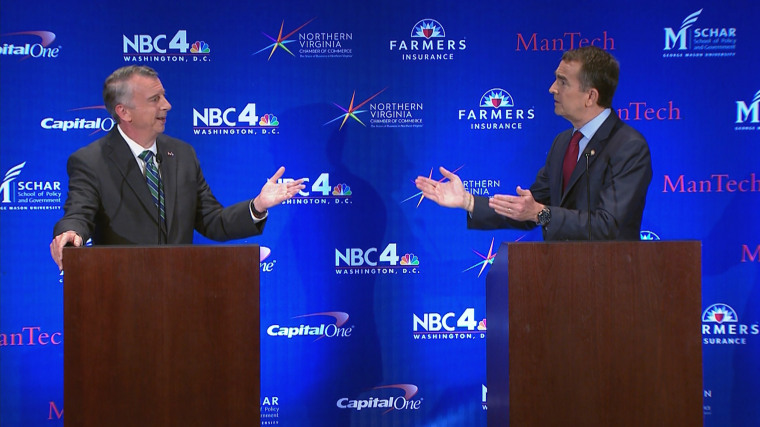 Latino advocates working to turn out voters for the Democratic candidates in the Nov. 7 elections said the ads mimic President Donald Trump's rhetoric on the campaign trail.
"It's a clear hate attack against the Latino and immigrant community," Gustavo Torres, president of CASA in Action, the political arm of an immigrants advocacy group, said of the Virginia ad. "It's a strategy from Trump that now the Republican candidates are using because they believe that could be a win for them. They would be wrong."
Polls are showing a neck-and-neck race between Ed Gillespie, a former adviser to President George W. Bush, and Ralph Northam, Virginia's lieutenant governor.
In New Jersey, Democrat Phil Murphy, a former Goldman Sachs executive and U.S. ambassador to Germany, holds a double digit lead over Kim Guadagno, the state's lieutenant governor, polls show.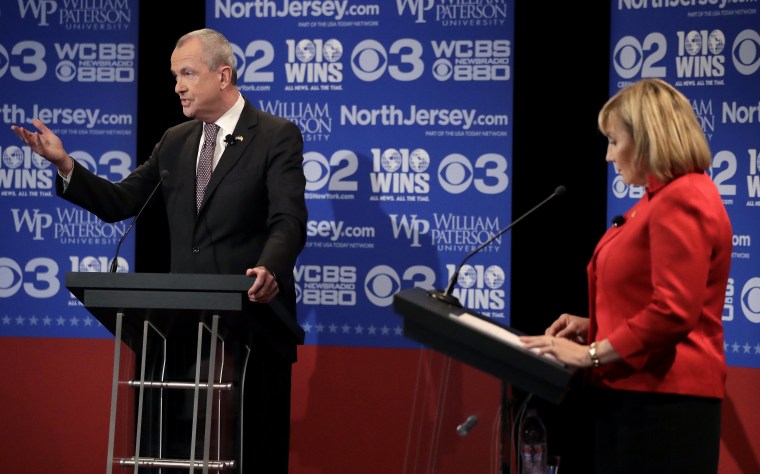 Former President Barack Obama, in a rally last week for Northam, chastised Gillespie for his MS-13 ad, noting that Gillespie had once argued that the GOP had to rethink its anti-immigrant views if it was going to increase the number of Latinos in the party.
The candidates' defenders have rejected criticisms that Gillespie and Guadagno have turned to bigotry. Instead they say they are more anti-crime than anti-immigrant.
José Arango, chair of chairs of Republican Party in New Jersey, noted that Guadagno launched her campaign at a Mexican restaurant and has a Cuban-American running mate, Carlos Rendo, an immigration lawyer and New Jersey's only Latino Republican mayor.
"This is not about a racial issue. This is about violent crime," Arango said about Guadagno's ad, which the candidate has pinned to the top of her Twitter account.
"She has a record. She didn't endorse Trump. She disagreed with Chris Christie," Arrango said.
Related: Eric Holder Group Pumps Big Money Into Close Virginia Governor's Race
Danny Vargas, who chaired the Republican Hispanic Assembly while Gillespie was Republican National Committee chairman, said while he doesn't think Gillespie's ad is "as effective as it should be," he doesn't consider it racist and "in no way shape or form do I think Ed Gillespie is racist in anything he says or does."
Vargas said it is mostly minority populations that are negatively affected by gangs, including MS-13.
"I've known Ed for years, I know where his heart is, where his head is," Vargas said. "I know him to be a good caring guy who I really believe is genuine and sincere to do what he can to make life better for as many people as possible."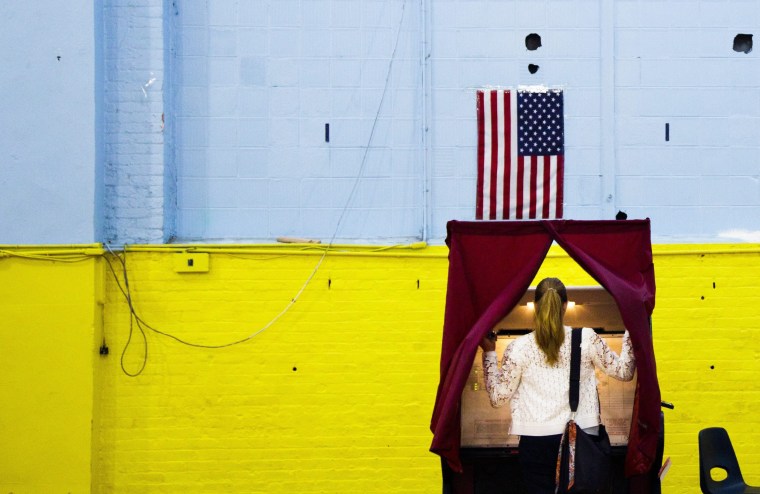 Guadagno and Gillespie's campaigns did not respond to requests for interviews.
Guadagno's ad fills one side of a screen with images of convicted felon Jose Carranza while the words "illegal alien, rapist" flash on the other side of the screen.
Carranza was convicted in the 2007 shooting of four children — which Guadagno's ad emphasizes were African-American. Three died. The ad asserts Murphy would "have the backs of deranged murderers like Carranza," and supports that with a partial comment Murphy made at a town hall about an entirely different subject.
Gillespie's ad alleges Northam cast the "deciding vote in favor sanctuary cities that let illegal immigrants who commit crimes back on the streets."
This, too, has been shown to be a stretch. Northam did break a tie on a bill banning sanctuary cities, but a Republican who had voted against it then switched sides and the bill passed on a second vote, The Washington Post reported. Gov. Terry McAuliffe vetoed the bill.
The Washington Post's fact checkers gave the ad four Pinocchios, the worst rating in the newspaper's check for untruths.
It's no coincidence that both Republican candidates have released MS-13 centered attack ads, said Stella Rouse, director for the Center for American Politics and Citizenship at University of Maryland.
"This is a desperate act for a desperate woman," Rouse said of Guadagno. As for Gillespie, she said, he's rolling the dice with his ad, hoping that it will appeal to a population outside of the more Hillary Clinton-supporting northern Virginia.
"He is trying not to alienate the moderates (of the GOP) and independents, while at same time trying to capture the populist wing," she said. "That he's trying to draw them with the ad, that's his rolling of the dice."
Rouse said Gillespie's ad focusing on MS-13 is notable given the white supremacist rally in August in Charlotte, Virginia. James Alex Fields Jr., who attended the rally, is charged with ramming his car into counterprotesters, killing Heather Heyer and injuring others.
"We don't see him putting out an ad and saying that we have to do something about the white supremacist element in Virginia and how to address that," Rouse said.
"If he were going to put out a true law and order ad, he would put all that in there, say we have all these criminal elements — white supremacists, KKK and gangs — and we need policy to get tougher on all of this because crime traverses all races and ethnicities," she said. "But that's not what he's doing and not what these ads do."