MIAMI — As Republicans met Thursday in the state where President Donald Trump finds his strongest Hispanic support, Democrats jeered his administration's detentions and deportations of migrants who've fled Cuba, Venezuela and Nicaragua.
"We need a good immigration policy. We need to stop these deportations. People are being deported who have a right to be here under the law," Rep. Donna Shalala, D-Fla., said Thursday, adding: "They need more judges. They need more lawyers. People who are being deported, many of them don't have lawyers."
Republicans are meeting through Friday at Trump's resort in Doral.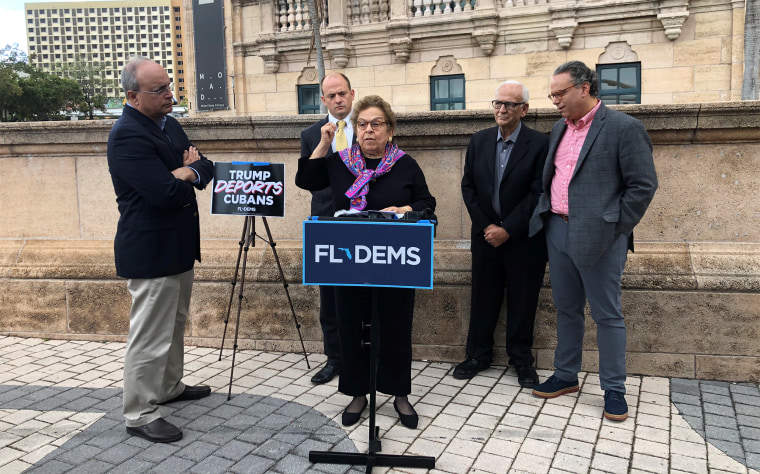 The fastest-growing population groups in the federal immigration court backlog are Cubans, Venezuelans and Nicaraguans, according to data from immigration courts obtained by the Transactional Records Access Clearinghouse, or TRAC, at Syracuse University.
At the end of fiscal year 2018, the backlog had increased by 374 percent for Cubans, 277 percent for Venezuelans and 190 percent for Nicaraguans. In contrast, the rates increased by 42 percent for all nationalities during the same period.
Since the end of the Obama administration, deportations to Cuba have increased dramatically. More than 25,917 Cubans are awaiting deportation proceedings, according to TRAC.
So far this fiscal year, which began Oct. 1 and ends Sept. 30, 2,060 Cubans have been ordered deported, as well as 1,031 Nicaraguans and 599 Venezuelans.
For decades, Cubans had unique privileges and were given a path to legal residence once they reached U.S. soil through the "wet foot, dry foot" policy. But an agreement reached during the last days of the Obama administration ended the policy and required Cuba to take back citizens with deportation orders. The end of the policy was coupled with Obama's normalization of U.S.-Cuba relations, which Trump has rolled back.
Yali Nuñez, a spokesperson for the Republican National Committee, said in a statement: "Democrats conveniently ignore that it was President Obama who eliminated the 'wet foot, dry foot' policy, leaving Cubans without the main protection they had when immigrating to the United States.
"Time and time again, Democrats have refused to work with President Trump to address a broken system he inherited. While the Trump administration has focused on confronting socialist regimes and their policies that led to these immigration crises, Democrat leaders continue to promote everything that makes these socialist regimes stronger," Nuñez said.
Frank Mora, director of the Kimberly Green Latin American and Caribbean Center at Florida International University, said the situation in Cuba is different from those in Venezuela and Nicaragua.
Mora, who was a Defense Department official in the Obama administration, said that when Trump was inaugurated and Republicans had a majority in the House and the Senate, they had the opportunity to reverse "wet foot, dry foot."
"The agenda of the president of the United States is to deport," Mora said, pointing out that a prominent Cuban exile and activist, Ramón Saúl Sánchez, who has been in the United States for 52 years, has been denied permanent residence and could be ordered deported.
The White House has not extended temporary protected status to thousands of Venezuelans living in the United States, which would shield them from deportation and allow them to work legally.
Download the NBC News app for breaking news
In the meantime, the administration has taken a hard-line approach to Venezuela through economic sanctions to pressure its president, Nicolás Maduro, to seriously negotiate with the opposition. Some experts say sanctions have hurt everyday people who are already suffering because of sky-high inflation and severe food, medical and other shortages.
Leopoldo Martínez Nucete, a Venezuelan American member of the Democratic National Committee and a member of the board of Latino Victory, an advocacy group, said that if the administration is so confident that its strategy for Venezuela is going to work, "then why not grant temporary protected status?"
South Florida is home to the nation's largest Cuban and Venezuelan communities; there is a large concentration of Nicaraguans, as well. Nicaragua has been in political and social turmoil since a 2018 uprising against President Daniel Ortega and social security reforms. Violent crackdowns on protesters and repression of dissenters have ensued. Tens of thousands of people fled the spiraling political crisis and paramilitary groups.
Trump and Republicans have been campaigning hard and actively courting the Latino vote in Florida, a battleground state in presidential elections. Trump has held nine campaign rallies in the state since he was elected. He and Vice President Mike Pence have held multiple events to address issues in the Venezuelan, Cuban and Nicaraguan communities.
Thursday's news conference took place outside Miami's iconic Freedom Tower, known as the "Ellis Island of the South." It was once a reception center for thousands of Cuban refugees in the 1960s and the early 1970s.
The protest was interrupted by a few Latino members of the group Proud Boys, which the Southern Poverty Law Center classifies as a hate group. They shouted continuously, at times with a megaphone, calling the media "scum" and saying all media "hates Trump."
Follow NBC Latino on Facebook, Twitter and Instagram.