An aide to the nation's first and only Latina state governor, New Mexico Republican Susana Martinez, said she wouldn't be "bullied into supporting a candidate until she is convinced that candidate will fight for New Mexicans." The comments came after GOP presidential hopeful Donald Trump said Martinez was "not doing her job" as governor.
In a statement quoted by the Washington Post, Gov. Martinez's aide, Mike Lonergan shot back at Trump after he told a crowd in Albuquerque —at a campaign rally that the Republican governor did not attend because she was busy — that Martinez had mishandled the economy. Trump accused Martinez, who heads the Republican Governors Association, of allowing a big increase in the number of food stamp recipients as well as "large numbers" of Syrian refugees into the state.
"Governor Martinez doesn't care about what Donald Trump says about her – she cares about what he says he will do to help New Mexicans. She didn't hear anything about that today," said Lonergan.
Martinez, who had come out in support of Marco Rubio, has not endorsed Trump for president and pointedly skipped his rally on Tuesday.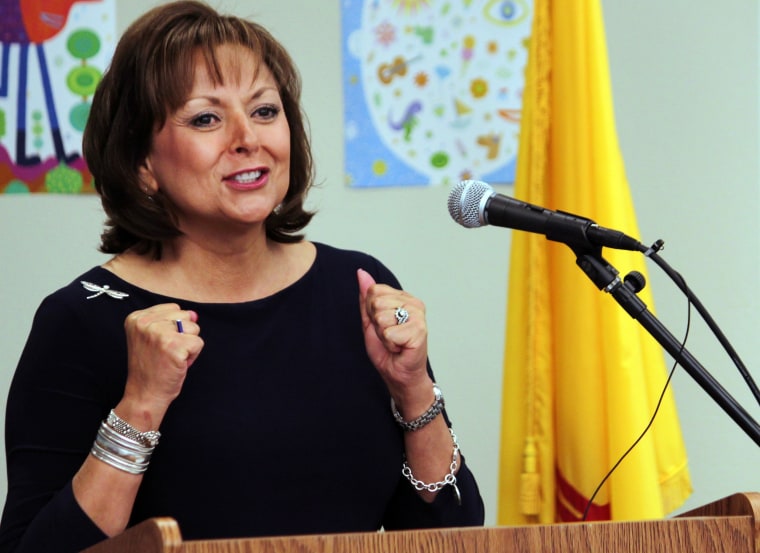 New Mexico political scientist Gabriel Sanchez, a principal at the polling firm Latino Decisions and an associate professor at the University of New Mexico, said that Martinez and Trump "have been sparring for a while now — she was critical of his comments about Mexico and Mexicans at the start of his campaign."
Yet the Latina governor is also being criticized for not being forceful enough against Trump - she was criticized in an online video released Tuesday by the Democratic Governors Association, entitled "Silent Susana," for not publicly saying whether she won't — or will — endorse the controversial GOP frontrunner.
RELATED: Democrats' Video Urges Gov. Susana Martinez to Break Silence on Trump
Despite Trump's negative comments about the Republican Latina governor, strategists and analysts have mentioned Martinez as a potential vice presidential candidate who would be a counterpoint to Trump's controversial and incendiary comments about immigrants, women and other groups.
RELATED: Opinion: Susana Martinez, the Yin to Donald Trump's Yang?
The question now is whether there is a space for a future reconciliation between Martinez and Trump; her aide's words were that Gov. Martinez won't be bullied into supporting Trump "until she is convinced" he is working for the people in her state."
"I definitely think that's what she is aiming for, being artful to leave the door open in case he extended the olive branch," said Sanchez. "But after Trump's comments last night, I think it's quite a bit more doubtful."
For now, Sanchez said, Albuquerque's Republican mayor and the Republican Latina governor have given Trump the cold shoulder by not attending his rally, and Trump does not have any established GOP networks in the state.
"It's an interesting telenovela," Sanchez said.