How do you follow a debut album that won a Grammy? For Ileana Cabra Joglar, known artistically as iLe, part of the inspiration behind her upcoming second album and her recent, powerful single, 'Odio,'Spanish for hate, came as she absorbed the divisive state of things combined with misinformation and vitriol on social media.
"We are all victims of hate," the young Puerto Rican singer told NBC News. "We're all vulnerable to it without noticing, so we have to be very aware of that and find ways to understand our differences a little more."
These thoughts led her down the path of Puerto Rican history, specifically, to a deadly incident several decades ago that is already unfamiliar to a younger generation.
"Odio," her single released in August and its accompanying music video, recreates the murders of two young Puerto Rican pro-independence activists, Carlos Enrique Soto Arriví and Arnaldo Darío Rosado Torres, who were shot in a police ambush at the Cerro Maravilla mountain in July of 1978.
The Cerro Maravilla case gripped the island because the trial was televised in 1983 and fueled tensions between pro-independence groups and political parties in the island and their counterparts who advocate for Puerto Rico's statehood.
At the time, pro-statehood Gov. Carlos Romero Barceló defended the actions of the police, saying they were trying to stop nationalist terrorism because the young activists were allegedly trying to bomb a communications tower.
Five years after the murders, when the televised hearings were underway, two police agents asked for immunity in exchange for their testimonies, which stunned many in the island: There was apparently no evidence that the youths had planned to bomb the tower. Eight officers were charged with first-degree murder; in 1987, five former police officers pleaded guilty to second-degree murder and perjury charges.
"People in Puerto Rico remember what happened, but my generation doesn't know as much about that because schools don't really teach it. Older generations know because they saw it on TV or lived through it," said the Puerto Rican musician, who has openly advocated for the island's independence from the U.S.
When iLe started to research Cerro Maravilla's history, with the help of those who understood it and still remember it, she quickly "decided to present the video as timeless."
By portraying what happened at Cerro Maravilla, iLe hopes viewers are more skeptical and aware of media and gubernatorial cover-ups, government corruption and think about how these situations might still affect their lives today.
"The important thing is to remember Cerro Maravilla, but also think about it presently," said iLe.
iLe's debut album, iLevitable, won the 2017 GRAMMY for Best Latin Rock, Urban or Alternative Album, with a unique, soulful sound that fused classic, big band, Latin funk and timeless boleros and incorporated the work of her late grandmother, Flor Amelia de Gracia.
iLe was born in Santurce, Puerto Rico to an artistic family. Apart from her grandmother, her mother is actress Flor Joglar de Gracia and her father is musician José Cabra González.
Her music career started when she was a teenager, as the vocalist for her siblings' multi-Grammy winning urban music group Calle 13. Her brothers are René Pérez Joglar, known as Residente, and Eduardo José Cabra Martínez, known as Visitante. iLe's stage name was "PG-13," a nickname given to her by her cousin, Marcel Cardoza Joglar.
In 2016, iLe left the group Calle 13 to pursue her own music and work on her solo album.
She was getting ready for her solo tour last year when Hurricane Maria hit Puerto Rico last September, devastating the island and resulting in the deaths of nearly 3,000 people.
iLe retreated to her home as the storm devastated the island. Though she and her family were unharmed, they were left without power, just like thousands in San Juan.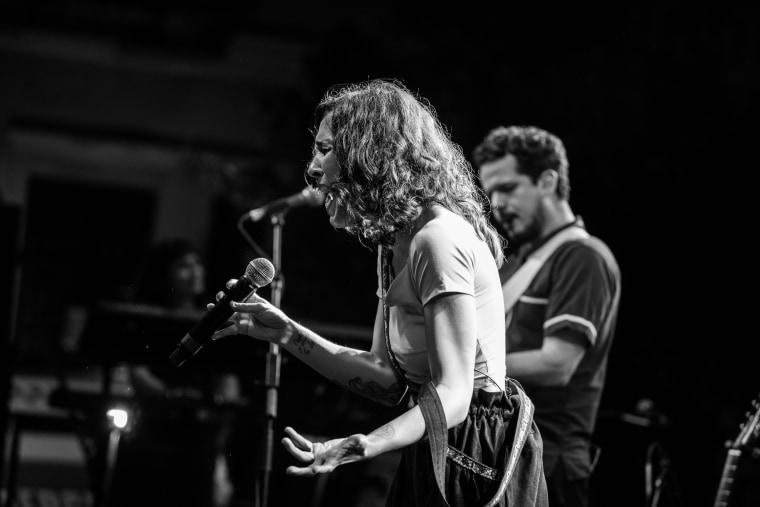 Despite setbacks and a postponed show at the Centro de Bellas Artes in Santurce, PR., iLe and her band pushed through a scheduled national tour while reeling from the ripple effects of Hurricane Maria.
"What happened after Maria? We didn't get the help we were expecting," iLe said. "So, we helped each other out. That's who we really are at our core, as Puerto Ricans. We are humble, warm and at the end of the day, we really care about each other."
"For me, what matters the most is that Puerto Ricans recognize the capability we have as a country," she said.
As she works on her second album, iLe is more focused on activism and the moment she is living in now. She wants her art to be used as a tool to communicate a powerful message, drawn from the news she observes happening both in Puerto Rico and around the world.
Though her recent single, "Odio," confronts painful realities, it's ultimately a hopeful message.
"Odio is from that strength we tend to put aside or ignore," said iLe. "But I think it's important to acknowledge our own fears, and use the strength as a good reaction to make the world a better place."
FOLLOW NBC LATINO ON FACEBOOK, TWITTER AND INSTAGRAM.