From the first Latino-focused act to open the Grammys to the first solo female artist to win Best Rap Album, Latino artists made their mark onstage Sunday, even though nominations weren't fully representative of the Latin music boom that has taken place over the last year.
The 61st Grammy Awards kicked off with the Cuban-American singer Camila Cabello recreating a Latino-esque "block party." She also paid tribute to her grandmother and her Cuban heritage with her hit single "Havana," which was nominated for Best Pop Solo Performance.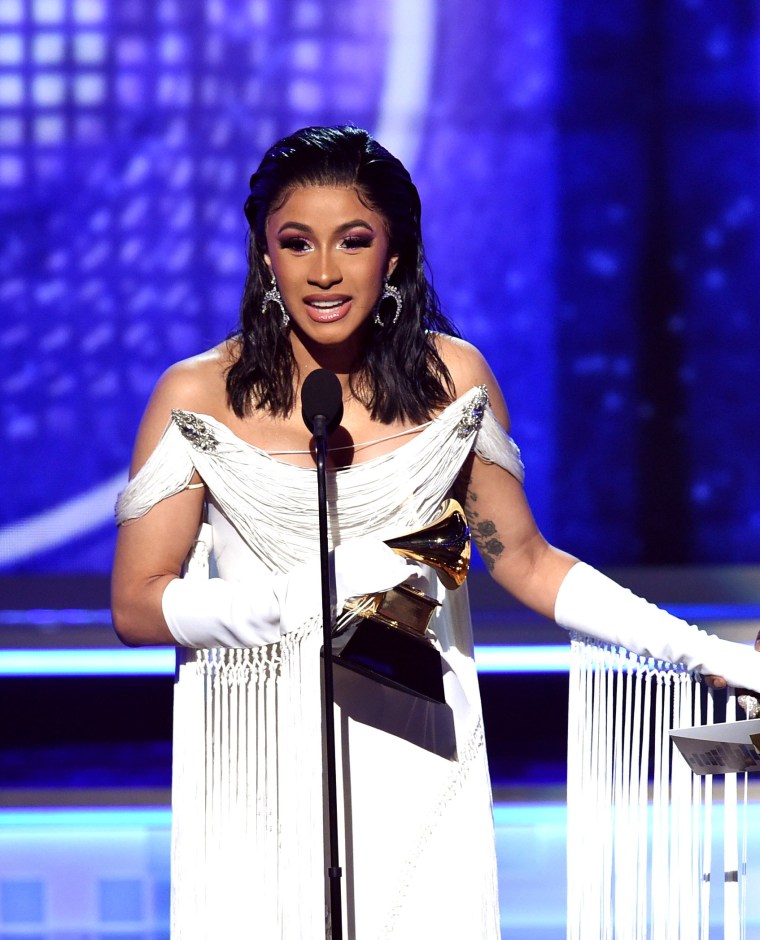 The "Havana" performance quickly turned into a medley with the Puerto Rican-born Ricky Martin singing "Pégate," a song that includes folkloric rhythms from his homeland, and Colombian reggaeton artist J Balvin singing his hit "Mi Gente." Joining all of them on stage were the legendary jazz trumpeter Arturo Sandoval, YouTube comedic sensation LeJuan James as his beloved "Abuela" character and Venezuelan internet personality and singer Lele Pons.
"Guess who's the first Latina to open the Grammys ever?! THIS GIIIIRL WHO'S ABOUT TO CELEBRATE BY STUFFING CHORIQUESO AND CARNITAS IN HER FACE !!!!!!!!" said Cabello on Twitter, who couldn't hide her #LatinoPride, even though she didn't win either of the two Grammys she was nominated for.
Another Latina that both performed and broke barriers at the Grammys was the Bronx-born rapper Cardi B, who is of Dominican and Trinidadian descent.
Cardi B took the Grammy stage to deliver a performance of her latest single "Money" and receive the award for best rap album.
"When I found out I was pregnant, my album was not complete," she said in accepting her first Grammy for her debut album, "Invasion of Privacy."
"You husband, thank you, seriously, because he was the one like: 'Oh, you're gonna do this album, girl. We're gonna have this baby and you're going to make this album,'" said Cardi B, who also became the first solo woman to win best rap album.
Other Latino Grammy winners include the Argentine musician Claudia Brant, who won for best Latin pop album, and the Mexican band Zoé, who won for best Latin rock, urban or alternative album.
A jazz band's three Grammy wins on Sunday night resonated not just for their music but for what the band members represented. John Daversa's Big Band is made up of musicians who came to the U.S. illegally as children from Mexico, Bolivia, Chile, Colombia and Venezuela, and are now here legally under the Deferred Action for Childhood Arrivals program, or DACA.
The band won three awards: best improvised jazz solo; best arrangement, instrumental or a cappella; and best large jazz ensemble album, for "American Dreamers (Voices of Hope, Music of Freedom)."
Amid the wins and the history-making events, some Latino artists faced a backlash.
Jennifer Lopez was criticized for being the lead performer at the Grammy's Motown tribute. Even though Lopez was joined by Motown legend Smokey Robinson and black singers like Ne-Yo and Alicia Keys, critics called for an all-black cast of artists.
"I like J.Lo and all but ... How you gonna do Motown like that in black history month?," said Ash Ketchum via Twitter.
Lopez defended her participation saying: "It's just a dream come true. Singing up there with Smokey Robinson, like, I got to pinch myself. I grew up on all those songs and because my mom loved him so much she passed him on to us."
Robinson also came to Lopez's defense, saying: "Who's stupid enough to protest Jennifer Lopez doing anything for Motown?"
It also did not go unnoticed that not one reggaeton album was nominated for a Grammy at a time when consumer demand for Latin music has been steadily growing and the genre has dominated across music streaming services, competing with other English-language mainstream songs across all charts.
While a number of Latino artists like Cardi B and Cabello landed some of the biggest Grammy nominations of the night, the contributions of artists such as J Balvin, Bad Bunny and Ozuna — who are part of the top 10 most streamed artists worldwide — were barely represented in the nomination list.
J Balvin and Bad Bunny had a chance to represent the reggaeton genre as nominees for record of the year for the smash-hit "I Like It," alongside Cardi B.
In the end, singer Donald Glover — also known as Childish Gambino — earned the award for his hit "This Is America."
FOLLOW NBC LATINO ON FACEBOOK, TWITTER AND INSTAGRAM.