COMPTON, California — It's 4:30 am and already one man is in custody.
We see the flashing lights as we speed closer. Several unmarked cars and SUVs surround a work truck.
I can hear the agents talking about white powder they think is crystal meth spilled all over the seat.
By the time we get there a man is handcuffed in the back of a car. The windows are too tinted for us to see him, but he can see us filming his truck. I wonder what he thinks as he sees us turn off our camera and load back into one of the unmarked ICE SUVs.
For the last few months, my producer John Boxley and I have been documenting all aspects of our nation's immigration quagmire. We visited ranch lands where the Sinaloa cartel smuggles people through the Arizona desert. We've spoken with mothers and their children as they emerge from the brush after they cross the Rio Grande in rafts. We've sat in home after home and listened as 5-year-olds sob in fear that they may hear a knock on the door and their parents could be taken away.
Now, we find ourselves riding with the "Migra" as they make knocks similar to the ones that separated the other families we had met.
It's a complex assignment; one that reflects the harsh truth of American contradiction: We are a nation of laws, but we are also a nation of immigrants.
In Southern California, on any given morning, there are nine specialized ICE Enforcement and Removal teams that set out with lists of immigrants who have criminal pasts.
David Marin is the Field Office Director for Enforcement and Removal Operations in Southern California, a man who has enforced immigration law under at least four U.S. presidents.
He tells me things have changed dramatically since the mid 90s when sometimes they would receive warm welcomes during door knocks.
"They would, you know, welcome us in, sit down and ask us if we wanted coffee or something to drink and sometimes even breakfast," Marin recalls, "while the person that we were looking for would be getting dressed and grabbing a bag and come out ready to go with us."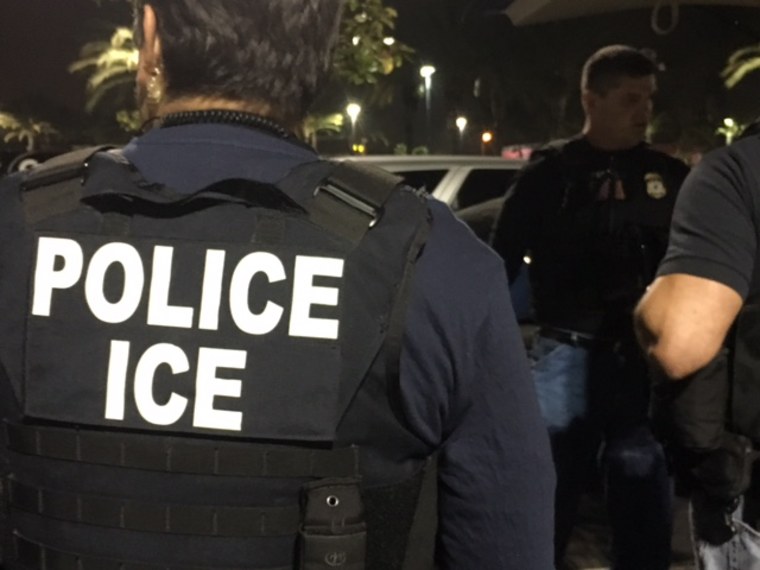 But the 90s also saw some wide sweeping enforcement immigration raids where scores of immigrants would regularly be rounded up at work sites or home improvement centers and deported. Marin says since then their enforcement has become more targeted.
"It's not really an effective use of our resources," says Marin, "because you may arrest 50 to 60 people at one of those raids but only a small percentage will actually be criminal aliens."
Marin drives us to a street corner in El Monte where his agents have been running surveillance for days. They learned the routine of a man named Sergio Rodriguez, mapping out his short walk to a small market around the corner where he worked. Rodriguez is a felon who has served prison time for burglary and criminal threats and has been flagged for arrest and possible removal.
The arrest
Just before 8am Rodriguez walks out his door. Quickly one agent crosses the street and more agents wearing vests that say "Police!" and approach from behind.
"Sir, we're with immigration," they shout.
"Oh my god," says Rodriguez. As we near, we see his body beginning to shake.
"Yo que hice?" (what did I do?) he asks as he's being handcuffed. "I go to work right now. I working. Señor, porque hace esto?" (Sir, why are you doing this?)
The agents pat him down for weapons.
"My family is here," he says and begins to swear.
"Just relax, ok," say the ICE agents.
He stares at me before he is put in the back seat of a car.
It's a look reminiscent of the last time we were so close to someone in ICE custody.
Several months ago, we were in Phoenix when an undocumented mother named Guadalupe Garcia De Rayos reported for an ICE check-in like she had done for years; instead she was arrested. For hours, we watched as a crowd of shouting protestors stopped the ICE deportation van with her inside.
One man wedged his body into the tire well of the van to keep it from leaving. In the chaos of the protest we stood a few feet away from her young daughter, in tears, as she held her phone light to her mother's window and stared inside.
RELATED: Arizona Woman Deported, Possibly the First Under Trump Immigration Orders
The family was so close but they were unable to speak to each other as protesters and police surrounded them. It was as if in custody, Guadalupe could only communicate to her children though her eyes.
That image of her looking out was captured by cameras and broadcast across the country.
A few days after her deportation, in Mexico, Guadalupe would tell me when she looked out of the van, she was trying to stay strong for her family.
Back in Los Angeles, during Rodriguez's arrest, I couldn't speak to him but was also struck by the look in his eyes. After he was processed, I asked him if I could take his picture. He looks directly at the camera.
What about the families?
On the way to the next arrest, I ask Marin the same question he's been asked by scores of reporters, "What about people with families?"
His response is measured.
"That's an unfortunate consequence of our immigration laws," he tells me. "But we don't make the law, our job is to enforce them."
When I ask what it might take for millions to become legal residents, Marin says that he knows there are many hardworking immigrants trying to get their legal status in order.
"This country has become theirs," he says. "Congress has to make that change."
At the next stop, agents approach a house with a "Happy Birthday" sign above a garage. They knock on the door and shades move in the front window.
A young man comes out. The agents ask about his father. The young man says that he's inside and will go get him. He goes back inside, closes the door and we wait.
By now, agents have taken positions at the front, back and sides of the house.
I realize I'm seeing the recurring nightmare of a little boy named Roberto unfolding in front of me.
In February, while covering another immigration story unfolding inside a Denver church, 10-year-old Roberto told me about a dream that had haunted him again and again. In the dream he gets ready for school, opens the door, sees ICE agents surrounding his home and his mother disappears. His mother, Jeanette Vizguerra, has now lived in that church for over two months, seeking sanctuary from a deportation order.
Now, in California, we continue to wait for a man to come out of his home as neighbors watch. Across the street a neighbor looks on from his driveway. Next door a woman comes out, sees the agents and quickly ducks back inside.
Finally, the door opens and a woman's hand emerges holding out a red card.
Agents immediately stand down.
Over the last few months we have heard of legal workshops for immigrants offering training on what to do if ICE comes to your home. During role play and legal seminars, many are given a red immigrant rights cards to hand to ICE agents. It reads,
"I do not wish to speak to you, answer your questions or sign or hand you any documents based on my 5th Amendment rights."
The card also says the bearer does not give permission for the home or belongings to be searched without a warrant.
"Of course we are going to abide by that," Marin says, as we walk away.
But he adds that they know where this man lives and that they will catch him sooner or later.
The power to detain
I'm surprised by this glimpse of the gray fringe of ICE's authority.
Technically, crossing into the country illegally for the first time can either be a criminal or a civil "administrative" offense.
Hypothetically, the government could try to prosecute all illegal entries as federal misdemeanors. But by most accounts, that would be impossible because doing so on a wide scale would cripple the federal criminal court system.
Instead, ICE navigates a quasi judicial, quasi administrative world with the power to detain based on an administrative judge's order. If they are not given consent to enter a home, they can make arrests in public or possibly places of employment where the presence of a team of ICE agents can send panic through a community.
"It creates the sense that ICE is doing raids," Marin tells me. "This is one specific person we went after. The person that answered the door, we knew that wasn't our target, we weren't concerned with their immigration status. We were just looking for our one target."
Marin says it would be safer to take custody of criminal immigrants in jails and prisons under an "ICE hold" or an ICE detainer. But many cities and counties across the country oppose granting detainers on jailed immigrants, out of constitutional concerns.
A federal court has ruled against the use of detainers in an Oregon case. Recently in Florida, a circuit court judge ruled the holding of a Haitian man on an ICE detainer was a violation of the 10th amendment. California state laws also prevent individuals from being held after they are eligible for release, unless certain conditions are met. Even then, ICE requests are sometimes ignored.
At the detention center
At the ICE detention center in downtown Los Angeles, a half dozen men without shoelaces sit handcuffed, waiting for deportation.
ICE agrees to allow me to speak to some of the men we saw arrested earlier in the day as long as they give their consent.
I tell Sergio Rodriguez that I wasn't with ICE, but am a journalist covering what happens during deportations. I told him we had seen his arrest from ICE's perspective, but also wanted to share his point of view.
He agreed and told me in Spanish he was sorry for swearing during his arrest. He told me about his four daughters and his son, all in their 20's and said he was thinking about what would happen to his wife, who has been diagnosed with lung cancer. He is a legal resident. He says he applied for his residency 30 years ago when President Reagan signed the Immigration and Reform Act of 1986 into law.
Rodriguez told me he had been to prison and regretted his past. He wanted to let his daughters know he was sorry and whatever happens, his heart was with them.
Now he will appear before an immigration judge who will review his criminal history that includes burglary, criminal threats, theft and drug charges and may strip him of his resident status and order him deported.
Another detainee, 36-year old Santiago Mondragon, also has 5 children all born in the United States.
He was convicted of felony drug possession, reckless driving and he has been deported four times.
I asked him if he would come back.
He said he wasn't sure because it was getting more expensive to cross illegally and if he was caught he'd likely be held in detention for more than eight months. He said he'd rather stay in Mexico, but he is the breadwinner for the family and has crossed again and again to provide for his daughters.
Of the several men I spoke with, Esteban Amigon was the most calm.
"It looked like they were hunting me," he began.
On the day of President Trump's inauguration, Amigon was released from prison where he served two years for burglary. He said he had recently stopped drinking and was straightening out his life, but had a feeling ICE would catch up with him.
He knew he was going to be deported to Mexico, a country he left as a young child, and was hoping the process would move quickly so he could be in Mexico that same day. I asked if he had plans to try to come back and he said no. He wanted to stay and Mexico where he would have a chance at a fresh start.
"I just want to start a new life and be a good citizen," he said.
Since President Trump took office, there has been an increase in the kinds of arrests the Southern California ERO teams make day in and day out.
From January 20th to mid March there were 15,921 arrests of "criminal immigrants" according to ICE and 5,441 arrests of "non-criminal immigrants."
The numbers show a jump compared to the same time last year, but still significantly lower than 2014 under President Obama.
Marin says when it comes to the law, nothing has changed under President Trump but support for agents has.
The most recent Trump Administration budget proposal includes funding for 1,000 more ICE agents, 500 more Border Patrol agents, 75 more immigration judges and 100 new prosecutors.
On the border, the proposed budget calls for over a billion dollars to be spent to begin construction on a wall though the apprehension numbers of people crossing illegally have dropped off dramatically.
I ask Marin what would happen if they run out of criminals to target.
He says Los Angeles has enough criminals to keep them busy for the next 20 years.
Who is a "criminal?"
The scope over who is deemed a criminal is also expanding.
On "Meet the Press," Secretary of Homeland Security John Kelly told Chuck Todd, "Even a single DUI, depending on other aspects, would get you into the system."
Marin says, if priorities continue to expand, they are prepared for the change.
"With this administration, we have shifted in criminality, and now includes everyone," he says, "not just those that have been convicted of a crime, also those that have come here illegally, they are still in violation of the law."
I ask if that means that ICE is ready to go after everyone.
"That's not necessarily what we are doing right now," Marin says. "But if we get that order and that's what we are told to do, we are going to do it better than anyone else."