On the birthday of civil rights hero César Chávez, the head of a group that promotes crackdowns on immigration declared the day "National Border Control Day."
"Honor Cesar Chavez by celebrating National Border Control Day!," Mark Krikorian, executive director of the Center for Immigration Studies, wrote in one tweet. In another he referred to Chavez as a proto-Minuteman, the citizen group that conducted border patrols.
Krikorian's declaration was picked up by others, including some whose commentary about immigrants and Latinos has been considered racist or offensive.
"How terrible!" civil and labor rights leader Dolores Huerta said in response when contacted by NBC News Latino. She called it "a mean thing to do" and part of the continual attack on immigrants. "As you know all of us Latinos, we get the effect of this" ... even her great grandchildren, she said.
Chávez's birthplace is Yuma, Ariz.
Thursday is a national commemorative holiday and a state holiday or optional holiday in 10 states. It is used as a service day by some, similar to the Martin Luther King holiday, and events, often regarding workers rights, are planned around the day along with some honoring his legacy.
It is well documented that Chávez opposed growers' tries to break the farm workers' strikes Chávez organized by hiring workers in the country illegally. Defenders of Chávez said his efforts are removed from their historical context when applied to immigration and cries for border control today.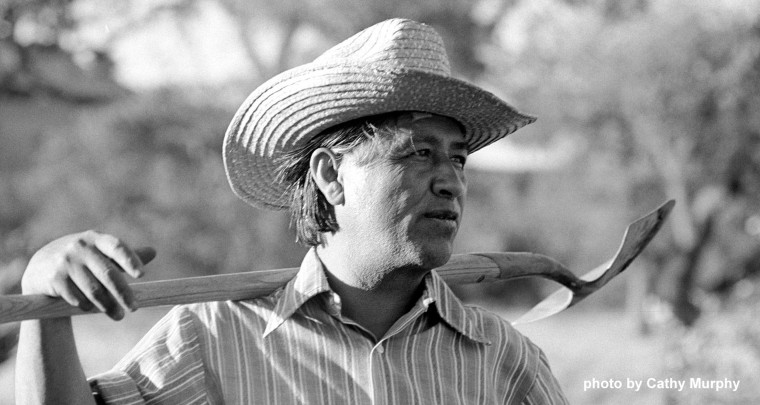 "Cesar didn't want anybody to break our strike, whether it was his mother" or a godfather – who did and who as a result was estranged from Chávez, Huerta said.
Related: Voices: Growing Up With "Cesar"
Krikorian said that like Chávez, anyone advocating for poor workers has to be for tighter border control. People cannot advocate for bettering the position of farmworkers or landscapers or janitors or other workers, if at the same time they are supporting "effectively unlimited importation of competition" for those jobs.
"The high levels of immigration represent strike breaking even if not in the immediate context of a strike. You can't even bother striking if there are 17 people (competing) for a job," Krikorian said.
Marc Grossman, spokesman for the César Chávez Foundation, called Krikorian's portrayal of Chávez as against people illegally in the U.S. a "canard."
"I knew César for the last 24 years of his life ... that's just completely false. I know it's taken root, it's an urban myth that some on the right and some on the left like to perpetuate but it's untrue," Grossman said.
Chávez and the United Farm Workers Union were strongly opposed to strike-breaking by anybody "but there is not an American labor leader or union that came out more consistently or earlier to champion undocumented immigrants than César and the UFW. In 1970, when UFW contracts were signed with table grape growers, Chávez refused calls by some to check the immigration status of workers in the vineyards, Grossman recalled.
Today, more than 70 percent of farmworkers are believed to be working illegally in the U.S., according to federal studies.
"To this day, (UFW president) Arturo Rodriguez has been relentless in passing immigration reform," Huerta said.
Among some of the events being held to mark Chávez's birthday were a demonstration in Los Angeles with Service Employees International Union to bring attention to sexual harassment of janitors, a dinner in his honor organized by the Cesar Chavez Foundation that will focus on encouraging more Latinos to vote this year and protests on raising the minimum wage.
On Sunday, farmworkers, who are usually only off on that day, planned to march in the California Wine Country to honor Chávez's birthday and protest GOP presidential frontrunner Donald Trump.