An abortion law in Texas that opponents say is imposing substantial obstacles for Latinas who want to terminate their pregnancies is headed to the U.S. Supreme Court next month. On Wednesday Latina and women's groups held a rally calling for an end to the law.
The justices will hear oral arguments on March 2 over a Texas law that implemented some of the nation's toughest restrictions on abortion. Signed into law by Gov. Rick Perry in 2013, House Bill 2 prevents abortions after 20 weeks of pregnancy and requires abortion doctors to administer an abortion-inducing drug in person instead of allowing women to take it at home.
It also mandates doctors to obtain admitting privileges at local hospitals within 30 miles of the clinic where they perform abortions and requires clinics offering abortion to meet some of the same standards as ambulatory surgical centers, essentially becoming mini-hospitals. These are the two provisions being challenged in Whole Woman's Health v. Hellerstedt.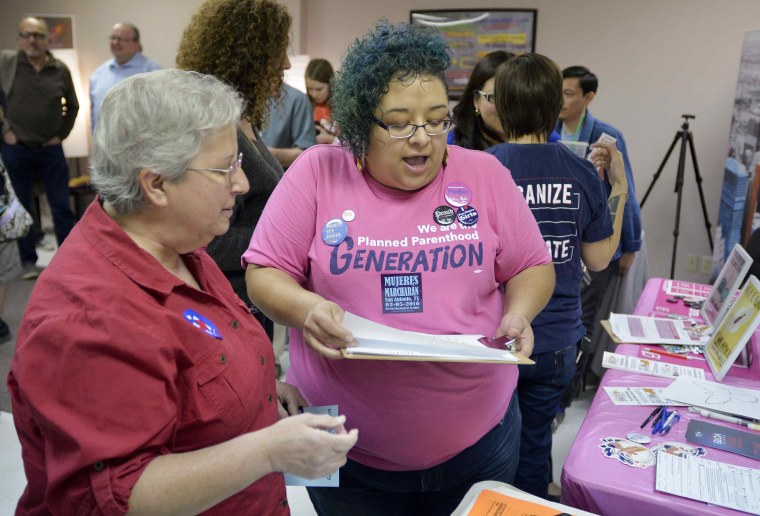 RELATED: Texas Senate gives final passage to abortion bill delayed by filibuster
Since going into effect, HB 2 has led to more than half of abortion clinics in Texas closing down. Prior to it, more than 40 clinics across the state were providing abortions. As of late last year, that number dropped to 19 and more can close depending how the Supreme Court rules on the case.
The National Latina Institute for Reproductive Health, which estimates there are 2.5 million Latinas of reproductive age living in Texas, recently filed an amicus brief with the Supreme Court to explain the impact HB 2 is having on Latinas. It said the closing of the abortion clinics is creating "an undue burden" on Latinas who already face significant barriers in accessing health services. Those barriers include poverty, unreliable transportation and inability to take time off of work.
Andrea Ferrigno, corporate vice president of Whole Woman's Health, said the closing of the clinics requires Latinas, especially those living in rural areas, to travel long distances to access abortion care. In some instances, they've had to travel more than 200 miles to get to the nearest clinic.
"We had calls from patients living in the Rio Grande Valley who were desperate to get access to services and didn't have the resources or flexibility to make the trip to San Antonio, which is where the closest clinic was," Ferrigno said.
Last year, a federal appeals court allowed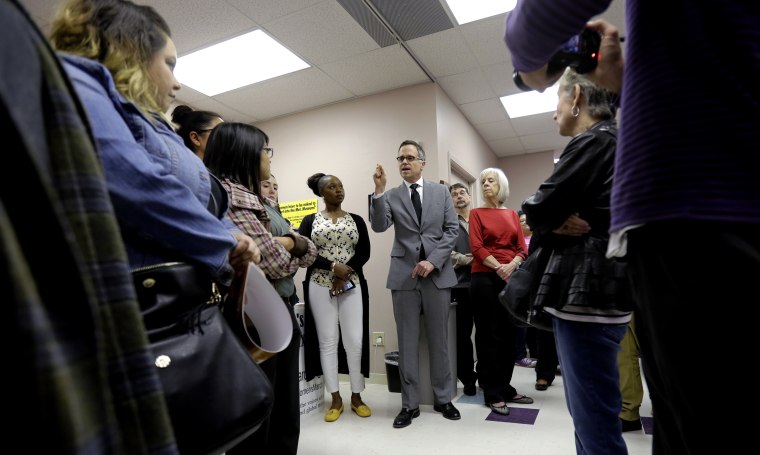 an abortion clinic in McAllen, Texas, to continue operating even though it did not meet all the requirements under HB 2. The court made the exception because it was the only abortion clinic available for women living south of San Antonio.
On Wednesday, reproductive health advocates and groups will meet at the Archer Park in McAllen and march to the Whole Woman's Health clinic, which is less than a mile away, to show their support for access to safe abortion care. Once at the clinic, they'll hold a rally to discus how HB 2 is impacting women.
"We want to highlight how this law can have far-reaching consequences not only for Hispanic women, but for all women in the state who desire to have an abortion," said Lucy Felix, senior Texas field coordinator for the National Latina Institute for Reproductive Health and one of the women scheduled to speak at the rally.
RELATED: Contraception Fell, Medicaid Births Rose When Texas Defunded Planned Parenthood
The march and rally on Wednesday are part of a statewide "Truth Tour" that aims to shed light on what would happen to women, especially those who are poor and live in rural areas, if more abortion clinics close down. The tour is organized by a number of reproductive rights groups, including the Center for Reproductive Rights, which filed the lawsuit challenging HB 2 in April 2014.
The group filed the lawsuit on behalf of Whole Woman's Health and four other Texas clinics and three physicians. They argue that requiring abortion doctors to have admitting privileges at a hospital is unnecessary because "serious complications from abortion are rare and hardly ever require hospitalization." They also say that the ambulatory surgical center requirement for abortion clinics "impose costs that are far in excess of any potential benefits."
Supporters of HB 2 argue that the two provisions are meant to protect women's health. But opponents argue this is an effort to close down abortion clinics. They say fewer than 10 abortion clinics will remain open — and all of them will be clustered in the eastern metropolitan areas of Texas — if the Supreme Court justices rule in favor of keeping the HB 2 provisions. That could result in women having to travel longer distances to access abortion services.
"Nobody should have to leave their community to access health care," Ferrigno said. "It doesn't matter what kind of procedure it is. You should have access in your community without so many obstacles and barriers."