There are signs that Donald Trump and a group's citizenship campaign are helping to raise the number of people applying to become Americans, a coalition of groups doing naturalization work said Wednesday.
Long lines are forming at citizenship workshops, where droves of volunteers are showing up to help people who have been in the country decades and want to know how they can apply and say they want to vote. Government data is showing an uptick in applications for the last three months of 2015.
"There's something new going on. I think we all know that it has something to do with the tenor, the tone of the presidential race that people are confronting," said Rep. Luis Gutierrez, D-Ill.
Trump's rhetoric, "is frankly scaring people," Gutierrez said.
In Gutierrez's Chicago district office, the number of people coming to the office to ask for help to apply to become citizens has doubled during the first three months of 2016, Gutierrez said.
"I want everyone to know that ... 439 people "showed up at my office with $690 in their pocket, and a check to the federal government and ready to learn English and the Constitution," Gutierrez said. "We completed and filed those applications."
In the first week of April, the office had another 140 people ask for help, he said.
"There's really a hunger for citizenship and it's driven by the desire to participate in this year's election," he said.
Related: Ahead of Immigration Ruling and Election, Citizenship Finds Increased Importance
A coalition of 37 groups launched an effort in January to get more of the 8.8 million legal residents in the U.S. who are eligible to become citizens to naturalize in time to vote. The groups have held more than 300 events and workshops in several states. They've used web ads, public service announcements, social media, emails and phone calls. On Wednesday, they issued a report on the effort.
Usually about 650,000 to 750,000 a year go through the process and become citizens. The groups are trying to increase the number for 2016 to 1 million.
"We have taken advantage of this period of time when people are more interested in politics and in voting, more interested in protecting themselves and their community, in pushing naturalizations forward," said Josh Hoyt, executive director of National Partnership for New Americans.
Hoyt said that the groups have "engaged" 500,000 legal permanent residents with their citizenship campaign. It's impossible to know how many are following up or plan to, but the groups and their volunteers have helped 12,781 people fill out applications to naturalize. Others may be doing so on their own, going elsewhere for help or waiting.
Other groups are seeing similar interest in citizenship. Emily Kessel, spokeswoman for National Korean Service & Education Consortium (NAKASEC) added workshops in Maryland and Virginia to those held for at least a decade in Illinois and California. People are naming wanting to vote in the election and to sponsor family to come to the U.S. as top reasons they want to naturalize, Kessel said.
Related: New National Campaign Urges Legal Residents to Naturalize, Vote
Data from Citizenship and Immigration Services, part of the Homeland Security Department, show that during October 1 to Dec. 31, 2015, which is the first quarter of the 2016 fiscal year, 187,635 people applied for citizenship. That compares to 163,928 in the same period last year.
Coalition leaders are expecting the increase to be greater for January through March and in subsequent quarters. People who apply through June are more likely to be able to get citizenship in time to vote. Citizenship and Immigration Services has told the group its goal is to process applications in five months, although some places may take seven months.
Ben Monterroso, executive director of Mi Familia Vota, said he feels confident that the goal will be met.
"This year we have seen tremendous increase in people participating in the workshops that we do. In places, (we have) tripled, quadrupled the number of people participating," Monterroso said. "People are waiting to see when are the next workshops that they can come and get it done for themselves and their families."
He said people are coming in "unsolicited" to ask about become citizenship because they are "scared ... angry because of the attacks because they want to do something about it ... They know they are going to be able to vote."
Related: Think Millennials When You Think Latinos? Think Younger.
In addition many more people are volunteering to help people register to vote and apply for citizenship, so many that they have more people than they actually need, he said.
In addition to the citizenship campaign, a network of national and local groups are launching another campaign in battleground states to register eligible young voters in high schools, said Rocío Saenz, iAmericaAction president and an executive vice president for Service Employees International Union.
Many states allow young people who will turn 18 by Election Day to register to vote early. One third of Latinos in the U.S. are under 18. They are more likely than millennials to have been born in the U.S.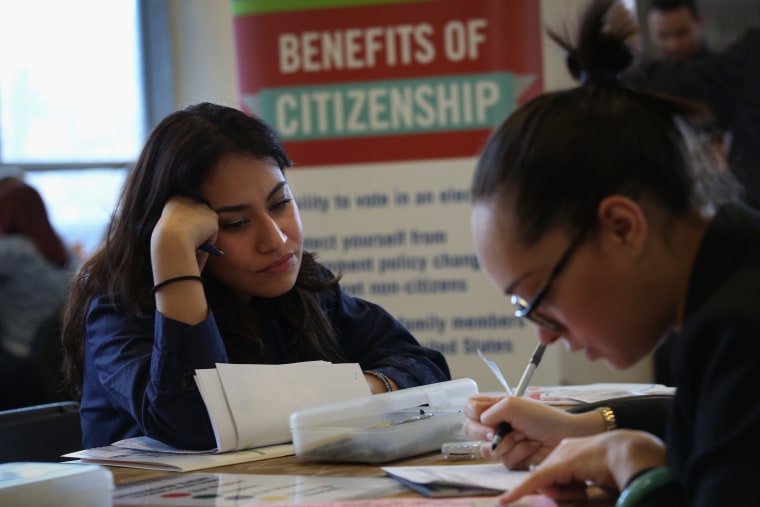 In 2007-08, there was a rush to apply for citizenship because of a marked increase in the application fee and because of federal anti-immigrant legislation that resulted in massive protests in major cities across the country. Also large campaigns were held then to encourage people to become citizens and vote. The resulting millions of applications swamped the federal government.
More fee changes are planned for this year, scheduled for after the election, but they are a more complicated. For poorer legal residents, the cost to apply for citizenship may be less after the election.
The federal government has proposed raising the fee for renewal of a green card by $90, increasing it from $365 to $455, plus the $85 biometric fee. A $45 increase is proposed for the naturalization fee, raising it from $595 to $640, plus the $85 biometric fee.
However, the government also is proposing to reduce costs for people with incomes of between 150 percent and 200 percent of poverty — from $36,450 to $48,600 for families of four, based on federal poverty guidelines. People with incomes less than 150 percent of poverty can apply for full fee waivers, as always.
Related: In Citizenship Drives, Latinos Sign Up to Vote Against Trump
Data on citizenship applications don't tell the full story. Saenz said a single person becoming a citizen can add up to more than one new vote.
She gave the example of a Denver SEIU member named Patricia Robles who became a citizen two weeks ago. Robles "had had it" with political candidates like Trump referring to her and her family as criminals, Saenz said. Robles has three U.S. citizen children and a U.S. citizen husband.
"Together as a family they have pledged to vote together against hate," Saenz said.
The groups participating in the effort that they have dubbed "Stand Up To Hate" are iAmerica Action, Latino Victory Foundation, Mi Familia Vota, National Partnership for New Americans, Service Employees International Union, United Food & Commercial Workers International Union and Unite Here!