In solidarity with the outrage in Mexico over the disappearance and presumed killing of 43 students in a rural teachers college, U.S. groups rallying around the hashtag #USTired2 are holding events in at least 50 U.S. cities on Wednesday.
Organizers took to social media to urge the public to attend events in large U.S. cities like New York, Los Angeles, Houston, Chicago and Baltimore as well as smaller ones like Albuquerque, Gainesville, Madison and Salt Lake City.
"I think it's a big turning point -as Chicano activists, we haven't done enough for our Mexican brothers and sisters," said Tony Díaz, a Houston-based educator, writer and creator of the Librotraficante campaign against banned Latino books and curriculum.
Groups organizing under #USTired2 are not only rallying to support the families of those missing or killed in Mexico. They are also calling for the U.S. to reexamine policies which they say end up indirectly funding drug cartels through the corruption of Mexican military and law enforcement members.
"This case [of the 43 students] draws clear lines between Mexican officials working with cartels," said Díaz. According to Mexico's attorney general, local government officials and police in Iguala confessed to detaining and handing over the 43 college students to criminal drug gangs who confessed to killing and disposing of the bodies.
Díaz said it's important to ensure U.S. taxpayer money is not used to fund a "Mexican military complex" where there are issues of corruption. "That's kind of the bigger picture," said Diaz.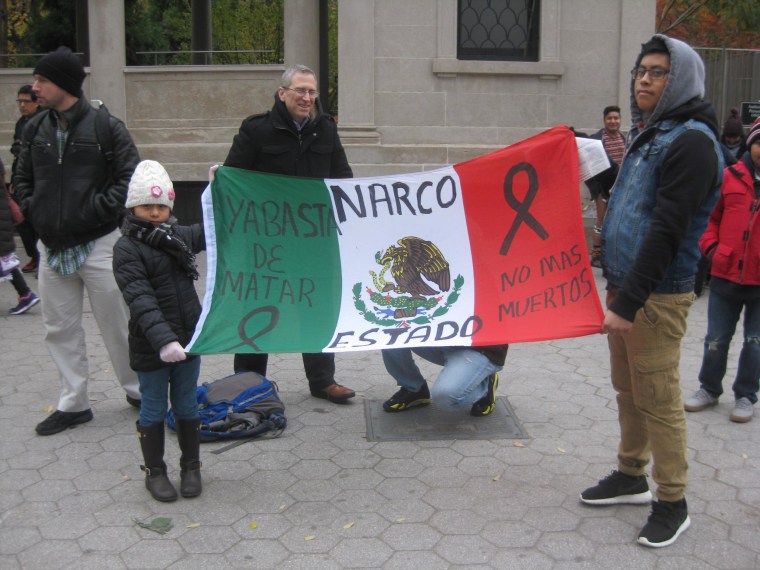 Before Thursday's national day of action, groups have been holding rallies and events for the Mexican students.
"We cannot think that what is going on in Mexico is isolated," said Bolivian activist Diego Ibañez to NBC News during a previous rally in New York City. "Whatever we do here [in the United States] is going to have an impact somewhere else."
a