MIAMI, FL -- It was at a marketplace during a visit to Mexico's capital in 2009 that Nelson Hernandez first came across the female skeletal figure wearing a long robe with a scythe in one hand and the world in another, better known as Santa Muerte or Saint Death. At that time the popularity of the Mexican folk saint was exploding among Mexican drug cartels who prayed to her for protection.
"She seemed a little weird to me at first," admitted Hernandez. He had never seen anything similar in Miami, where he owns and operates "El Viejo Lazaro Botanica" – a shop specializing in articles of Santería, an Afro-Caribbean religion.
But as he became more familiar with her, he realized there was a growing demand for statues of the bony lady (as she's often referred to) in Miami – and not among Mexicans. People of different ethnicities were coming into his store seeking statues of Santa Muerte, who is thought to be a quick, efficacious miracle worker.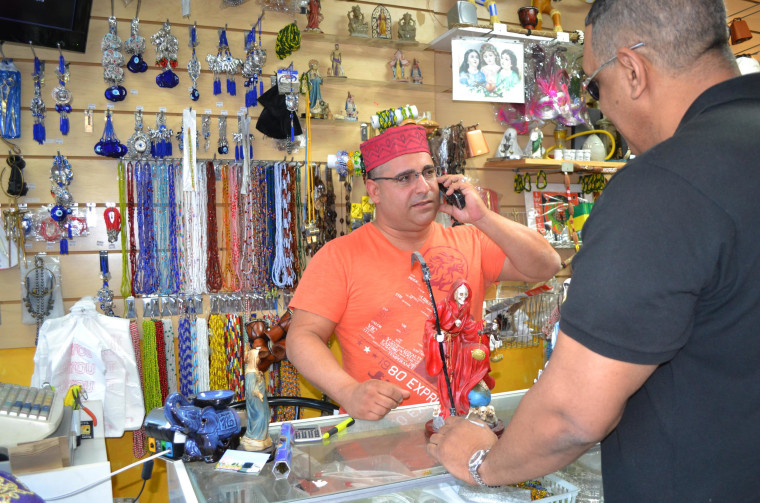 "I even have Russians coming here," Hernandez said while smoking a cigarette in his shop as a steady stream of customers entered.
In fact, through his website, people all over the U.S. and as far away as Italy and Spain are purchasing Santa Muerte products.
Experts agree the cult of Santa Muerte is growing- and not just among Latinos.
"Undoubtedly, it's the fastest growing religious movement in the entire Americas - not only Mexico and the U.S.," according to Andrew Chesnut, Bishop Sullivan Chair of Catholic Studies at Virginia Commonwealth University, who authored the first book in English about the saint, "Devoted to Death: Santa Muerte, the Skeleton Saint."
There is no hard data on the amount of devotees, but Chesnut estimates there are 10 to 12 million worshipers between the U.S., Mexico, and Central America.
The origin of the skeletal figure dates back centuries to the Spanish colonial period in Mexico. Chesnut says when the Spanish arrived, they brought with them an image of the Grim Reaper, which reminded Mesoamericans of gods and goddesses they worshipped personifying death. They ended up interpreting the Grim Reaper their own way. "They took something foreign but familiar and made her holy," Chesnut said.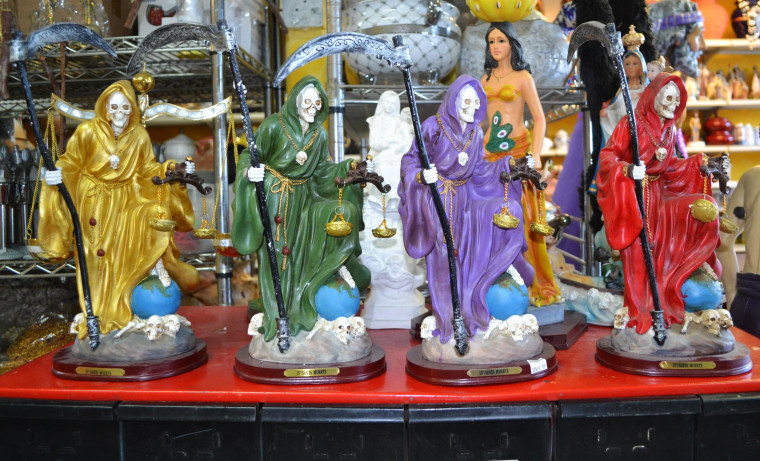 Veneration to Santa Muerte remained clandestine until the period between the 1940s to 1980s, when researchers found evidence of love magic being performed with Santa Muerte. She was particularly popular among women who thought their husbands or boyfriends were cheating on them.
But it wasn't until 2001 that the skeletal figure's popularity in Mexico exploded. The top Santa Muerte temple leader, Enriqueta Romero, created a public shrine in the notorious Mexico City neighborhood of Tepito, drawing devotees each day.
Many Santa Muerte followers consider themselves Catholic, but have lost faith in saints such as Saint Jude, known as the patron for lost causes. Although most followers are everyday people who pray to her for jobs or good health, the cult has been often connected to drug traffickers and other criminals. Worshipers can make petitions to her that they wouldn't normally make to catholic saints, Chesnut explained. For example, a drug trafficker can make a request to Santa Muerte that his crystal meth shipment arrives safely to its destination.
During the past 3 or 4 years, Santa Muerte's cult has spread throughout the U.S. with the help of immigration and social media. At the beginning, most of her followers were found in border towns but now, worshipers can be found all over the U.S. The entertainment industry has also helped push her image forward – she has appeared in the television series "Breaking Bad" and "Dexter." Her products are even available in stores such as Walmart and Amazon.
Although most followers are everyday people who pray to Santa Muerte for jobs or good health, the cult has been often connected to drug traffickers and other criminals.
According to Chesnut, one of the reasons for Santa Muerte's widespread appeal is that she accepts everyone and doesn't discriminate. For instance, she may have a connection to LGBT people, sex workers, and others who are often shunned from the Catholic Church.
"On one level she's very Mexican. But on another level, since she's death herself, she knows no borders or frontiers," according to Chesnut.
Steven Bragg, a 38 year-old federal government employee, created a public shrine outside his home in New Orleans, which attracts many worshipers, including Latinos.
"I wanted to have something outside for her and spread her devotion," said Bragg.
Those who gather at Bragg's New Orleans Chapel of the Santisima Muerte, are mostly white, middle-class, and college educated. He says during service they recite the Our Father Prayer and three Hail Marys.
Bragg, who is originally from Mississippi, was raised Pentecostal but became disenchanted with the church when he was around 17 years old. As a gay young man, Bragg was turned off by the church's viewpoint on homosexuality and says he had philosophical questions which were not answered by the Catholic church.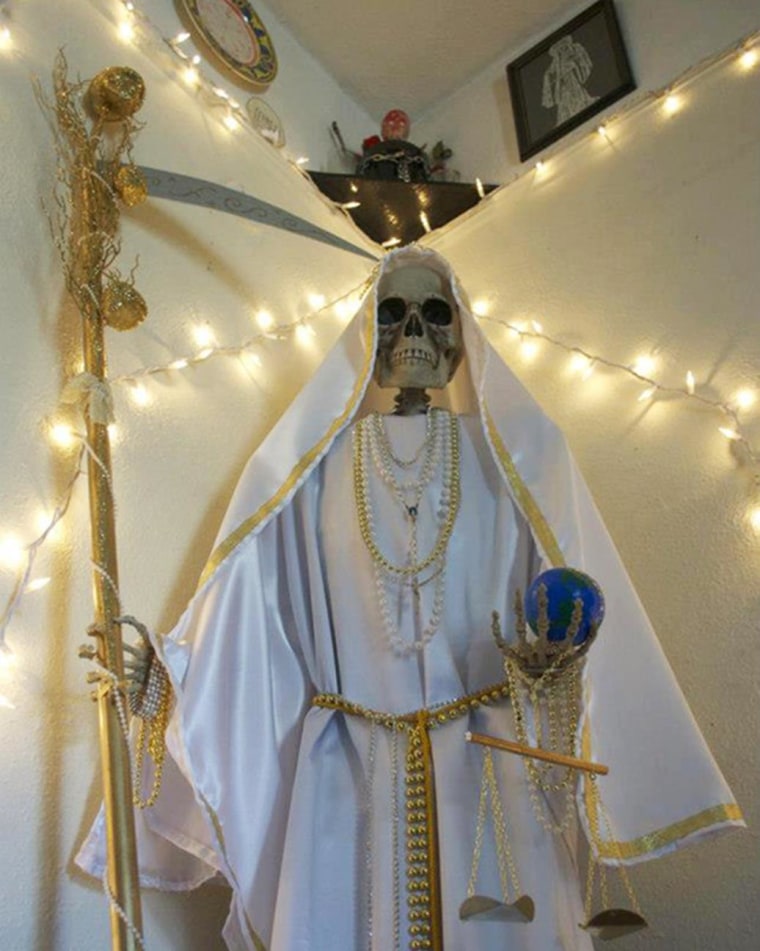 After he graduated from Mississippi State University he began to explore different religions. A close friend introduced him to Santa Muerte in 2009, and he has had a strong affinity to her since then.
"When I ask her to do something for others or for myself she does it really fast … she's the quickest and most powerful," Bragg said.
The cult of Santa Muerte remains controversial and has been condemned by the Roman Catholic Church. In 2013, the Vatican's culture minister, Cardinal Gianfranco Ravasi, declared Mexico's folk saint "blasphemous" and said she should not be part of any religion. He called the worshiping of Santa Muerte a degeneration of religion. "It's not religion just because it's dressed up like religion," he said during a trip to Mexico.
Reports of a rise in exorcisms in Mexico has been partly attributed to the large number of Mexicans joining the Santa Muerte cult.
Follow NBC News Latino on Facebook and Twitter
There have been ritual sacrifices linked to the popular saint. In 2012, 8 people were arrested in a Mexican border town for allegedly killing two 10 year-old boys and a 55 year-old woman during ritual sacrifices for Santa Muerte. It was alleged that the victims' blood was poured around an altar to the saint.
In Mexico, the government routinely orders the destruction of public roadside shrines. The government says they are built without permission on public land and give the area a bad image.
It was precisely the destruction of some 30 shrines in the city of Nuevo Laredo by the Mexican Army in March of 2009, that inspired Chesnut to quit working on a book about Mexico's Patron Saint, the Virgin of Guadalupe, and take up his book about Santa Muerte.
"The fact that the [former] Mexican President Felipe Calderon saw her as a big enough threat to send the army in with bulldozers was pretty extraordinary," Chesnut said.